Queer cinema classic: Another Gay Movie
A teen comedy that puts gay sex front and centre.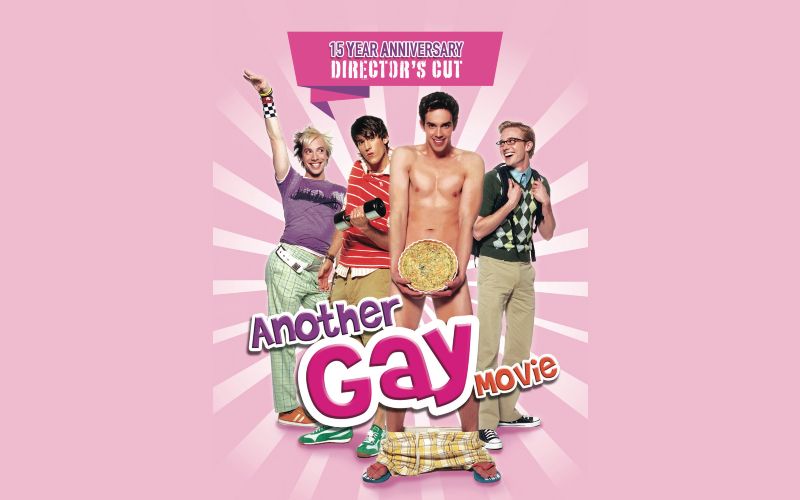 It's over 15 years since the release of Another Gay Movie – is it a queer classic that's worth adding to your watch-list?
Written and directed by Todd Stephens, Another Gay Movie is a send-up of the American Pie teen sex comedy. Another Gay Movie isn't really making fun of American Pie, it's just presenting the gay version of it.
Another Gay Movie embraces the gross-out humour and the over-the-top everything. There's lots of questionable choices, but overall it's a wild ride that puts gay sex front and centre.
What's the movie about?
Andy Wilson (Michael Carbonaro) is your typical All-American seventeen-year-old gay virgin. Like everyone else, he's dying to have sex.
Totally out of the closet and mad crazy horny, this naive high school senior is caught in that awkward vortex between child and adult.
Much to the dismay of his mom, Mrs. Wilson (Lypsinka) – who wonders why all her carrots and cucumbers keep disappearing – Andy spends much of his private time practicing for the big moment when he'll finally take the plunge.
Andy is not alone. He attends high school with his three best friends, all of them totally out-loud-and-proud: Jarod (Jonathan Chase) is a buff varsity-jock stud; Griff (Mitch Morris) is the valedictorian, sinewy sexy, and a closet romantic; and Nico (Jonah Blechman) is the pierced alternative-kid gay-cinema expert. The guys all have one thing in common – they're all "booty" virgins.
What follows is a raunchy ride on the bumpy road to virginity loss. In the dirtiest, funniest, most scandalous gay-teen-sex-comedy-parody ever, four young gay friends make a pact to lose their virginity by the end of the summer. The boys soon face giant sex toys, naked celebrities, masochistic teachers, and an uncomfortable romance with a quiche.
Behind the scenes with Jonah Blechman
I caught up with Jonah Blechman – who plays Nico in the film – for a behind-the-scenes look at Another Gay Movie.
15 years after Another Gay Movie was released, what's your perspective on that film when you look at it?
It's amazing to see how well it stands up. It is still shockingly hysterical and heartwarming – a rare combination.
There was so much risk that all of us were taking – to not only make the film, but tell this kind of story. This was one of the great protest films for me, as it went after every stereotype and turned it on its head. The queer community could actually laugh at ourselves, like the straight community.
With all that brash, raunchy, adolescent rebelliousness, the film is still rooted in real heart. I'm so excited for new audiences – especially the Millennial and GenZ generations – to find this film, and rattle some cages.
I'm curious to hear the response now in a more woke, cancel culture environment. I've had so many people share with me that this film not only entertained them, but was an education about what queer sexuality is and can be.
Would you recommend Another Gay Movie to young guys today who are exploring their sexuality?
Absolutely! In a world and time where there is such pain and disconnect, I pray that that we can enjoy and embrace some sexuality with humour.
I think Todd was ahead of his time in many ways with the film. There are many honest inquires made in the film, just candy-coated so it's easier to swallow – everything from shame around bottoming or anal virginity, to earnest sexual curiosity, and true love.
There is plenty to learn from and enjoy.
Todd Stephens has also directed you in Swan Song – have you worked with Stephens in between AGM and Swan Song?
Todd and I did work on the sequel to AGM, called appropriately Another Gay Sequel – Gays Gone Wild!
I feel such a kinship to the brave storyteller that Todd is. He hadn't directed anything since the sequel, until Swan Song. So, I guess I've now been in his last three films – and gratefully so.
It's unusual to combine an acting career with a career in PR – what led you to start exploring PR as a line of work?
After the sequel to AGM, I was looking to develop my own work. As I was writing and in that process, I met an extraordinary mentor in my life, Mickey Cottrell. He was a great actor himself – My Own Private Idaho, and others – who happened to also be an iconic independent film publicist. He discovered talents like Steven Soderbergh, Gus Van Sant, Brian Singer, and so many others.
Mickey contributed to refining my eye and being able to articulate that which I saw. PR is really just an extension of storytelling – the story behind the story. As an actor, you shepherd the writer's work and director's vision to the audience, and with PR, you shepherd the same work but to the critical gatekeepers or tastemakers who can amplify that vision. It's all storytelling.
Do you feel more comfortable promoting others than promoting yourself?
It's certainly more comfortable promoting others than myself. But, I'm grateful to have this moment of earned creative work that I'm proud of to share.
Beyond the new director's cut of AGM, as well as Swan Song, I'm also starring in the new TV comedy series Pet Peeves  – it's now available on Revry. Plus, I also have a role in a funny horror dinosaur film called Claw that will be released this year.
What do you hope that people feel when watching this director's cut version of AGM, today?
I really hope people feel the permission to laugh, howl, holler and hoot out loud – at themselves, at the world, at sex, and what it is to be an adolescent who is just trying to get laid.
I also hope that people feel some real admiration for the love and bravery that it took to make a film like AGM. Todd and the whole cast and crew broke some real barriers, and really put themselves – ourselves – out there in a rather courageously naked way, literally and figuratively!
The director's cut of Another Gay Movie is distributed by Breaking Glass Pictures