Queer the Pier exhibition reopens in Brighton
Documenting the remarkable contribution of the LGBTQ community.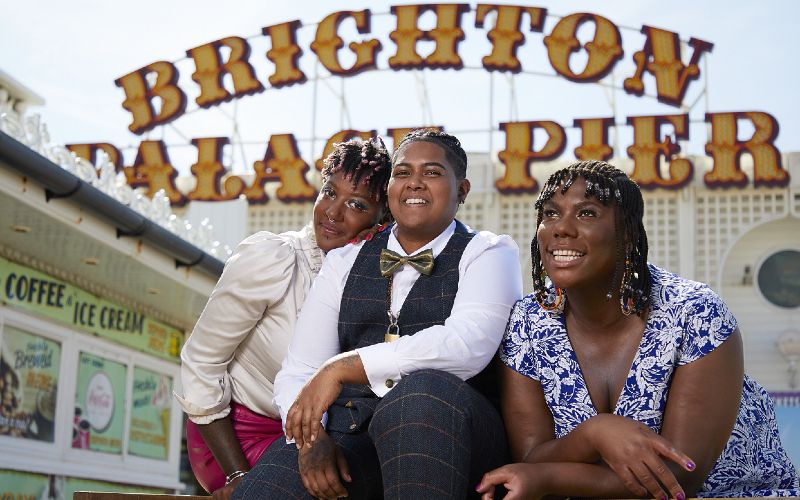 Queer the Pier is an exhibition in Brighton that allows visitors to explore the experiences of LGBTQ people in Sussex over the last 200 years. Exhibits include a blackmail letter written in 1798 from a solicitor to an army captain, accused of propositioning another man on a coach to Dorking.
Aubrey Beardsley's original cover illustration for volume IV of the Yellow Book periodical is also in this exhibition. Beardsley was dismissed as resident artist following the arrest of Oscar Wilde for sodomy – Wilde was carrying the Yellow Book when arrested and as a consequence, another artist and cover was commissioned.
There's also items belonging to notable locals, including a newly acquired print by photographic artist Rotimi Fani Kayode, collaborator of Robert Mapplethorpe and founder of the APB Gallery. By way of contrast, new photographic portraits of members of Brighton QTIPOC – queer, trans, intersex people of colour – have been commissioned in response to Kayode's work, especially for Queer The Pier.
Photographs and memorabilia from the lives of two lesbian war heroines documenting their time in the armed forces plus 50 years of their domestic bliss is another key exhibit, as are excerpts from the diary of landowner and lesbian Anne Lister, who writes about her visit to Brighton in 1820.
An original fortune-telling machine featuring newly created 'fortunes' by members of the LGBTQ Romany, gypsy and traveller communities is facilitated by Delaine Le Bas, paying homage to Brighton Pier's legacy of seaside attractions.
Donated collections include ephemera from a range of LGBTQ community members. A photo of the Sussex Gay Liberation Front, protesting in front of the war memorial in 1973, is displayed alongside a colourful selection of costumes and drag outfits belonging to local performers and activists.
Other items of interest include film footage of Brighton's conjoined Hilton Twins. Daisy and Violet were born in the Queens Arms in 1908 and immediately put on display. They were taught to dance and play instruments for a life in Variety shows and were very successful, mainly in Australia and the States, once appearing with Bob Hope. plus a cameo in Freaks, Tod Browning's banned film of the 1930s. They were inevitably exploited and only through their friendship with Houdini did they get money and freedom. Both twins married gay men and it is suggested that Violet was a lesbian.
A single typewriter represents the influential writings of Peter Burton, who lived in Brighton and wrote for Spartacus, the UK's first gay magazine, published out of a boarding house in Preston Street in the late '60s. Peter went on to write for Gay Times and Gay News for 40 years as well as broadsheets, music magazines and more.
We caught up with Community Curator EJ Scott for a behind-the-scenes look at the exhibition.
How difficult is it to shape a coherent exhibition when you're following a very inclusive and organic process?
The Queer the Pier exhibition has been built by over 30 local volunteers. This has meant that a broad spectrum of people from the community have brought along their passion and ideas. The group agreed collectively that inclusivity and diversity was the ultimate aim of the exhibition – there is no such thing as one 'queer' community – it's a diverse rainbow.
So, the aim wasn't to try and present one united view – there are pieces about lesbians, about the QTIPOC community, contributions from trans people, and more. The result is that it feels dynamic and busy and a bit like being on the pier – lots of playful community noise and activity!
Where the curators felt there were holes in history, they have responded by designing arcade games to tackle the missing narratives. It's been as much about the process of making the exhibition as the end result. It's the beginning of a new way for the museum to engage with its local LGBTQ community.
What are some of the reasons that the Brighton & Hove region has such a long and rich LGBTQ history?
Since the Regency Period, Brighton has been a place of fashion. Led by George IV, it drew people to its party palace, and there was industry to support this – St James's Street was full of suppliers of fashion to the wealthy elite, and these shops had workers.
Coupled with its proximity to London and the popularity of seaside resorts, and the introduction of the less expensive travel by train, it was always a destination to escape to for fun. This meant there was also an entertainment industry to support people's leisure.
Couple this with the inherent beauty of the Sussex Downs and it's no wonder that Brighton has been a magnet for queer people across the class spectrum for hundreds of years. This legacy continues today.
Why does this kind of history matter?
By evidencing that LGBTQ people have long lived in our city, we better understand that our community has shaped the place we live in today. This gives the broader population, as well as ourselves, an understanding of how important our queer culture is to everyone who lives and visits here. This ultimately fights bigotry – Brighton wouldn't be the place it is without the diverse community that makes it such a vibrant, friendly and accepting place.
A series of photographs of local people were commissioned as part of the exhibition. How did you select who to photograph?
Our QTIPOC working group identified that there was a lack of representation of black and brown queer people in the past in the permanent Royal Pavilion and Museums collection.
One piece that did exist is a recently acquired piece by queer black photographer, Rotimi Fani-Kayode called Under the Surface. Seeking asylum from Nigeria's Civil War, Rotimi Fani-Kayode migrated to the UK with his family in 1966, at the age of 11. They settled in Brighton, where he attended Brighton College.
Our QTIPOC working group decided that they would respond to this piece, and styled and directed a shoot on the Palace Pier that they featured in. By creating this new series of photographs, they have left a highly visible record of queer black history in Brighton today, creating a permanent legacy of the Queer the Pier exhibition.
Is this an exhibition that will only appeal to queer people?
The exhibition showcases important characters and moments in history of Brighton. Queer history is as important as any other type of history. If you want to know more about the city you live in or are visiting, you need to understand how it has come to be that it is now home to a bigger queer population per capita than anywhere else in the UK.
The exhibition is interactive, playful and fun – it will appeal to young people in that way, making it relevant and engaging. There is archival film footage as well, so there are multiple ways teachers can work with their students in this space.
Just as importantly, there are moments in history that young people need to be aware of – the impact of AIDS and Section 28 and the way the community united in the 1980s. There is indictment of John Spershott, the last man hanged for buggery in Sussex, 1835. These moments in queer history cannot be forgotten and we need to teach young people these lessons so that they understand that freedom is fragile and remain aware that standing up against discrimination and for equality is an ongoing and necessary battle.
What do you hope that people feel when visiting the Queer The Pier exhibition?
Visitors to the Queer the Pier exhibition should learn and have fun in equal measures. Ultimately, I hope they see that this has been an exhibition about local people, by local people, and shows the way in which everyone is welcome to engage with the museum to find out more about their local history and the exciting and important role the LGBTQ community have always played in it.
Queer The Pier is at Brighton Museum until February 2022
Photo of EJ Scott by Rosie Powell
Photos of memorabilia by Zoltan Borovics
Main image by Shonay. L-R, Ven Paldano, Méfiré Diallo, and Kuchenga