Rafael Alencar is looking for volunteers
We are at the front of the queue!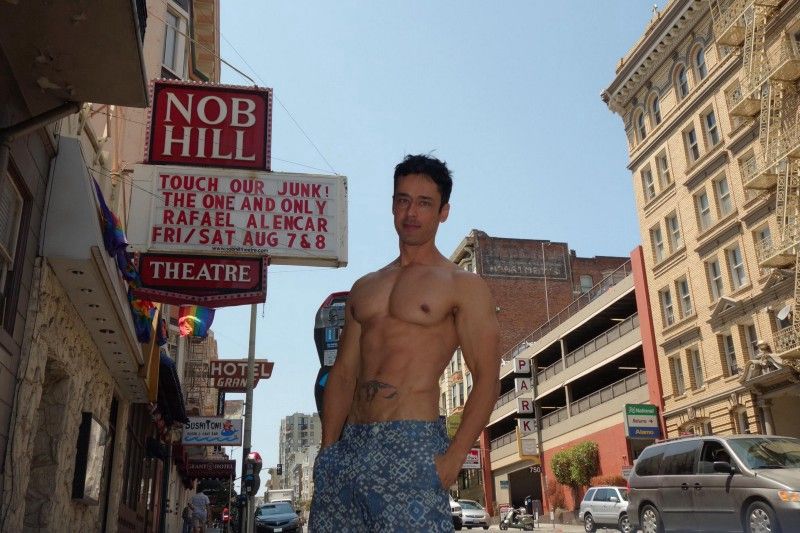 I caught up with Rafael Alencar to talk travel, underwear, and retirement.
What led you to make the move from being a dentist to start exploring a career in porn?
One of my patients made me an offer that I'd earn twice more than what I'd make that day as a dentist if I posed nude for a magazine. Then, there I was — on the cover of a magazine and the entire country could see me. The porn studios hunting for new models sent me emails.
I love to travel and fuck. When I was a dentist, I couldn't travel as much. I chose my first movie because of the location — Guatemala. Maybe I wouldn't make as much money as I would as a dentist, but I'd certainly have more fun.
I went back home and sold my dental practice. I was ready to start a new career.
Your first film was with Kristen Bjorn?
Yes — he has a great talent, and I admire him a lot for being so international in all his movies. He's able to put together in one scene five different nationalities all speaking their own languages. The best.
His studio is well known for muscle and well-hung models from all over the world. Even though I only did two scenes for his company, his style of filming multi-national models together still remains my favourite.
Before the Kristen Bjorn movie, I'd already visited over 50 countries and lived in Israel and Germany for a big part of my life. After his movie, I went back to Germany for three more years, then I moved to the US. Falcon contacted me the following week, and brought me to San Francisco. That was my first movie in the US — Getting it Straight with Josh Weston and Tyler Gunn.
My third movie was for Studio2000, where I signed a contract and remained with them for the next four years.
You've announced that you're retiring from porn — does that mean that you're no longer doing studio porn and focusing on creating content for your subscribers on JustFor.Fans?
Yes! Let's make it official. After I announced my retirement from porn, I received emails from several studios asking for one more last movie. Plus I also received hundreds of messages from fans asking me not to stop doing movies.
My last studio movies were with Men.com — the company I truly love the most — and also with Lucas Entertainment. Before that, all my movies — over 400 of them — for all the studios I worked with, were all with condoms.
Last month I finally created two subscription channels — on JustFor.Fans and also 4my.fans. I've been posting three new videos a week in each of them — that means creating six new videos each week.
What do you enjoy most about performing a live show?
When you're a porn star, the world thinks you can dance and strip. During my career, I've performed in clubs in all the five continents. I never knew how to dance, I just knew how to fuck. Seriously, all my dance performances were lousy until I pulled my dick out of my pants and that's where the show begins.
In the last 10 years, I've been only performing at The Nob Hill Theatre in San Francisco — unfortunately it's now closed. I'd often hear from the audience — The last thing we care about is if you dance well, just bring your dick closer to my face. That's what I like the most about a live show.
What sort of impact is the increasing regulation of sex work in the US having on you?
Even though it's a legal and common practice in several countries, sex work has been always regulated in the USA, and it looks like it's getting worse. I've never had a problem, but I can't deny that it affects both sides — who hires and who gets hired.
Clients are afraid to identify themselves, they use blocked or concealed numbers and escorts never pick up the phone for those numbers.
Money-wise it's about the same. Let's say, I used to get 50 calls a day. Today I get 20 calls a day — so, nothing has changed since I barely can handle one or two a day.
For the last two years I've preferred to stick to the clients that I already know — they're nice, fun, and very generous. They're able to take a good care of me.
Can we talk underwear?
I prefer boxers, or loose and comfortable briefs. At the gym I definitely wear no underwear. I sweat a lot, and I like my dick shaking right to left when I walk — since there's mostly gays at the gym, we all stay happy. On other guys, I like them in a jockstrap, to start.
Travel is one of your big passions — which destinations are on your wish-list?
Travel is what I do the most, more even then sex.
On my wish-list are the countries that I haven't visited yet. I've been to 156 countries, so I'm missing 39 countries to finish the world. Hopefully I'll go this year to Eritrea, Djibouti, Bangladesh, Mauritius, and Comoros.
What are some of your goals and objectives for the months ahead?
Travel to the remaining countries, keep getting my dick sucked, and produce my own home made movies. Volunteers to appear in my videos are welcome — get in contact via my website.
Follow Rafael Alencar on Twitter