Red Hot underwear that's not just for ginger guys
Stripping down to turn up the heat.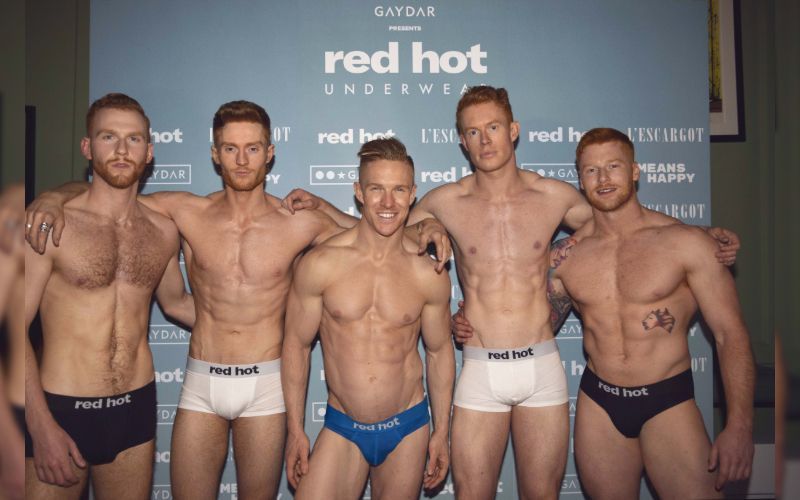 Have you got your hands on the signature underwear from the Red Hot boys?
Photographer Thomas Knights began the Red Hot concept as a calendar – showcasing the timeless appeal of red-head guys. The calendars are still a thing, but if you want to take your ginger fantasy to the next level, you might want to get your hands on some Red Hot underwear.
We caught up with Elliot Frieze, Red Hot's art director, for a backstage look at what it takes to create an underwear line.
After the success of the calendars, why was underwear the next step for the Red Hot team?
We'd sampled underwear with the launch of the Red Hot 2 Art Book a couple of years back. It was simply merchandise for us back then.
After all the continuous interest we had with that one basic style, we decided to test the market by introducing three styles in variable colours. We want to be able to give our fans the products that they want. It's the best way to test the market.
What was the creative and design process to create this range of underwear?
It was quite extensive. Research and analysis is key.
To begin with, it's looking at trends, seeing what cuts and fits are desirable. Colour-wise, it's analysing the popular colours and shades that consumers are purchasing. Again, asking our fans what colours are best suited for them.
The choice of fabric is paramount when designing a collection. Comfort is so important when it comes to underwear. Let's be realistic, we're spending most of our day in them.
How would you describe this underwear?
The Red Hot 100 underwear comes in three different styles. Trunk, Brief, and Jock. The Jock I suppose is more geared towards the gym and a night out. The trunk and the brief are more for everyday use. It's all down to personal preference.
When it comes to dating, does it matter what underwear your date is wearing?
I suppose it depends how far you get on a first date. Crisp and clean underwear is a must. No excuses.
What do you hope that guys feel when they're wearing Red Hot underwear?
Comfort, confidence, and being proud of who you are and how you look.
Which red-heads would you like to see wearing the Red Hot underwear?
It's for all you red-heads and fans of red-heads. It's for everyone. Be proud of who you are!