Review: Coming Clean - Trafalgar Studios, London
What boundaries are non-negotiable in your relationship?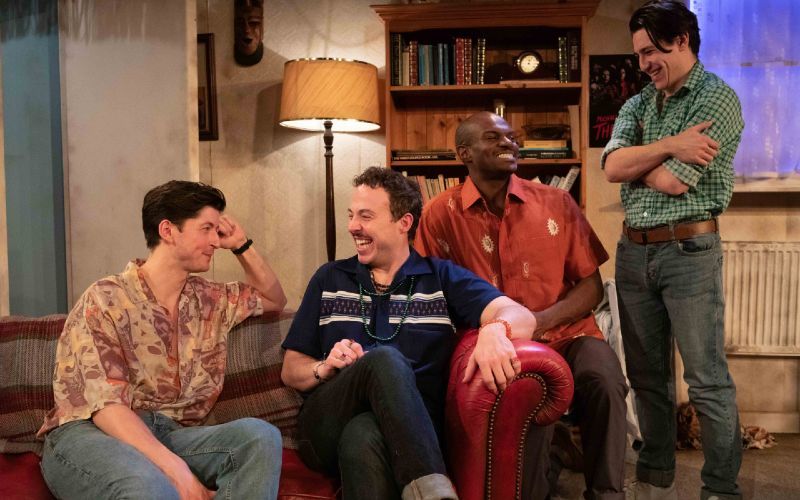 Whatever your sexuality, relationships take a fair bit of negotiation and compromise. For queer guys, navigating a discussion around an open-relationship is generally something that is encountered in the early stages of any romance.
Coming Clean – by Kevin Elyot – is a play that looks at the breakdown of a gay couple's relationship and examines questions of fidelity and love.
Coming Clean was Kevin Elyot's first play. It premiered in 1982 but its themes are just as relevant today. It's set in a flat in Kentish Town, north London, in 1982. Struggling writer Tony and his partner of five years, Greg, seem to have the perfect relationship. Committed and in love, they are both open to one-night stands as long as they don't impinge on the relationship. But Tony is starting to yearn for something deeper, something more like monogamy. When he finds out that Greg has been having a long-term affair with their cleaner, Robert, their differing attitudes towards love and commitment become clear.
Directed by Adam Spreadbury-Maher, the cast for this production from The King's Head Theatre is Lee Knight as Tony, Elliot Hadley as William, Stanton Plummer-Cambridge as Greg, and Jonah Rzeskiewicz as Robert.
This is quality theatre – tightly written and delivered with a freshness that helps to ensure the audience really connects with the dilemmas that the characters are trying to navigate.
The studio space brings the audience right into the living room of Tony and Greg. The set is simple, but feels spot-on period-appropriate.
The pacing of this production helps sustain momentum – there's seamless transitions between scenes but the ellipsis feels natural and unforced, there's never any doubt as to where we're at in the chronology of this narrative.
The cast is the strength of this production. Lee Knight (in the central role of Tony) effectively conveys his uncertainty as he questions the foundations of his relationship. Stanton Plummer-Cambridge (as Greg) commands the stage – giving a clear portrayal of a man who loves passionately but is also sure of what he wants in a relationship. Jonah Rzeskiewicz (as Robert) creates a likeable disrupter – a young man who's not maliciously making trouble, but he's far from innocent. Elliot Hadley (as William) has most of the humour in this production, and he delivers it faultlessly – there's a confidence with his characterisation that brings every scene to life.
Because of the era that the play is set in, some of the mannerisms, affectation, and dialogue potentially distances the men of Coming Clean from today's queer experience, but it's undeniable that trying to figure out what we want from relationships and how to find intimacy with each other hasn't got any easier or any less complex.
Interview with the director: Adam Spreadbury-Maher
Ahead of the show's run at Trafalgar Studios, I caught up with Adam Spreadbury-Maher for a behind-the-scenes look at the production.
What are some of the challenges in bringing a period piece, such as this, to the stage?
I don't see it as a challenge, I see it as a divine opportunity to celebrate a period.
The play is set in 1982, but we don't have furniture and set that denotes that period because the action takes place in Greg's flat. Greg's a bit of a penny-pincher, so he probably has hand-me-down furniture. It's an eclectic flat, a bit of a mess. He's not particularly house proud.
We've been blessed to work with production consultant, David Parker. David lived in Tufnell Park in the early 80s – which is where the play is set. He's able to come into rehearsals and talk about the world of the play, and he's given us some great consultation and advice, particularly on personal lives and lifestyle – how people lived, what people did at the weekends, politics, current affairs, and their sex lives.
In terms of connection, there is the theme of relationships. Faithfulness and unfaithfulness and being in an open relationship and the questions this poses – Is this model right for me? Is there a future? Can I change this person? Should I change for them? These questions are timeless and romantically universal.
Kevin Elyot seemed to have a real gift for documenting the experience of gay men. What are some of the features of his work that give it authenticity?
Kevin wrote of his time – he chronicled the world around him and that's what is so special about his work.
There is a real sense of autobiography in his work. This is what makes Coming Clean so precious – it's a snapshot of history. There's no other gay play written at that time that caught the golden moment between partial decriminalisation of homosexuality and the AIDS epidemic.
You're bringing this production back to Trafalgar Studios 12 months after its last run. Has the production evolved at all?
It's a great chance to showcase the King's Head Theatre, again, to a wider audience – an audience that might not know about us or travel to Islington or London very regularly. It's a fantastic way to celebrate the King's Head, especially in the year of our 50th anniversary and ahead of our move into Islington Square.
We have a new cast member, Jonah. I'm very excited about him joining the team because he'll be bringing a new take on Robert, the catalyst of the play. The arrival of Robert changes the daily rhythms of three characters – Greg, Tony, and William. The new, unique way that Jonah creates this will be interesting. Tom Lambert did an excellent job before him but they are two very different actors from very different backgrounds. This is also Jonah's first professional and West End debut, which is very special. I'm really excited to see what he does.
Deception is one of the key themes of Coming Clean – that something we thought we knew is not what it seemed. What does the play show us about the rules and realities of gay relationships?
I would offer that 'deception' is a slightly problematic word. It's more of a comment on the universality of any kind of relationship where two primary partners live together, domestically, yet have an arrangement to see others. This is in no means limited to a homosexual relationship. It's something that a lot of couples do and is a very modern concept nowadays.
I think that deception doesn't know sexuality as a boundary – deception in a gay relationship is no different than it is in straight relationship. Deception is probably the most crippling and impacting wound we can inflict on each other in a relationship of love, and the most difficult to get over.
What do you hope that people feel when watching this production of Coming Clean?
I hope they feel a sense of engagement and identification – seeing a bit of themselves on stage that they might not be as in touch with, a bit of themselves that they need to see. A moment of communion with the work and then afterwards leaving with a spring in their step and another paradigm to add to the rich tapestry of their lives and relationships.
I want them to be more comfortable with who they are as people and how they express themselves sexually in their relationships and future relationships, and to remember that life is about change, death is stagnation.
Coming Clean will run at Trafalgar Studios until 1 February
Photos from the production
Rehearsal photos