Review: The Human Voice by Pedro Almodóvar
Continuing to bring the drama to queer cinema, Almodóvar delivers compelling films that explore the complexity of desire, passion, family, and identity.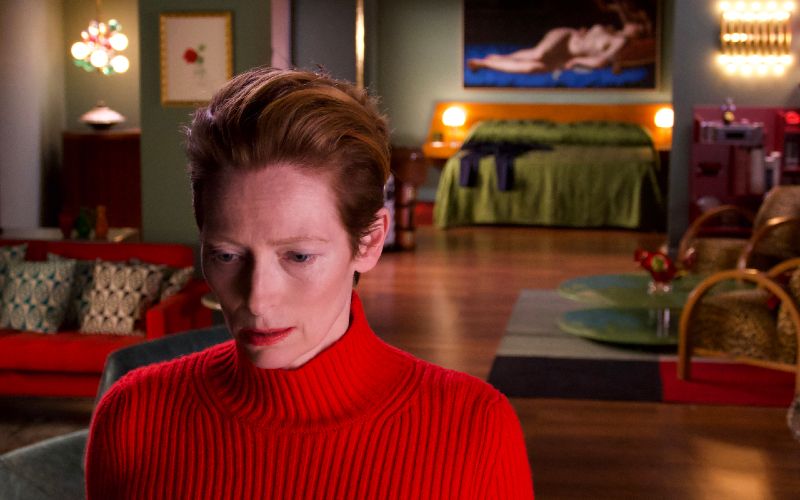 If you ask any queer filmmaker where they draw their influence, or who are their cinematic heroes, in almost every case the name of Pedro Almodóvar will be somewhere near the top of the list.
His latest film is The Human Voice. Starring Tilda Swinton, the film has recently had its premiere at the Venice Film Festival.
In The Human Voice, Swinton plays a desperate and vengeful woman, abandoned by her lover.
An adaptation of the Jean Cocteau play, The Human Voice is only 30 minutes long, and it's Almodóvar's first film where all of the dialogue is in English.
It's a stunning piece of filmmaking. Almodóvar fans will recognise plenty of his signature stylings, and Swinton is mesmerising – she's always great, but this is next level.
Who is Pedro Almodóvar?
Early Life
Born in 1949, Almodóvar was raised in Calzada de Calatrava, a small rural town in Spain.
When Almodóvar was eight, the family moved to the city of Cáceres. It was in Cáceres where Almodóvar discovered cinema.
In 1967, Almodóvar moved to Madrid to become a filmmaker. Almodóvar embedded himself in the alternative cultural scene of the city, becoming a crucial figure in La Movida Madrileña – the Madrilenian Movement – a cultural renaissance that followed the death of Franco.
Around 1974, Almodóvar made his first short film – using a Super-8 camera. By the end of the 1970s, Almodóvar's short films were being shown at parties in Madrid and Barcelona. These short films had overtly sexual narratives and no soundtrack, and quickly established Almodóvar's reputation as an innovative filmmaker.
Personal Life
Almodóvar has been in a relationship with Fernando Iglesias since 2002.
The films
Having developed a distinctive style, Almodóvar's films generally feature a number of consistent themes – including queer people and queer relationships, obsessions, strong women, religion, music, and an over-the-top embrace of kitsch and camp.
Here's some of our favourites from Almodóvar's filmography.
Law of Desire (1987)
This is a story about a complicated love triangle between a gay filmmaker (Eusebio Poncela), his transsexual sister (Carmen Maura), and a repressed murderously obsessive stalker (Antonio Banderas).
Women on the Verge of a Nervous Breakdown (1988)
This story focuses on Pepa (Carmen Maura), a woman who has been abruptly abandoned by her married boyfriend, Iván (Fernando Guillén). Over two days, Pepa frantically tries to track him down. In the course, she discovers some of his secrets and realises her true feelings.
Live Flesh (1997)
An adaptation of Ruth Rendell's novel Live Flesh, the film follows a man who is sent to prison after crippling a police officer and seeks redemption years later when he is released. Live Flesh marked Almodóvar's first collaboration with Penélope Cruz, who plays the prostitute that gives birth to Victor. Additionally, Almodóvar cast Javier Bardem as the police officer David and Liberto Rabal as Víctor, the criminal seeking redemption. Italian actress Francesca Neri plays a former junkie who sparks a complicated love triangle with David and Víctor.
All About My Mother (1999)
The story revolves around a woman Manuela (Cecilia Roth), who loses her teenage son, Esteban (Eloy Azorín) in a tragic accident. Filled with grief, Manuela decides to track down Esteban's mother, Lola (Toni Cantó), and notify her about the death of the son she never knew she had. Along the way Manuela encounters an old friend, Agrado (Antonia San Juan), and meets up with a pregnant nun, Rosa (Penélope Cruz).
Bad Education (2004)
This is a tale of child sexual abuse and mixed identities, starring Gael García Bernal and Fele Martínez.
Volver (2006)
This story is a mixture of comedy, family drama and ghost story, following the story of three generations of women in the same family who survive wind, fire, and death.
Pain and Glory
Pain and Glory is Almodóvar's 21st film, and reunites him with actors Antonio Banderas and Penelope Cruz.
Pain and Glory tells of a series of re-encounters experienced by Salvador Mallo (Banderas), a film director in his physical decline.
Some of these re-encounters are physical, some others are remembered – his childhood in the 1960s, when he emigrated together with his family to Paterna in search of prosperity, the first desire, his first adult love in Madrid in the 1980s, the pain of the breakup of this relationship, writing as a therapy to forget, the premature discovery of cinema, and facing the impossibility of continuing to create films.