Same mess. Different medium.
Kieron T. Lachlan takes us between the pages of erotic gay fiction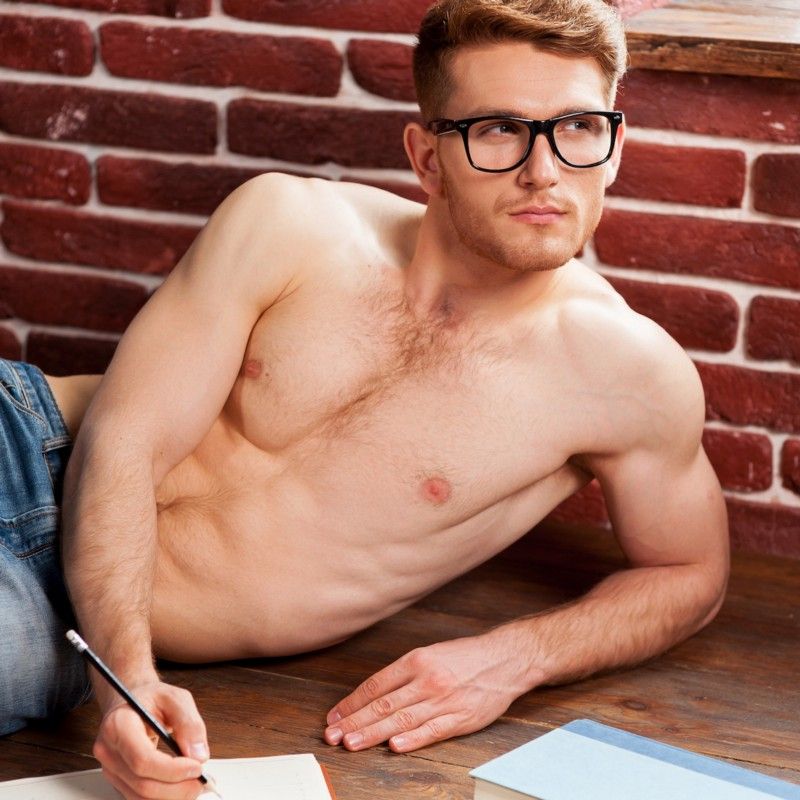 Author Kieron T. Lachlan specialises in erotic stories about encounters between men.
I caught up with the writer behind the pen-name to talk about how fap fiction fuels our fantasies.
How did you start to write erotic gay fiction?
My lewd mind concocted a number of steamy gay sex scenes I could never include in my non-erotica novels. Instead, I wrote the sex-scene ideas down in a separate note file and eventually created this exclusive pen name to publish gay erotic fiction. I've also read and enjoyed several erotica books and collections in the past - these stories inspired me to create my own sexy tales of gay love and sex.
I started scribbling notes and ideas in late 2012, but crafted four stories in 2014. Then, I put the four drafts away because I wasn't committed to publishing erotic stories.
When I shared the original stories with one of my close gay friends, his feedback was: "Wow, these are like amazing porn - same mess, different medium." He also told me how the stories had led him to take matters into his own hands that night.
In 2016, I polished up the original manuscripts and drafted new ideas. The first story, Farm Buds, was published in September 2016. The rest followed over time.
There are seven stand-alone stories. I've also published the original seven stories in a collection that includes a bonus eighth story.
Some of my friends know I write gay erotica, but it's just not worth sharing that with my other circles right now.
Where do you get your inspiration for your stories?
Inspiration strikes from anywhere. A scene on a television show or a movie might inspire my imagination to continue writing what could have or should have happened. Or, I might use something from my past to write a steamy fiction of what could have happened.
What's your process when writing an erotic gay fiction story?
I write for gay men who want to get off. I've always been aroused by gay erotica, so I write specifically with gay men in mind.
I start by identifying the plot - working out the sex that will happen. Then, I figure out who's in it, and what sexy shenanigans they could get into along the way.
Part of the process includes a small profile of important details that I fill out for each character:
Character name
Eye colour
Hair colour and style
Pubic hair - grooming, colour, texture
Body Hair - grooming, colour, texture, chest, abs
Physical traits - height, weight, muscles, sinewy
Cock and balls - length, girth, low hangers or tight clingers
Sexuality - more dominant, more submissive, top, bottom, vers, side
Believe it or not, when you're working with two or more characters in bed, unveiling various aspects of their sexuality and physicality gets confusing - it's super handy to be able to refer back to this list.
Since these are short stories, I don't spend a lot of time diving into the character's psyche.
The aspect of plot outline is loose for me. I let the characters and their sexuality take things where they want to go. Often, a story changes direction from what I initially anticipated as their heat builds and their lust unfolds.
Where do you publish your stories?
I independently publish through my own imprint, Purple Spekter Press. I widely distribute the short stories through Draft2Digital, and use Amazon's KDP Select to publish the larger collection.
I promote my work through Twitter and Queer Romance Ink.
Which has been your most popular story?
The Cabin is the most-downloaded story, with Farm Buds, Forbidden, and Roommates tying at second place.
Over on Amazon, For His Pleasure is regularly read via Kindle Unlimited.
What sort of feedback have you had to the stories that you've published?
I think people secretly love to read erotica, but they're reluctant to post comments or reviews out of embarrassment or shame. While I have positive verbal feedback from my circle of friends who beta read my stories, none of them will publicly admit to reading erotica for fear of tarnishing their professional reputations.
What do you hope that people feel when reading your stories?
Significant arousal.
Follow Kieron T. Lachlan on Twitter
Jax shuddered as he filled Ben with his dick, the enveloping warmth encouraging him to bury his cock deep inside his buddy.
Ben reached up and pinched Fenix's nipples hard as he sat back and took all of Jax inside him, the heat of his buddy's cock sending a wave of pleasure through his body. Fenix cried out at the pleasurable pain that surged through him.
Rugger grabbed Fenix's hips with his hands and he fucked their prisoner faster. Fenix writhed again and howled with pleasure as the monster cock slammed into his hot spot with increased vigor.
Ben felt the warmth of Jax's muscular body on his back as the man's hips bucked and he slow-fucked Ben's eager hole from behind, his cock rubbing over Ben's hot spot as his hand jerked Ben off with Fenix's slippery precum.
A moment later, Fenix grunted and heaved. His balls drew up and his cock bounced and throbbed with sex-filled energy. A stream of translucent white precum streamed out of his swollen dickhead and splashed onto Ben's chest, abs, and the eight-inch cock Jax slowly pumped with his hand.
Ben cried out when the fresh precum slicked his dick up once more and he nearly exploded right there. He grabbed Jax's arm and held it in place, holding off the imminence of his orgasm away as the dick slow-fucking his ass seemed to thicken inside him.
Seconds later, as Rugger slowed his aggressive thrusting and opted for long, deep penetration, Fenix's dick splashed out more precum onto Ben. Jax used his left hand to spread the precum on Ben's smooth, muscular chest.
With his right hand, Ben grabbed Fenix's tight balls and worked his thumb and forefinger around them, tightening and tugging downward. Fenix moaned and his glistened dickhead leaked more precum. Then it quivered and bounced in ecstasy as he roared with primal lust and sexual frenzy.
"Oof…" Rugger hissed as Fenix's hole tightened around his ten inches and their prisoner's body prepared to unleash raw, sexual fury.
I barely have time to notice Dominant7 isn't touching me. Instead, all I can feel is the aneros inside me, causing my body to thrash and spasm with utter delight. With every bodily movement it induces, the aneros drives me crazy, working my prostate with each ass clench, but not letting me cum, which I suddenly want to do. Right now.
I try holding the clench, which presses the toy against my prostate. I try relaxing the clench, which moves the toy across my hot spot. My dick dances and leaks more precum, but I can't get off no matter what I do.
And that's when I realize, he wasn't kidding: I can't get off until he says I can.
I end up thrusting into empty air. Dominant7's hands are nowhere on my body, and I'm confused, whipped up into a desperate sexual frenzy that is a result of brilliant calculation on his part.
Finally, I can't stand it anymore.
My voice, my cries of ecstasy, become guttural and primal. My arms - my biceps - tighten against the restraints as I uselessly try to reach my dick, but the restraints hold me fast.
"Please…" I whisper, though my voice sounds more high-pitched and overcome with excitement than I expect. My arms tremble against the restraints; my left foot cramps and my right leg shakes.
"No, because you didn't say, 'Sir.'"
"Fuck…" I whisper. I feel myself sweating with desire as the aneros presses in deeper and my body spasms with pleasure again. That's when I realize Dominant7 is manually moving the toy back and forth inside me, increasing and varying how it simulates my overstimulated hotspot. I feel my cock pulse and throb as it tries to cum, but it's useless.
A moment later, I feel my left ankle becomes unshackled.
Then, my right.
The sound of a tearing condom wrapper catches my ear and I realize what's next. This is what I've been waiting for, although what's already happened is well beyond my expectations.
Follow Gareth Johnson on Twitter
---
Show your support for G-TV by grabbing a t-shirt.
Available in a range of sizes, colours, and styles.