Sausage. Pasta. Bake.
A simple way to use up leftover cream.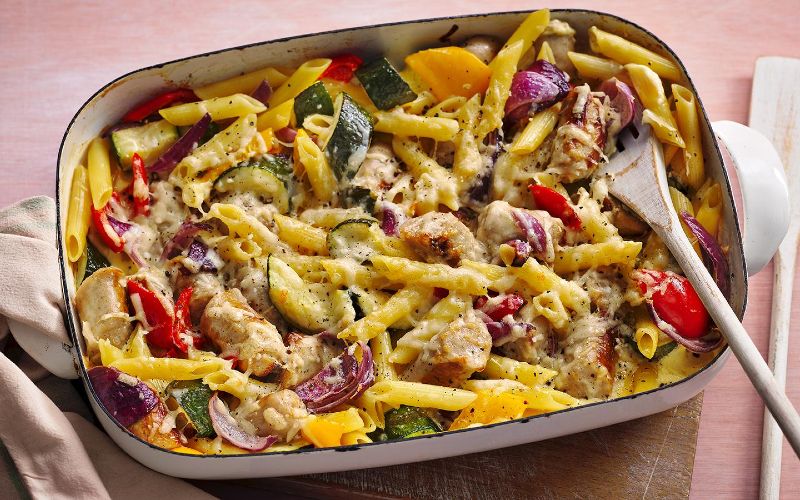 I am not a fan of pasta-bakes. Old-school Italian baked pasta dishes can be wonderful, but the quick-and-easy hodge-podge version is generally fairly underwhelming.
However, if you've got some leftover cream, this all-in-one sausage and vegetable pasta-bake is super-easy and relatively tasty.
This is a basic recipe that you can adapt to whatever you've got in the fridge or whatever takes your fancy.
If you've got time - or don't have cream - you could just make a simple white sauce (with butter, flour, and milk).
Ingredients
1 onion, cut into wedges - a red onion works well, or a couple of banana shallots. You could use a brown onion, but these tend to be a bit overwhelming.
2 large capsicums, cut into chunks. You can use any colour, but the red or yellow ones taste a bit sweeter and add a bit of colour to the dish.
1 tbsp olive oil
6 sausages, cut into chunks
200g pasta - something like penne works best
300ml single cream (or substitute this with a white sauce)
75g of cheese, grated - a mixture of cheddar and parmesan works well, but go with whatever you've got access to.
Method
Step 1
Preheat the oven to 200C.
Step 2
Put the vegetables in a large roasting tin, season with salt and freshly ground black pepper, toss with the oil and roast for 10 minutes. Add the sausage pieces and toss. Add some fresh or dried herbs if you've got them. Roast for 20 minutes.
Step 3
Half fill a large saucepan with water and bring to the boil. Add the pasta and cook until al dente. Drain the cooked pasta in a colander.
Step 4
Add the pasta to the vegetables and sausages. Pour over the cream and toss together. Sprinkle with the cheese and cook for 4–5 minutes or until the cheese has melted and sauce is beginning to bubble around the edges.