Searching for sex in San Francisco
Bathroom Stalls and Parking Lots is a film by Thales Corrêa. #TakeItOnline and add this queer movie to your watch-list.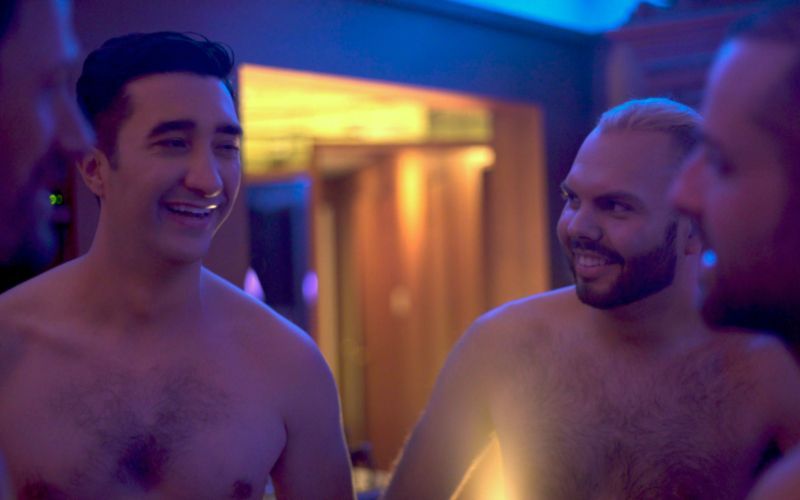 If you're looking for quality queer films to add to your watch-list, check out Bathroom Stalls & Parking Lots.
Written and directed by Thales Corrêa, who also stars, Bathroom Stalls & Parking Lots follows a group of friends as they take to the streets of San Francisco to pursue a dating app fling – doing whatever it takes, even if it means trekking through the seedy club scene, with clandestine meetings in bathroom stalls and parking lots. Along the way, the men discover truths about themselves and the reality of modern dating.
We caught up with Thales Corrêa for a behind-the-scenes look at the film.
Were you drawing on personal experiences to create these characters and their dating dilemmas?
Yes, completely. This film is almost autobiographical. The characters are based on ourselves and other friends. People we hang out with and share similar struggles with about relationships. We realized that our struggles were more common than we thought, even among straight people.
While writing the movie, we were zooming in on our own every-day situations through a dramatic lens. Most of the dating dilemmas portrayed in the movie were based on personal conversations I had as friends with my co-writer, Izzy. In fact, the text messages seen in the film are taken from real messages that I received from the guy that this story was based on.
What was the production process?
Izzy Palazzini and I wrote the screenplay together. We did it in our Christmas vacation – we had about three weeks off work, so we cranked the whole screenplay out in that time.
Before that, we'd had a weekend in San Francisco where we researched for the film and wrote the outline for it.
After we had the screenplay, everything came together pretty quickly. We had 10 days to film it at first, then we came back to shoot a further five days.
Was it was always your intention that yourself and Izzy would play the main characters of Leo and Donnie?
Hell fucking no! Being in front of the camera and also directing was a daunting idea. But, as we discussed the concept of the film and decided to do it bilingual, hell yeah! Portuguese and English! I loved that.
It only made sense that we both play those characters. Izzy convinced me by citing contemporary filmmakers that have done the same and we both admire – like Lena Dunham, Spike Lee, and a few others. Izzy had studied acting at the Academy of Arts in San Francisco, so he had some experience. I was jumping in as a newbie. By the time we stepped onto the set, we were extremely confident about it. We had so much fun playing those characters.
The rest of the cast mostly came from casting notices on websites, and we cast through self-tapes and phone conversations.
Do you feel that we can learn from other's mistakes in love and dating and sex, or do we all have to go through that journey of messing things up and trying to figure out what's important?
I feel that each person learns in their own way. I am the type of person who can listen to other people's stories and study the theories, but I'll only learn after I throw myself in, make my journey, and mess a lot of things up. There's nothing wrong with that. The danger lies in when you do it repeatedly, learn nothing new, and never evolve from the mistakes you've made. I'm proud of myself the most when I realise that I've grown and that I'm not make the same mistakes that I used to.
Hearing from other people's experience helps you make your own self-realisation – giving you something to compare to, and encouraging you to hope that things can be different. It shows that you're not the only one going through a particular situation.
But films are special. Watching a film is not the same as just hearing people's stories. Films are meant to draw you into them, so you can experience stories yourself. Films evoke emotions, and that's the most powerful thing to create change.
As a filmmaker, what were some of the challenges in ensuring that the story that you were telling would feel authentic to the community that you're representing on screen?
Making an authentic film that could represent our community on screen was our number one priority, right from the initial conception of the film. So much so that we even taped our conversations with friends. We wanted to capture all the lingo, and inside joke that we normally have, so we didn't leave important things out while writing the screenplay.
We arranged a night out in the Castro district, which is something that we often do. This time, however, we'd hidden microphones on our shirts. We pulled a lot of the lines and situations from that very night –  it reflected the entire theme of our film. We wanted to make it seem as realistic as possible, that's why most of the film's humour comes from the things we hear in our daily lives.
One challenge we had was finding gay actors. I thought it would be easy, but I was surprised by the amount of straight actors who auditioned for our gay roles. At some point, I had to go on dating apps to look for local gay actors. I set up a production profile and brought in some guys from the apps. However, we ended up casting straight actors – they grasped the ideas and could play the parts truthfully.
What do you hope that people feel when watching Bathroom Stalls & Parking Lots?
Two things. Firstly, that they're not alone. We all go through rejections. Everybody is trying to find their place, and be accepted – not just by their families, but by their own community. Sometimes we get misguided along the way and get taken advantage of through our vulnerabilities. But you can still stand up and pursue what's best for you.
Secondly, liberation. I hope that people who watch the film feel free to be themselves. Partying hard, loving hard, enjoying the most of what they can out of life. There may be risks in doing so, but don't have any regrets in being unapologetically yourself. If you mess things up, that's okay – you can look back, learn, and evolve. We should never be ashamed of our colourful personalities – if you're a bottom, or a top, if you enjoy clubbing, or Netflix and chill. Or maybe you're a hopeless romantic who wants to settle down. We all deserve to be loved the way we are.
Bathroom Stalls & Parking Lots is distributed by Breaking Glass Pictures