Sex/Crime - a twisted tale that explores the darkness lurking within hookup culture
Written by Alexis Gregory, this is a queer play that gets under the skin of male desire.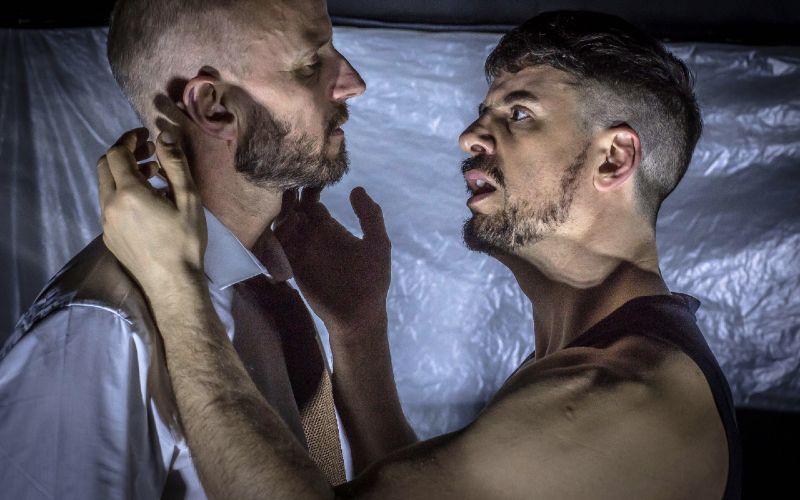 Written by Alexis Gregory, Sex/Crime is a dark and disturbing play that had its debut at The Glory in East London before transferring to Soho Theatre for a West End run.
Published by Oberon Books, this is a two-hand play that Alexis Gregory has performed with Jonny Woo, directed by Robert Chevara.
In some senses that is a story that exists in a bit of a void or a vacuum – in a fractured and divided city, two men, 'A' and 'B', meet to recreate the killings of a famous gay serial killer, for their own pleasure and for the right price. But it's a story that taps viscerally into the known unknowns of gay hookup culture. It's an intense ride with occasionally moments of twisted humour.
Ahead of the play's recent run at Soho Theatre, I caught up with Alexis Gregory for a behind-the-scenes look at Sex/Crime.
Why was Sex/Crime a show that you wanted to transfer from The Glory into Soho Theatre?
Sex/Crime had a three week, sell-out run, downstairs at alternative queer venue, The Glory in the East End. We turned the basement bar into a studio theatre.
The play is very challenging and hard-hitting, but very funny too, and the audiences and critics totally 'got' what we were trying to do.
There was always more life in the play, and I'm so pleased that it's been picked up by such a well-respected spot such as Soho Theatre.
We're all really excited regarding this next step.
You've retained the original cast – does that make it easier to transfer a show like this, or are you effectively starting from scratch given that you're moving into a different theatre space?
We're not starting from scratch but we are building on what we had before.
Acting-wise, and even as the play's writer, as I'm re-learning my lines, I'm finding new and deeper meanings in my play.
I understand it on a deeper level now, and I've gotten a couple of years older – I've changed over these last couple of years.
Sex/Crime is a wild, sexy, shocking, one-liner-filled outrageous comedy, but the play's deeper themes – for example, the gay male search for intimacy and the issues associated with that, internalised homophobia, and how fractured our lives have become across the whole of society – are really jumping out at me more so this time.
Has the show evolved at all from the production that was mounted at The Glory?
I've updated the script slightly, and it's now set in Soho as opposed to the East End.
All of my work creates it's own fantasy world, in some shape or form. It exists on its own while still making – I hope – a comment on society and where we are politically.
Since I initially wrote Sex/Crime, the play's wider themes – such as division, fear, and societal breakdown – have become more pertinent.
When I saw the show at The Glory, there were moments of dark humour but it was a pretty intense and confronting piece of theatre. Why is this a play that is going to resonate with today's theatre audiences?
Like all work that's very specific and carves out its own place in the world, I hope that this play is timeless.
All of my plays explore challenging queer issues, and I think that's really important.
We are seeing lots of queer stories on our stages at the moment. I think that it's important that they're truthful, not sanitised, and are exploring the realities of our lives or at least some of our lives.
Do you think Sex/Crime will put anyone off using hook-up apps?
I often think of Sex/Crime as a cautionary tale, but I didn't write it regarding the apps – it's not that literal, it's much broader. It's a very multi-layered play.
Its message is – be careful about what you let into your life. That's what we're trying to communicate, but I'm very happy if audiences also find their own meanings within the play.
What do you hope that people feel when watching Sex/Crime?
Robert's direction is beautiful and unafraid, and pushes the play to the next level.
Jonny and I really go for it with the performances. Jonny will surprise a lot of people with his work on Sex/Crime. Audiences have never really seen him in such a role – he's fantastic.
We're really trying to create a very special experience for our audience. I want the audience to be entertained, to laugh, to be provoked and to be challenged. Sex/Crime is also very sexually charged – it is a play about fetishes, after all.