Sex-free for 100 days
Real Men. Real Stories.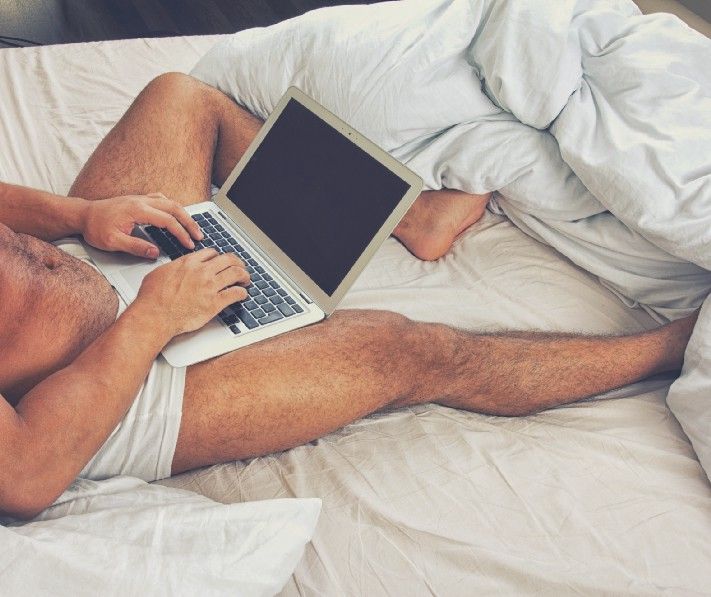 I caught up with my buddy Chet, to talk about the soul-searching he's embarked on as he approaches his fiftieth birthday.
Chet has to remain anonymous for this interview due to the nature of his work.
Turning 50
As I approach the half-century mark, I first have to express gratitude for having lived this long. I also have to express gratitude that I'm still interested in, capable of, and exploring with sex.
Hooking Up
Recently I committed to taking a break from the drama of hooking up. This was triggered by my last two encounters. The first was with five guys at a men's campground. The second was a one-on-one squirt.org connection.
Both encounters were awesome at the time, but there was emotional turbulence after each. The turbulence was that the guys were wanting more — more encounters, more of a relationship, more leading on without either a clear goal or a positive reason.
Soul Searching
Breaking from that drama meant that I had to do some soul-searching about how I want sex to fit in my life.
My fantasy is to replace Lincoln Gates in Public Meat, and get rammed bareback by Sam Porter, but that's not anything more than a wish. My reality began with asking myself — Am I desirable, to myself? That question isn't intended to be vain or narcissistic. Instead, the question is intended to take an inventory of my positive and negative aspects and to try to improve on the negative aspects.
So, over the past 100 sex-free days, I've been working on improving tangible and intangible components in my life.
100 sex-free days
In these past one hundred sex-free days, I committed to thinking about my life more honestly. I did think about sex a lot, and there was some internal conflict as I signed up for and deleted gay hook-up apps. But, with a look away from finding that next partner, I revised what I want from life — especially regarding fitness, work, and relationships.
In the past three years, I purposefully lost weight for medical reasons. Now, I realised that I want to lose ten pounds more for that 30-inch waistline — for those medium or small swim-briefs, for less pounding on my knees when I run, and for more normal levels of cholesterol.
Regarding work, I've been torn between two large interests in my work life. I realised the interest I have neglected that now offers more satisfaction and a possible extension for my career.
While clarity has emerged regarding fitness and work, I remain unsettled with respect to my relationship goals. I have jerked off with a bud or two on cam over the past three plus months, and I jerk-off every day — at least once, frequently twice — to relieve my own sexual energy. I'd love to find another man — not a flake, not an immature needy guy, and not an avoidant diffuse chameleon — but a physically and emotionally mature male who has direction with whom I can share my 5'11" 165lb, 31W, runner-pig-bottom body.
Beyond, the physical though, things are fuzzy but I have a start. To quote Meatloaf — 'Two out of three ain't bad…' so I'm willing to give myself some more time on this one.
What next?
I have improved my life through this period of celibate reflection, but I'm still not ready to connect yet. I don't miss the time or hours trying to find Mr Right Now or Misters Right Now for group-fun. I don't miss post-encounter stress about STIs. I also don't miss post-encounter stress from relationship seekers.
This solo journey isn't over yet. Tune in for more.