She Goat bring light, joy and cheekiness as they do love differently
The Undefinable takes a fresh look at relationships.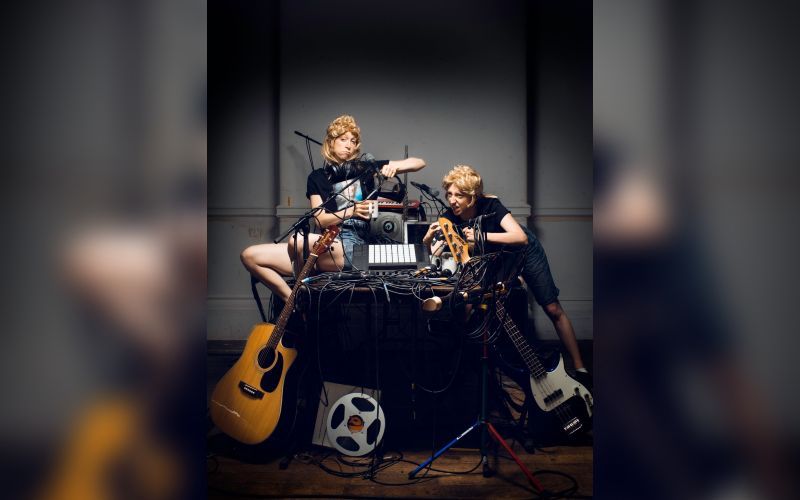 Eugénie Pastor and Shamira Turner are She Goat. Their latest show is The Undefinable.
We caught up with She Goat for a behind-the-scenes look at the show.
What was the inspiration for this show?
The show was inspired by a desire to give visibility to the kind of loves we don't see represented in mainstream culture, and explore alternative love structures for people who, like us, don't identify within heteronormative societal expectations.
The show also stems from our own partnership, which we have sometimes described as being 'queer-platonic' – a relationship that is more intense and intimate than is considered usual for a friendship, but doesn't fit the traditional sexual-romantic couple model.
We wanted to make a show exploring and celebrating these kinds of relationship dynamics and love stories – ancient and unwritten – that might be misunderstood and might elude labels. Love in the in-between.
We were also inspired by the devoted letters of Nathaniel Hawthorne to Herman Melville, French Enlightenment philosophies of love, coded lust-letters of George Sand, and the noughties Euro-pop we grew up listening to.
It was also key for us that we develop a show where every performance would be accessible to visually impaired audiences and that inspired us to find an innovative style with integrated audio description.
The promotional material defines the show as "zany live radio gig-theatre" – what does that mean?
Our work always incorporates a lot of live music, played in performative ways, and in that respect it is sometimes closer to a gig than to theatre. It exists in a place where the two forms intersect. We are both multi-instrumentalists and we compose and arrange harmonies which are a big part of the sonic world of the show. Some of this music is our own, and some is irresistible classics in surprising new forms.
We knew from the start that we wanted The Undefinable to be a late night live radio show and felt fascinated by the form for a few reasons. We love how radio is at once distant and intimate. The voice on the other line is – possibly – miles away and yet right in your room with you, keeping you company.
We love the idea of people being able to tune in for company. And so for the restless – the lonely, the can't-sleeps, the night-owls radio – can be a source of solace, distraction, a soundtrack. Watching The Undefinable you aren't sure if this is a real DIY radio station broadcasting, or just a game we play, a weekly ritual we do for one another in a garage studio.
Radio is the perfect form for us to creatively integrate audio description into the show, making every performance accessible to visually impaired audience members. No extra headphones – we deliver all the audio description live within the style of the performance. You can witness us on and off-mic, and it's as much about us "running" the show in real time, playing music live, navigating our relationship, as it is about the actual 'radio show'.
You're exploring the concept of Doing Love Differently – how would you describe what it means to do love differently?
We feel that it could mean asking questions and making choices about your relationship structures, behaviours and yearnings, enabling relationships to find their own forms day by day, rather than undergoing a pressure to fit within a template or follow an expected trajectory.
Alternatives are not often made visible or can be misrepresented or demoted in value within the bulk of the often heterenormative and mononormative 'culture' we consume. To us, doing love differently means exploring love in a liminal space, love that doesn't have the language or words to fully describe it, love that we feel but can't always explain.
It's also about celebrating different types of relationships, that can be as valid and profound as monogamous love can be – relationships such as chosen kinship, polyamory, asexuality, aromantic relationships, deep friendships, life partnerships, and relationship anarchy.
This is a show that takes us through different eras and points of time. Why is it helpful to give an historical context to doing love differently?
Sliding across different times and eras was also something within the fabric of our previous show DoppelDänger.
Exploring how people have done love differently through time is a helpful way to chart how the ways we imagine and speak about relationships change and morph depending on specific eras and what is socially acceptable or condoned in any given society.
It's also a way of realising that, even though one can sometimes feel a bit isolated and different, there have always been people who have loved and lived their relationships in ways that didn't fit or weren't accepted.
Time-hopping in the show is a way of creating a web, a community of people across time and space that have been thinking, feeling and living in ways that can be inspiring, heart-warming, reassuring, and radical.
Who are some of your favourite historical figures who have done love differently?
There are quite a few – some of whom are in the show.
We felt inspired by the passionate relationship between the writers Nathaniel Hawthorne and Herman Melville, and in particular how it was expressed in their literary work as well as their private correspondence.
French writer George Sand, who loved passionately and also refused to conform to the expectations placed on her gender and social status by 19th century French society, was also an inspiration.
We are particularly moved by the story of Eleanor Butler and Sarah Ponsonby, also known as 'The Ladies of Llangollen', who, along with their maid Mary Caryll, ran away from their homes to live out their lives together in rural Wales as equal companions. And this was in an era where they had to fight to make this way of living possible for themselves, which was especially tricky as three women.
More recently, we have been really warmed by the way artists such as Maggie Nelson have talked about the ways they do love differently, queer family-raising and what kinds of relationships are possible.
What do you hope that people feel when watching The Undefinable?
We hope that people feel moved and exhilarated, that they enjoy the music and its liveness, that they connect with the themes of the show and feel that, however it is they love, as long as it is consensual, it is valid and precious.
We hope that they feel empowered to reclaim and speak about their own chosen relationship dynamics with positivity, curiosity and safety.
We also hope that they will be happily entertained by its gentle strangeness.
We hope they enjoy joining us for this hour of music and live radio about the unconventional feelings everyone might find themselves in, and we can bring light, joy and cheekiness to a cold December night.
Photo credit for all images: James Allan