Stark Dallas Naked - a heady cocktail of drag and drama
We spoke with Timberlina about And What? - the queer arts festival that demands attention.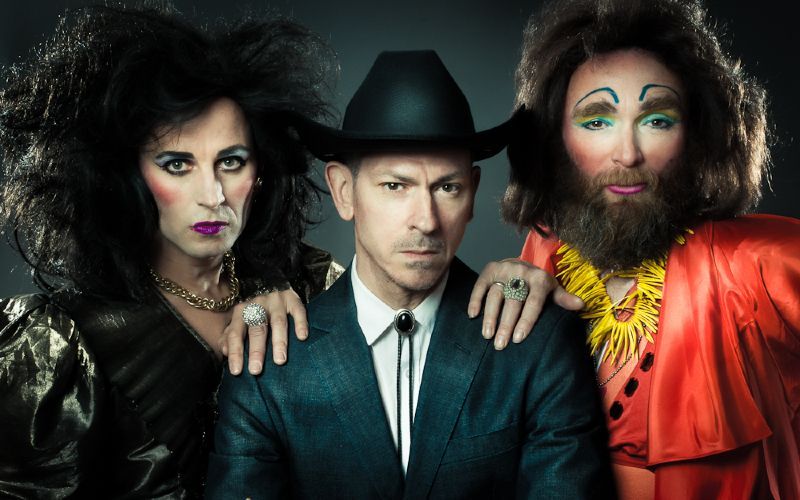 And What? Queer Arts Festival is back, with more emerging talents and international luminaries from the world of queer culture.
One of the highlights will undoubtedly be Stark Dallas Naked.
Stark Dallas Naked
Stark Dallas Naked is a show that was created 15 years ago by Jonny Woo, David Mills and Timberlina – it was first performed at London's Bistroteque.
Much has changed since the show was created, but much remains the same. The team have updated their material to tackle the issues of today.
I caught up with Timberlina for a behind-the-scenes look at Stark Dallas Naked.
You're reviving Stark Dallas Naked – what was the original genesis for this show?
It was three young queers lying about in Weavers Fields with a dream! Seriously, it's funny, because we're always trying to work out how that happened. Basically, Jonny knew David and I knew David and we all met one day in Wyatt's Field and had the idea to write a show. We hatched this ridiculous concept based on David and Jonny's love for the TV show, Dallas. I was too scared to admit that I'd never actually seen it, so I just went along with the idea and that was that.
You've adapted Stark Dallas Naked to update it – how have recent events and the current political landscape informed this version of the show?
It's astounding how much has changed and yet how much is still the same – if not a little bit more intense.
It's interesting how, as a format, TV has changed so radically – not to mention the lexicon of Queer language.
When we first met to re-read through, there were bits in the script when we had to stop and think about whether we could still say this. It's also curious for us to explore how we have developed as people and as individual queer artists. It was a really interesting time.
The And What? festival is a celebration of the alternative and subversive side of queer culture. What does it mean to be part of that?
It's a pleasure and an honour to be acknowledged and celebrated by And What? Andrew – the producer – is a really important force in terms of his awareness to and acknowledging not just queer culture but where it comes from. For me, it's a huge confidence booster to be recognised in this cannon. I feel very proud to have him as a friend and ally.
In terms of what it means to be part of the alternative and subversive side of queer culture, I don't really know how else to feel – that's where I've always perched and I like it there. At times, it's been hard work an outsider – reconciling the world inside, so to speak
If And What? represents the alternative and subversive side of queer culture, who's on the other side?
For me, it's the mainstream heteronormative pink pound and gay consumer culture. Also the contrived, the passive, the apathetic self-entitled members of the community who think they deserve everything yet fail to recognise where it's all come from and how they got here. It's those who don't think to challenge the status quo, people with no regard for responsibility and good guardianship.
It's a pretty massive festival, with some big international names as well as local lots of talent. Is this an indication that London's queer scene is strong and healthy and that the LGBTQ community is in a good place?
I think the simple answer is Yes, certainly to the first bit. Is the LGBTQ community in a good place? It's certainly better than ever in terms of advocacy and awareness in areas such as education and employment. I worry that there is a constant need to factionalise. I feel that often we are missing mutual respect in favour of Me! Me! Me!
As someone who's been a queer creative force in London for some time now, what advice or guidance would you give to younger queers just starting out in the business?
I still find it hard to remember that I am who I am and that is fundamentally the most important thing- not to think you ought to be someone else. There is no right way of doing anything, especially in terms of being queer.
I think in this age of self-obsession and social media, aim to keep a focus on what it is that you are saying, as opposed to what you think you should be seen to be doing. Respect your elders, and know your history.
How do you hope that people feel when watching Stark Dallas Naked?
That we've managed to maintain their attention for the length of the show, and – that being the case – that they feel the pain from laughing too much.
Stark Dallas Naked is at The Pleasance, 27-28 March as part of a double-bill with Lypsinka
And What?
And What? promises art, performance, theatre, alt-drag and so much more with 25 events across 12 London venues.
This year, And What? presents 15 international premieres and 20 London firsts, with artists and work that is billed as heady, political, hilarious, heart-breaking and mind-expanding.
International artists
And What? favourite and underground drag superstar Peaches Christ is back, and she's bringing along counterculture legend Mink Stole. Mink has the distinction of appearing in every John Waters movie to date. Together, they'll be presenting their 2-woman show about fandom, obsession and fame: Idol Worship.
Influential New York artist Lypsinka – the creation of John Epperson – has been pioneering and elevating the art of lip-sync performance for almost 40 years, and is making her first UK appearance in 16 years at And What? Festival with The Fabulous Lypsinka Show.
Storytelling drag trailblazer Miss Coco Peru brings her newest show fresh from touring the US, Have you Heard? packed full of her trademark monologues, songs and wit, gravitas and grimaces.
UK artists
As well as Stark Dallas Naked, there's a host of local talent featured in the festival. Mia Johnson presents Pink Lemonade, a show exploring female masculinity that hits London for the first time since delighting and fascinating Edinburgh audiences in 2019. Plus, there's Harry Clayton Wright, with his award-winning show Sex Education. London's very own drag nightmare, Baby Lame herself, will be premiering her new show Whatever Happened to Baby Lame? There's also new work from Luis Amalia, Lauren Steele, Melody Sproates and Enby Jupiter.
European artists
Danish collective Himherandit will be presenting their 7-screen immersive video and sound installation Landscapes, exploring the Queer ageing body. From Portugal/Germany, choreographer João Cidade will present their piece While the Others Go Wild – created in London over three weeks with a cast of local queer dancers and performers.
And What? Queer Arts Festival runs from 13-19 March