Strength. Playfulness. Resilience.
Max Emerson explores LGBTQ homelessness and hustling.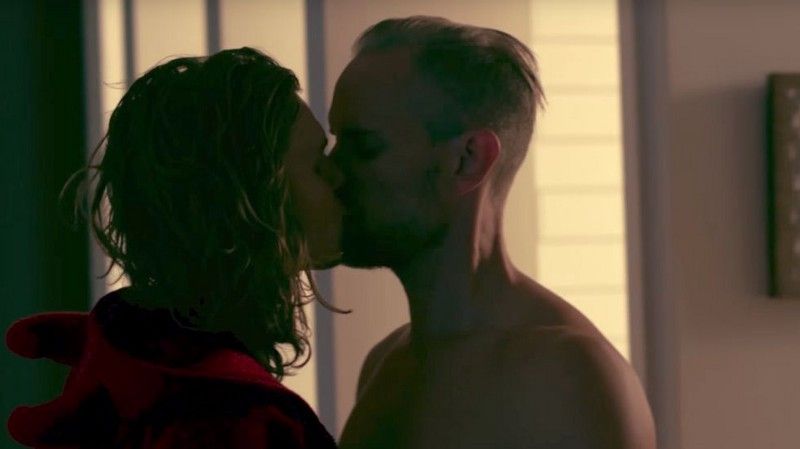 Written and directed by Max Emerson, Hooked gives us the story of Jack (Conor Donnally) — a young hustler, and his boyfriend Tom (Sean Ormond). It's a cautionary tale of life on the streets, and highlights the risks that young LGBTQ people face when homeless.
I caught up with filmmaker Max Emerson for a behind-the-scenes look at the film.
What drew you to focus on the issue of LGBTQ homeless youth?
As soon as I graduated from college, I immediately spent the next year travelling the world — by any means necessary. I returned to a friend's couch in NYC with $400 in my bank account. I've depended on the kindness of friends throughout my life, but then again, I'm lucky — I have friends with spare couches in the West Village. Most people who are down on their luck can't just book a national commercial overnight and make things okay.
The power that comes with the visibility associated with my profession entails some kind of responsibility, even in a minimalist sense. After the completion of my first crowd-sourced project, I felt empowered to launch into something ten times its size. Of all my projects, this seemed like the best match for my current demographic, budget, relevance, and — most importantly — impact.
What was your inspiration for the story of Jack and Tom?
The prompt for Hooked was given to me almost a decade ago in college, by an eccentric older man we'll call Burt. Burt said he'd be the angel investor in a film, as long as it was some kind of romance between an older gentleman and a spunky down-on-his-luck youth. Burt didn't care for Hooked's portrayal and character function of the older gentleman. In-person, Burt was giving me the creeps, so the whole thing got shelved. Hooked was first and foremost a dark, semi-comedic romance written by a love-sick 21-year-old me.
It seemed appropriate that Hooked had echoes of films such as My Own Private Idaho and Midnight Cowboy. Were they films that you were consciously drawing on for inspiration?
Private Idaho is a favourite film. The kids in Hooked belong in the same universe as Keanu and River's characters. They share that same strength, playfulness, and resilience.
I grew up in theatre — I'm used to scripts with almost no description or direction, and very dialogue-driven storytelling. "More black!" — meaning more visual description and less dialogue — was always scribbled as feedback in the margins of my early screenplays.
As far as other film influences, there's a touch of Requiem for a Dream in its stylised first-person POV moments, and who doesn't want the composition of their frames styled clean like a Tom Ford feature?
What was the casting process?
For casting I relied almost exclusively on my connections through the University of Miami. Certain roles were quite difficult to fill, but we ended up with an incredible cast responsible for putting this film miles ahead of anything within its budget. I can't speak highly enough about the actors in this film.
If we look at the vulnerability of young LGBTQ people in the US, what are some of the factors that need to be addressed in order to address the high rates of homelessness?
The biggest factor to promptly address is, how silent the epidemic is. With sexuality entirely being taken off the census, and increasingly less aid going to diverse issues, how can anyone expect to find or even help a kid who's been crashing on his friend's floor for a month? Once we address who and where these kids are, we can reach them with resources and help get them set up for successful lives.
What do you hope that people feel when watching Hooked?
I hope that the viewer could see themselves as being friends with someone like Jack or Tom as they go about their hi-jinks. But Hooked's ultimate goal is to make people squirm. It's very visceral, but not in a blood-and-gore way. There's a first-person POV intimacy with Jack that opens up his world, and allows for a more circular look at the issue of queer youth homelessness. The film is a call to action — it urges the viewer to do more to help than just seeing a movie.