Summer swimwear inspiration: Marcus Aaron for Hunk2
Bold, bright, and reversible. Photographer Armando Adajar captures every angle.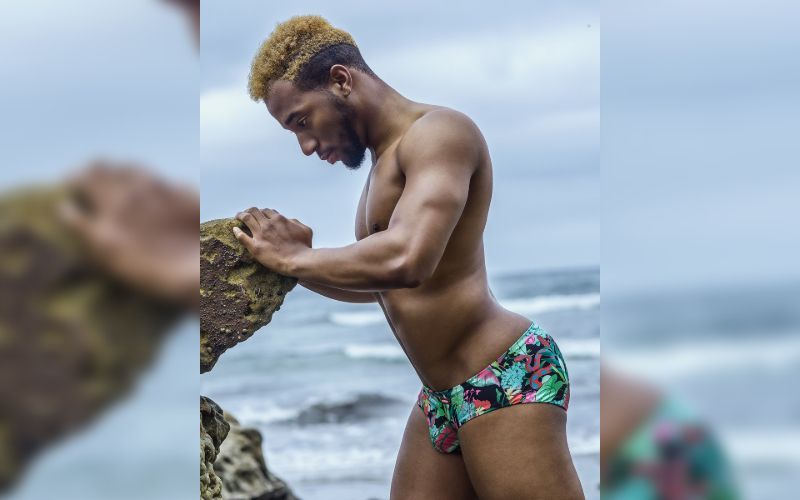 The swimwear
The team at Hunk2 are not just focused on underwear, they've also created a stylish range of swimwear. There's three styles to choose from – swim-short, swim-trunk, or swim-brief. Both the trunks and the briefs feature a reversible design – you're effectively getting two pairs of swimwear for the price of one.
Hunk2's swimwear designs are bold, bright, and eye-catching. It's the perfect statement swimwear to turn heads at the beach or pool-side.
The photo-shoot
Model: Marcus Aaron
Photographer: Armando Adajar
Want to look your best for summer?
If you're wanting to feel good in a tight pair of swim-briefs this summer, let's take a look at some of your health and fitness options.
Bulk-up to lean-down?
Planning a bulking phase in the lead up to summer so that you can shred down to hit your summer body goals is a bit of an old-fashioned approach.
In theory, that cycle of carb-loading and mass-building can help you transform your body, but it takes a lot of work, discipline, and control. Unless you're a physique model or a professional body-builder, you should probably be looking at a more relaxed approach to your summer fitness.
Shock your body to rock your body?
Some people use a "cheat day" to shock the body in pursuit of fitness goals, but that's only going to have material benefit if you're on a super-controlled diet.
There's no harm in cycling your work-out routines in the gym, that helps to keep your body on its toes - figuratively speaking.
Your body quickly adapts - if you're just doing the same thing in the gym, day in and day out, then you will soon plateau and you'll feel like you've hit a wall.
Mix things up a bit - keep pushing yourself.
Eat primal and unleash the beast
The basic principles of primal eating - often referred to as the Caveman Diet - make a lot of sense. Our lifestyles have evolved dramatically, but our bodies are essential the same as the homo sapiens who began taking over the world about 300,000 years ago.
The simplistic version of primal eating is that we should try and eat like cavemen - lots of meat, nuts and seeds.
But our cavemen forefathers had the opportunity to taste fried chicken, or cake, you'd imagine that they'd have gone for that in a heartbeat.
If you want to get a bit primal, try mixing up your diet with some seasonal goodness - what are the fruits and vegetables that are actually in season? When is venison available? What game birds are currently being hunted? What's the freshest season you can get your hands on?