The Act - a short film that shines a light on the experience of gay men in the UK
Set in 1965, this is an important part of our history.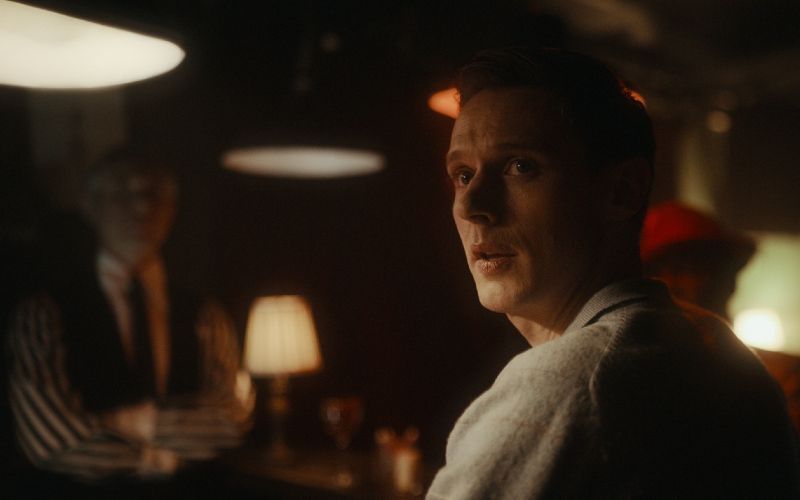 A short film, adapted from Thomas Hescott and Matthew Baldwin's play, The Act shines a light on the lives of gay men in 1965 as male homosexuality was decriminalised.
The film is now available as part of the Boys On Film collection.
Written and directed by Thomas Hescott, The Act stars Sam Barnett in the central role.
What's The Act about?
It's 1965, the eve of decriminalisation of homosexuality in the UK. Matthews – a young gay man at odds with the world and his own sexuality – discovers love, sex and a family in the backstreets and underground bars of London's Soho.
The Act is a classic love story, framed by verbatim text taken from House of Commons debate about the Act.
The film juxtaposes the rigid conformity of society, with the colour and energy of the underground world of 1960s Soho, and the intimacy and immediacy of a burgeoning illicit relationship.
Samuel Barnett plays Matthews, a bureaucrat whose life is changed forever when he falls in love with Jimmy.
Jimmy is played by Simon Lennon.
The cast also includes Cyril Nri and Annette Badland.
"As a member of the LGBTQIA+ community, it was humbling to be part of a film that describes a pivotal moment in the fight for equal rights through the lens of two men's journeys towards living with integrity and dignity…" said Samuel Barnett, speaking about his role in the film. "It's so important that we don't forget how far we have come and whose shoulders we stand on, and how much more work there is to do, especially as we are seeing these rights being rolled back in so many places across the world today. It was a privilege to play Mr Matthews and to be part of such an incredible team of creatives and technicians – truly one of the most wonderful and rewarding acting experiences I have ever had."
Behind-the-scenes with Thomas Hescott
It's January 2013 and I am sitting in a very cold rehearsal room in Oval. I am there with my collaborator (and oldest friend) Matthew Baldwin, and we are busy working our way through queer counterculture songs of the 1960's, going through interviews with gay and bisexual men living in post war Britain, and reading through transcripts of debates in the house of commons.
It is Ovalhouse Theatre's fiftieth anniversary, and they had commissioned five projects exploring five decades of counterculture. We have been commissioned to create something about 1960s gay counterculture, and we now have two weeks before the initial workshop performances.
That early version of The Act was a patchwork of characters and ideas, of songs and speeches loosely held together by a central love story. As different versions of the play emerged (it had three productions over the next 18 months) so the story became refined, the love story took hold and the structure emerged.
The Act on stage was always a very personal story – it was as much about our own stories, romances and obsessions – we used many of our own experiences as a way into the period before decriminalisation. We asked, 'what if that had happened to us in 1965?'. Alongside the personal story we were telling there was of course a bigger story to tell. As men were falling in love and getting their hearts broken so too were another group of men (and it was mostly men) debating their very existence within the house of commons and the house of lords.
These political speeches became the backbone of our story. We started to juxtapose the flamboyant fluidity of Polari with the formality of parliament. We enjoyed letting the audience hear the mainstream narrative of "effeminate, depraved and exhibitionist" deviants whilst they saw very personal humane stories of hope and of love.
Five years later and The Act had long since been put to bed. It had two runs at Ovalhouse before transferring to Trafalgar Studios. We'd done everything we wanted with the story, and we assumed that was the end. My working life had also changed considerably as I was now directing for television, but it was that shift in my working life that led to us rediscover The Act. I was looking for a subject for a short film. I knew I wanted to create a period drama, and I knew I wanted it to focus on an aspect of queer history. That was about as far as I'd got with my thinking when it suddenly struck me that The Act had all the ingredients to be that short film.
Matt and I were keen to have a fresh set of eyes look at the material, and we approached the screenwriter Pete Lawson. What emerged was a version of our story – faithful to the original, but embracing a cinematic form. In this version the house of commons debates start to take on a new role, almost becoming a soundtrack to the film. Early on we discussed whether these speeches needed to be contextualised and whether we needed to see the house of commons, but as we went on it became clear that simply hearing them as we explored the love story allowed the outside world, the mainstream views and prejudices, to penetrate the world we were in without interrupting it.
The extraordinary thing about these speeches is that they are not extraordinary at all. The men making the speeches are not heroes or villains, this was not some big barnstorming scene from an Aaron Sorkin courtroom drama with clever politicians flipping the whole argument on its head. Instead the debate we use is just one of many debates that took place in the decade leading up to decriminalisation. These were professional politicians going about their work – today a debate on gays, tomorrow a debate on planning laws. The words they speak are often dispassionate, professional, and frequently condescending (especially when defending gay men). They offer a window into the way many people viewed homosexuality, and they become important because they were singularly unimportant at the time – they don't present particularly groundbreaking ideas, but rather the ideas of the mainstream.
As you hear the politicians debating our very existence, you might start to wonder whether with friends like them who needed enemies, and it is a real reminder that for any government to function successfully it needs a diversity of voices. The more homogenous it becomes the more detached from reality it becomes. We might raise an eyebrow at the naivety of those politicians of the sixties grappling with the moral fibre of the country, but as we do so we see the same cycle repeat itself with a new group of politicians imposing rules onto the country in 2020 which are built solely around the concept of a heteronormative family.
The Act is a love story, but it also offers a glimpse at the power of protest. As Matthews says in the film – we are "invisible unless we find the courage to speak out. And in that act… the simple act of speaking out, we change the world."
We may have come a long way since 1965, but it is our continued responsibility to speak out, and to change the world for those who come after us, just as others did before.
Written by Thomas Hescott