The art of David Westwood - gay artwork that looks beyond naked men
Unique glimpses into the experience of queer guys.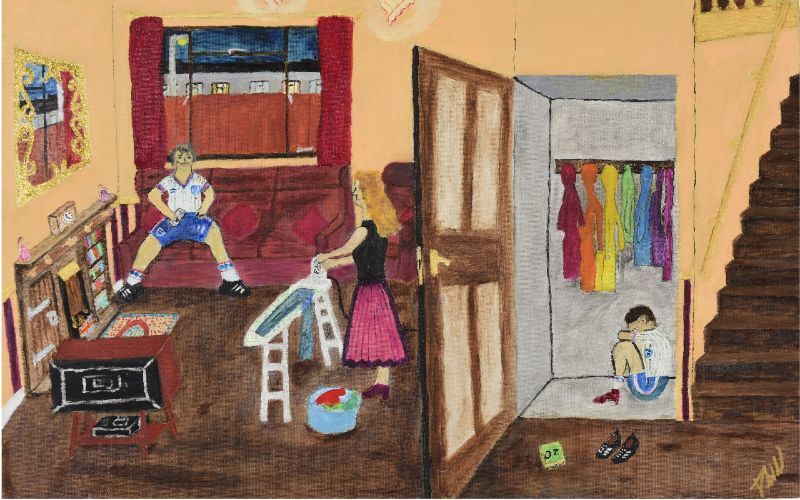 If you're looking to add some queer art into your life, check out the work of David Westwood.
I caught up with David for a behind-the-scenes look at his artwork.
When did you discover and start to pursue your passion for art and illustration?
I'd never wanted to be the artist. I'd always wanted to be the great author – I began by writing books at the age of sixteen.
I found it impossible to get published. I once had a London agent write to me and say, "there is no reason why your book could not be published. It does everything a book needs to." Then came the catch, he received two thousand scripts a week! He could only take two new writers a year. He went on to point out that being one of the two people he took a year did not mean finding a publisher and most books that did get published made a loss. I recall him saying, "if you are looking to be rich, try the national lottery, the odds are about the same." Everyone writing a novel thinks of J K Rowling, but she is the exception and not the rule. I understand the odds of winning the national lottery are one in thirteen million – most weeks, someone wins, but it's always someone else.
I eventually self-published and self-manufactured the books myself to commercial quality. I did several radio interviews and sold a number of copies but found I didn't have the financial resources to promote the books as an established publisher with an advertising budget of millions.
Then in 2012 came my Shirley Bassey moment. My partner of nine years left me for another, younger and far less attractive guy. With Champagne in one hand and chocolate in the other – to make me feel good about a bad situation – I did a sing-along with my old Shirley Bassey records. I hit the notes, "this is my life, and I don't give a damn for lost emotions." The dogs had left the room and my hard- of-hearing neighbour took to assaulting the walls with a frying pan. My life was in a middle-aged crisis and I needed to re-invent.
In the lonely evenings, I formed an urge to create. I started to paint in oils. It is difficult to get a person to commit the time to read a novel, but a painting can also tell a story and it's far easier to get someone to take a moment and glance at a painting.
What drew you to present your art on cards and on posters?
I realised that if I could make books to commercial quality, I could make something as simple as a greetings card or poster.
I have spent as much as two years on an oil painting. It's far easier to get someone to part with £1 for a card or £1.50 for an A3 print. Selling an original for hundreds or thousands of pounds is a vastly different matter.
The backbone of my artwork is oil painting, but I also use mixed media. I create political art, such as messages about gay life but I do not do nudes. I find gay art is obsessed with male nudes and it's a shame – gay people have far more to say than, "I fancy him!"
I also do political art that is on non-gay subjects and other art I create is done just to be pretty.
Who are some of your art heroes or inspirations?
All my heroes or heroines are authors and not visual artists as such. The Bronte sisters! I visited Howarth on the Yorkshire moors on pilgrimage. Unknown to me, my mother took a bag of dirt from outside the parsonage and put it under my bed, hoping it would bring on a classic. She took it from the front of the parsonage which is a churchyard. God only knows whose grave it came from. She put it in a pink doggy poo bag! It was under my bed for years before I found it.
How can people get their hands on your cards and posters?
The easiest way is via my website.
I can do A5 cards and A3 posters from there cheaply.
However, to see my original artwork at its best then it is Saatchi art.
The images of the artwork on there were professionally taken and look better than the ones I did myself for my website. Saatchi art will also do prints in many sizes and on a variety of quality paper and even canvas.
Do you take commissions?
I have taken on commissions in the past. I have made personalised cards for weddings, birthdays and other things like an order of service for a funeral. I've also made books for schools and award certificates.
I work very closely with clients to create to their specifications. There is more about that on my website.
What do you hope that people feel when they look at your artwork?
I do not create what I see, I create what I feel about what I see. I am reaching out and speaking to the world. It is spiritual and some people get the message and others do not. I create art to be seen, not necessarily purchased. This is not about money, it is about telling a story.