The Boys in the Band is now available on Netflix
The all-star Broadway cast bring the classic play to our screens.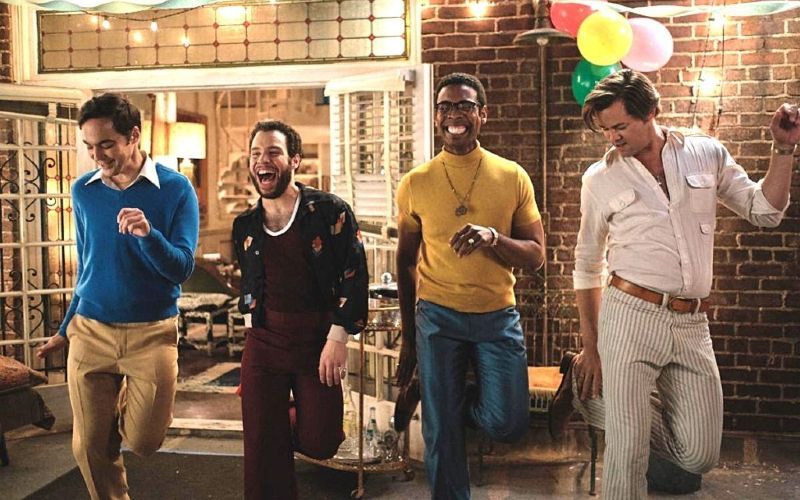 More than fifty years after Mart Crowley's play put gay men's lives centre stage, The Boys In The Band gets a new film adaptation which is now available on Netflix.
This film adaptation reunites the team from the Tony-winning 2018 Broadway production. Director Joe Mantello is once again in charge, with his cast of Jim Parsons, Zachary Quinto, Matt Bomer, Andrew Rannells, Charlie Carver, Robin de Jesús, Brian Hutchison, Michael Benjamin Washington, and Tuc Watkins.
What's The Boys In The Band about?
Set in New York City in 1968 – when being gay was still considered to be best kept behind closed doors – a group of friends gather for a birthday party hosted by Michael (Jim Parsons), a screenwriter who spends and drinks too much, in honour of the sharp-dressed and sharp-tongued Harold (Zachary Quinto).
Other partygoers include Donald (Matt Bomer), Michael's former flame, now mired in self-analysis; Larry (Andrew Rannells), a sexed-up commercial artist living with Hank (Tuc Watkins), a school teacher who has just left his wife; Bernard (Michael Benjamin Washington), a librarian tiptoeing around fraught codes of friendship alongside Emory (Robin de Jesús), a decorator who never holds back; and a guileless hustler (Charlie Carver), hired to be Harold's gift for the night.
What begins as an evening of drinks and laughs gets upended when Alan (Brian Hutchison), Michael's straight-laced college roommate, shows up unexpectedly and each man is challenged to confront long-buried truths that threaten the foundation of the group's tight bond.
Is it worth watching?
Absolutely. At the very least, this play is a part of our queer cultural history. Sure, it's a period piece, so you may not identify with everything about these characters, but there's a lot about their queer experience that will feel very familiar.
The opening scenes in particular give a great sense of time and place, and how gay men had to try and navigate a world before the Stonewall riots and before LGBTQ equality became reality.
Additionally, the cast is a joy. Jim Parsons – as Michael, the host of the party – gets the most to work with, and he sharpens every unlikeable edge of his spiky character. But it's a balanced ensemble, everyone getting the space to establish their character and illustrate how they fit in to this dysfunctional group of queer men.
Plus, there's a Matt Bomer shower-scene. There's also that.
The Boys In The Band is now available on Netflix