The euphoria of creating an erotic collage
This is the kind of art we get excited about.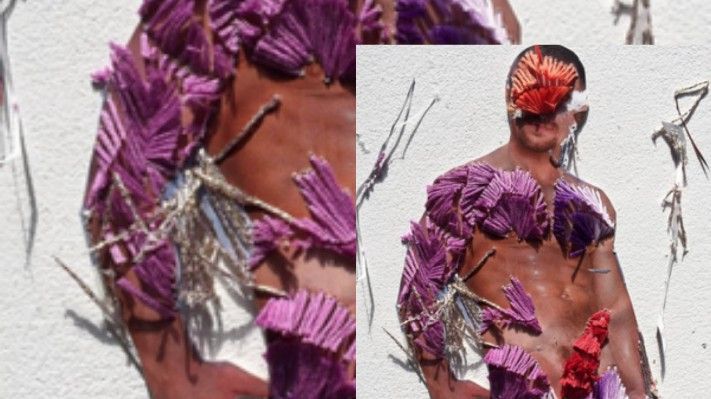 Original reporting by Boot Black for Boner Magazine
I discovered the work of Scott Ramsay Kyle in my constant quest for new talent, and started to follow him online. Scott uses a combination of collage and embroidery to creates his unique artworks — somehow adding an element of luxury and high art to cropped imagery that he's culled from his collection of vintage porn. It's exactly this juxtaposition that attracted me to his work.
Scott studied at The Glasgow School of Art, and then completed his MA in Fashion at Central Saint Martin's in London — majoring in fashion and textile design. He enjoyed decorating the body with the garments he designed, and with a fascination of working with his hands he began to explore the art of embroidery. As his passion for embroidery progressed, Scott began creating his collages of vintage porn.
"I'm a man who embroiders…" declares Scott, using thread to create artwork by sewing over iconography borrowed from gay pornography. Scott dresses torsos, penises, and muscles of all kinds in quasi-abstract relief flirting with the romantic. "The flowers become masks, the colours are reminiscent of travesty — this is an orgy of the textile body, celebrating the figure of the man-spectacle."
Scott admits that the act of embroidering can sometimes get pretty boring, after working at it for hours. But, as each piece comes together, all the stitch marks begin to look like painted brushstrokes applied over the images that he's assembled underneath.
"These repeated actions of stitching, in and out and up and down, piercing thru the surface while looking at the the sexy models is very similar to wanking…" explains Scott. "Plus, the end result is nearly the same. I'm overcome with a great sense of euphoria and zen with every completed artwork."
Dive into the world of Scott Ramsay Kyle
Follow Scott Ramsay Kyle on Instagram