The Marriage Kosovo
The marraige is a new film from Blerta Zeqiri.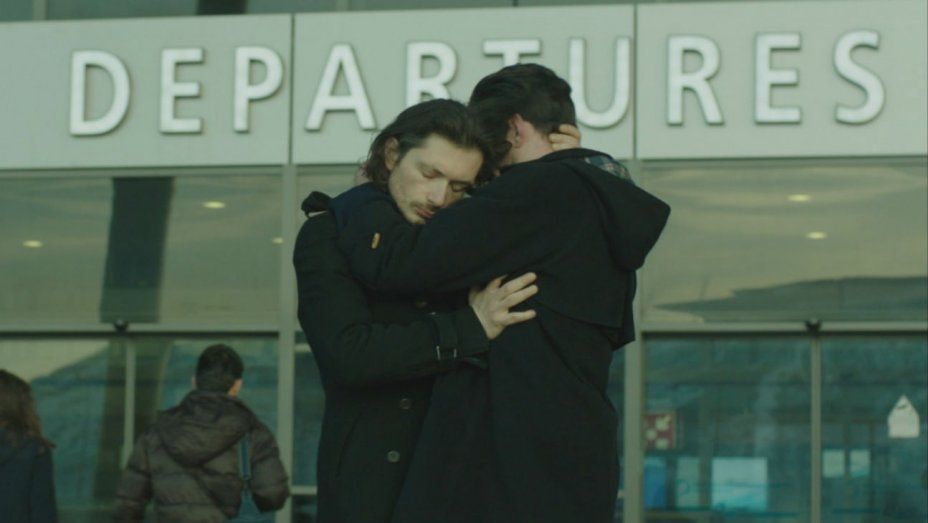 For her feature-length debut, filmmaker Blerta Zeqiri gives us the story of a love-triangle in Kosovo.
With their wedding approaching, Anita (Adriana Matoshi) and Bekim (Alban Ukaj) are preparing to build a life together, trying to move beyond the trauma of the 1998-99 war in Kosovo. However, with the unexpected return of Nol (Genc Salihu) – a friend of Bekim's from the past – things get complicated.
I caught up with Blerta Zeqiri for a behind-the-scenes look at the film.
You've talked about wanting to create a film that explores the experienced of marginalised people within Kosovo. Did you need to do any specific research in order to bring these characters to life?
I have a pretty good idea how it feels to be marginalised in a society – I grew up in Kosovo where if you were Albanian you were automatically considered a second-class citizen by the authorities and Serbian people that were living in Kosova. On top of this, I was a woman living in a very patriarchal society where women were not really counted, where women sometimes were not even allowed to choose their partner for life, but had to do what they were told.
But of course, this was not enough to understand the position of queer people in Kosovo, because every group of marginalised people is different and has its own specifics. So, I did a lot of research. During the three years that I was writing the script, I met with queer people that were living in a similar situation as my characters in the film, and read a lot of studies, books, theatre plays, films, and watched everything that was related to the subject. The actors also did their own research, and every time we'd meet we would share experiences.
What was the production process?
We brought the actors into the film when we only had a synopsis and a short treatment. Then, we wrote the first draft of the script and we brought the actors to an intensive workshop where we would read the script and then do a lot of improvisation that we would film with our phones and then go back home and rewrite.
We repeated this process over and over for a period of three years, and between each draft every one of us would continue the research on the characters and on the problems that queer people are facing in our region.
Writing was the most difficult and the longest part of making this film. Once we closed the script then we shot the film in 24 days. It took us almost another two years of editing and working on post-production until the film was complete.
What was the casting process?
The main three characters were part of the film when we only had a synopsis and a short treatment. I always wanted to do the film by using improvisation as the main tool, and that's why I cast the main roles before writing the script.
What I was looking for in my actors was that they are talented, creative, and fearless to explore deep in their life experiences. But the most important thing of all was that they are open-minded and non-judgemental towards the queer community.
I was casting all the time during random hang-outs with fellow artist friends – I didn't limit myself to casting only professional actors. That's why for the role of the lover, I ended choosing Genc Salihu – he's a very famous musician from Kosovo, who was judge on The Voice of Albania.
This film was his debut in acting, and I think he did pretty amazing.
The story explores the compromises that people were forced to make during the war, and the continuing impact of those compromises. Are films a useful way in which to explore this painful period and to try and help people move forward?
People of Kosovo have experienced war and have never really dealt with their traumatic experiences. Nobody was treated or has seen a psychiatrist to help them deal with it. Basically we are a big society made of PTSD people.
For me, tackling the war in my films is always in a way therapeutic. To be honest, I also believe that when people who have gone through this sort of trauma, see a film or a scene that reminds them what they have been through, it will help them open up to others about their own experiences. Even though this is not enough to treat the trauma, it certainly helps them to move forward a bit more easily.
Are things getting better for LGBTQ people in Kosovo?
When we started to make the film in 2012, there was not even one gay person that was completely open. It was very closeted and people were afraid to show who they were. Especially after the incident when Kosovo 2.0 magazine published an issue on sexuality and they
were attacked by extremist groups.
The international community, led by the American Embassy in Kosovo, reacted and stood firmly by the LGBTQ community, pressuring our government to take this more seriously.
Last year, we organised the first Pride in Prishtina. The Pride was led by high-level politicians in Kosovo, including the president of the state, and all the major Ambassadors took part in it. The first Pride was very small and mostly made up of supporters of the LGBTQ community, but a few months ago, the second Pride was organised, and this time there were less politicians, more real people, and it was much bigger than the first one. The event was held without any incidents.
I believe that our politicians are supporting the community for now, because they want to paint a picture of Kosovo as a country that guarantees human rights.
This film was financed by the Kosovo Film Center, so it's mostly made with taxpayers money, and Kosovo has chosen The Marriage to be its official Oscar foreign language entry – this says a lot about the climate in Kosovo politics concerning queer issues.
I strongly believe that things are improving, but we have a long way to go until queer people can find their true freedom in our country.
What do you hope that people feel when watching this film?
I hope for people to be able to see that love is universal, and love doesn't have to have a gender or only one specific form for us to be able to feel and express it.