The #MeToo moments in queer filmmaking
Dean Loxton recreates a personal experience for his contribution to the latest volume of Boys on Film.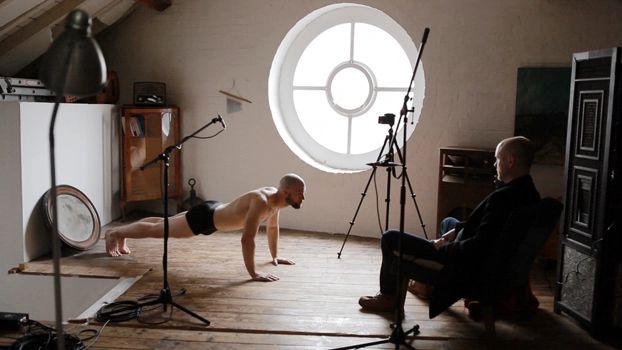 Boys on Film is a continuing collection of short films that explore the LGBTQ experience. Volume 19 in the series will be released on 25 February, and the theme that connects the films featured is No Ordinary Boy.
One of the films included in this collection is MEATOO from filmmaker Dean Loxton.
I caught up with Dean Loxton to talk about the film.
You've written that this film was based on a real event. How true to life is the film's depiction of what happened?
Pretty accurate. Well, the ending in real-life was a non-event. I just left the casting hoping that I'd done enough to be called back, and that this would be the break I needed.
It was only a few years later, looking back, that I saw it for what it was – a hotel, only the director, me half naked. I was twenty – I felt for the lads in their late-teens waiting to go in. Some had their mum's with them that I doubt were allowed in the room.
This film was a one-day shoot using improvisation – why did you opt for that approach to tell this story?
I'm writing my first feature, spending my days in front of a laptop. I started out making improvised shorts, and missed the magic that just turning up with an idea and knocking that around with some good people can bring.
There's been a few high profile gay men in the film industry who have been accused of sexual assault or sexual exploitation. How does this film fit within that context and that conversation?
Those specific men in power – both gay and straight – have touched a nerve in us all, and this is my personal response.
On the first day at drama school, at 19, the acting teacher took me aside and said – Are you gay? I said yes, and he said – Don't tell anyone. Too late – I came out at 17 and I wasn't going back in the closet. But, he was right – it wasn't helpful, it's an extremely difficult profession anyway and this added an extra issue. Professionals crossing that line with a flirt, or an invitation to dinner – you can't be rude, or they blacklist you.
What was your casting process?
I take out my phone and ask the actor to improvise something. I then ask them to change something, even if it's fab, to see if they can listen to instructions. Once I've decided who has the role, I always thank the other actors and let them know they don't have the role.
What does the film tell us about sexual exploitation of gay men in the film industry?
It tells us is that some people don't know how to handle power. They're weak, and when they exploit some young actor who's just out there pursuing their dream, it's extremely destructive.
What do you hope that people feel when watching MEATOO?
Pissed off. Entertained and pissed off.
Boys on Film is distributed by Peccadillo Pictures