The Neon Boys of New York City
A film by AJ Mattioli that you'll probably want to add to your watch-list.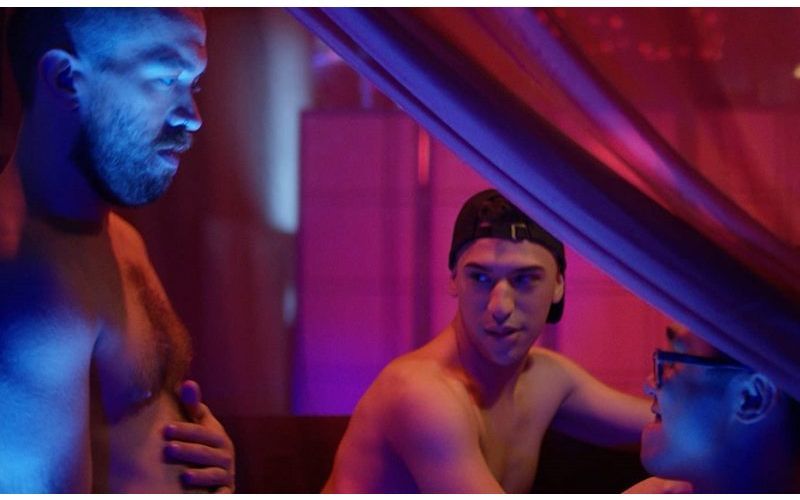 I caught up with AJ Mattioli for a behind-the-scenes look at his new film, Neon Boys.
The film gives us the story of Shawn. Unable to land a job after being in jail, Shawn (Matty Gliteratti) decides to make ends meet by working as an erotic dancer. While trying to get his life back on track, Shawn spirals back into drugs – he looks to another dancer, Ricky (Jonathan Salazar), for companionship and ends up falling in love with a man for the first time.
What was the inspiration for this story?
Neon Boys is based on the lived experience of Jonathan Salazar – he plays the character of Ricky and is also the film's executive producer).
During his first year living in NYC, Jonathan was a student and needed to make more money. Due to school, he didn't have that many days off and fell into the world of stripping at a private club on Long Island. He started stripping and dancing over there, but really it was a "pay for it and you get it" place. While working there, Jonathan became friends with one of the other performers, and a relationship was built. Sadly, that relationship did end tragically, but different from the film.
What was the production process?
The production process started while at a protest with Marti Gould Cumming. Jonathan Salazar was marching alongside me and we started talking. He had this script based on his life. I was completely intrigued.
After reading the script, I grabbed Jose Alvarez – producer of Killer Unicorn – and started getting cast, crew, locations, and all the paperwork together to make it a fun and successful shoot.
The entire shoot took place in just four days! We lucked out and partnered up with Macri Park bar via manager Mathew Longo – that's where we filmed most of the film. Macri Park is also the location we had our premiere screening.
It's a very Brooklyn film – what better place to screen it then this perfect BK bar!
What was the casting process
The casting process was painless!
Jonathan Salazar wanted to play Ricky, as the character was based on him.
Matty Glitterati Kinkel was chosen for Shawn after I saw his performance in Killer Unicorn. Although Matty played a gay character in that film, I knew he could pull off the bisexual character of Shawn – and that he'd look sexy doing it.
Tym Moss plays Big Daddy, and did an amazing job. Tym has been in several of Mattioli Productions, including Words and Lady Peacock. Tym is usually cast in comedic rolls, but I knew he was ready to take on this dramatic role.
Jonathan has a friendly relationship with two-time Emmy winner, Vincent Depaul who came on-board as the brooding Mr Ruxton.
Kelsey Denea plays the ex-wife, and certainly hits the cliche we needed for 'hell hath no fury like a woman scorned'. She was hand-picked by our associate producer Jose Alvarez.
John Strand rounds out the cast as Chase the bartender. Once we saw a picture of this international model, we simply were thankful he wanted to be in the film.
What does the film show us about male sexuality?
I hope the film shows male sexuality being more than just lust. I wanted to show men in tune with their emotions. I wanted to show a softer side, but not a weaker side.
So often, men – especially queer men – are reduced to their want to have sex. Reduced to their 'need' to have sex, above all else. With Neon Boys, I tried to humanise these young men.
As a trans queer man, born and raised in NYC, I know my fair share of escorts. I know them, they are my friends, my peers, and my chosen family. I wanted to make sure that these characters weren't reduced to their means of income and weren't reduced to their sexuality.
What do you hope that people feel when they're watching Neon Boys?
I mean, Neon Boys is heavy. It's a drama based on the hardships thrust upon someone simply trying to make a better life for themselves. However, within that sadness is hope. There is hope for love. Hope for change. Hope for those left behind.
Our goal was to find beauty within the shot composition – provided by Emmy nominated Cory Green – that transports you to Macri Park bar and lets you feel like a patron walking through Shawn and Rickys' story with them.