The photography of J.D. Dragan
This is the art we want on our walls.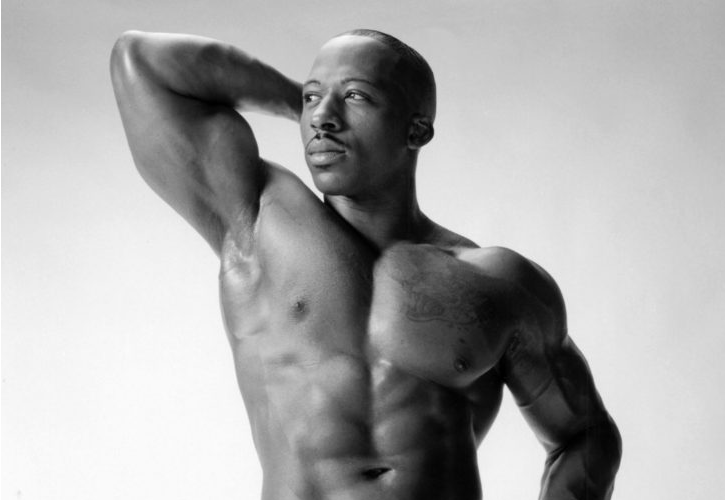 J.D. Dragan is a photographer specialising in capturing the male physique in all its glory.
I caught up with J.D. to talk about his art, his technique, and his men.
Getting started
"From the time I was a young boy, I loved taking pictures…" explains J.D., reflecting on the beginnings of his career. "My dad bought me my first camera when I was about 11 years old. It was an inexpensive Instamatic 100 series, point-and-shoot camera."
"This first exploration of photography was prompted by the hobby of the men in my family. My dad, my uncles, and male cousins were all bodybuilders in New Jersey. My dad built a gym in the basement of our home, so there were always big men hanging about. They were from all races. In addition, he had a shower installed, and these guys would take advantage of it – stripping down as I wandered around the gym."
"It wasn't until the late 60s that prudish influences crept into American society. But, fortunately for me, these earlier years exposed me to male statuesque beauty, musculature, and power. In later years, this early exposure would lead me to the male nude as my chosen genre."
"I was very much aware of my sexual nature since age six…" adds J.D. "All the elements of muscular, naked, or nearly naked, men made the environment of my dad's basement testosterone-charged. Their sweat left the leather upholstered benches damp and slippery – each having the smells from multiple male bodies soaked into the leather. For me, the scent left by these guys absolutely heightened the arousal within me, even at this young age."
"Being a bare-bones gym, no lockers were at hand, so as they stripped down and piled their t-shirts, jockey shorts and jock straps on chairs that circled an old kitchen table. Crawling under the table gave me some private moments to soak in the maleness. I found a stash of bodybuilding magazines bought by my dad. It wasn't uncommon to come across an issue of Demi-Gods that featured fully naked bodybuilders as models. I masturbated long before I was old enough to produce ejaculate.
Mastering the technique
"In the early 1980s, I moved to Florida…" explains J.D., talking about why he specialises in black and white images. "For some time, I'd wanted to print all my own photographs but lacked the knowledge and skills needed. I always enjoyed the light, dark, and shadow of real black and white prints. The solution was to go to school and learn the necessary techniques."
"Fortunately, there was a great art school in Sarasota, where I lived – the Ringling School of Art and Design. I took many college courses in gelatin silver printing – which is what we commonly call black and white. This technique is superior to black and white produced from an ink jet printer, because the blacks and shades of grey we see are silver particles suspended in a thin gelatin layer that is applied to the paper's surface."
"These silver prints have depth and subtlety in tonal variation that ink jets don't…" says J.D. "Silver prints rely upon silver halides embedded in a thin gelatin layer, sitting on a paper base, giving them dimension, not to mention a greater scale of greys. Depending upon the paper used, the chemistry, and any toning, the grey pallet is far more diverse and luscious."
"I've found that my collectors see the difference and appreciate the time and skill required to produce these fully archival works of art. Even though I edition my works in small numbers, the nature of this highly-manual technique makes each print unique."
The men
"Model selection is a practice in patience…" says J.D., discussing how he casts the men that appear in his photographs. "Some of my models are referred to me by other photographers or artists, but I find many simply in my everyday life. I find them at the gym, at a Dunkin' Donuts or a Starbucks."
"After I approach them and explain my interest, I insist on a face-to-face audition in my studio space in Philadelphia. I have the man talk to me and tell me his interests in modelling, his concerns, and why he wants to do it. Then I talk about my career as a fine art photographer, what motivates me about him specifically, and the practical side concerning fees paid, and proof of age. All my models sign a model release. These men work hard on their bodies and deserve fair compensation."
"I'm transparent, explaining that as a male nude photographer, I need to see them undressed…" continues J.D. "I don't want a surprise, such as a bad appendectomy scar or unexpected tattoo –  I don't oppose these features, I just want to know up front. I take measurements, in case clothing props will be purchased."
"There is one overarching deal-breaker when I'm conducting an audition. As the man undresses, I pay attention to his comfort level. I grew up around men who preferred being nude, rather than clothed. If the potential model is anxious when undressed, he won't make a good candidate for nude modelling. Plus, if the shoot's focus is to be with multiple men, he must be at ease with other men who will be in direct physical contact. It doesn't matter if the model is straight or gay – I have straight guys who are perfectly relaxed grappling with another naked man."
"Body art is ultimately the man's decision…" continues J.D., talking about whether he minds whether or not his models have tattoos. "If you have it, I do expect it to be reasonably well-executed, bold, and artistic. My personal preference is no ink. I'd rather photograph the raw musculature without the eye being distracted by graphics. This sort of man – free of ink – is an endangered species in 2019, so I move with the times and attempt to visualise around the tattoos."
"I ask all my male models to let any hair below the neck grow-in naturally for at least four months. Men grow hair which has many purposes, the most visible of which, is to graduate a man from boyhood. This is a cornerstone recollection from my boyhood and my dad's gym. Full bush under armpits, from navel to crotch, the crotch itself, around the anus and on the butt provide contrast and add masculinity."
"The size of a man's penis is something we'd all like to choose, but none of us can!" adds J.D. "My only requirement is that the man has one. A penis that is extremely small or very large has the same distractive impact on the viewer – when first seeing the image, his penis becomes the first thing noticed, rather than his face or hands or eyes. But, small or jumbo, I'll give men an opportunity to pose if the overall physique is tight."
"I do wish I had more non-American models, since there's a better chance that they'll be uncircumcised. Uncut is my preference, but I will often concede due to the lack of uncut guys in the US."
Beyond boyishness
"While men in their 20's are always ready with an erection, men in their 30's have lost the boyishness…" says J.D. "This is my favorite decade."
"I was fortunate to have shot Kai Greene when he was on his way up as a mega bodybuilder. I'm very discreet with his images, and only privately show them to serious art collectors."
"My current favorite two men of the right decade are Usain Bolt, the Jamaican sprinter, and Antonio Brown, the American Football wide receiver. Each of them has assets both front and back."
"My hands-down favorite man is the actor Djimon Hounsou…" decided J.D. "Back in the day, he embodied the characteristics that made him the pinnacle of the ultimate male. He remains a stunning example of the ideal male – he's not only beautiful but smart and giving as well."
Art versus Erotica
"For very special clients, I have accepted commission-based projects…" says J.D., discussing how people can get their hands on his photographs. "The caveat being that my process is manual, and as such takes a great deal of time. It may be six weeks to finish processing the film, doing contact sheets, and getting ready to produce work prints. Then, it's another four to five months. Living in a digital world, only those who truly appreciate the value of my process are willing to wait."
"If a collector has a specific model or attitude in mind, they contact me via email. I then put together a selection of images tailored to their tastes. They can then communicate what works for them, and possibly what else they may want to see. For example, some may only want works from the last five years – I've been studying and producing my genre for 20 years."
"Some collectors see my work in galleries, and purchase directly from the gallery. I prefer a more personal approach, so that we can chat about what they truly seek."
The power of the photograph
"There's no visual more compelling than the physiques of the men I am honoured to work with and show…" believes J.D. "I learn about the life stories of my models, this assists in personalising each shot. The camera then captures powerful moments with a formalist appreciation for muscular sculptural magnificence. Without these men, my impetus would have no focus."
"These men are whole people, complex, magnetic, able, and contemporary. Social symbolism and visual commentary may act as an adjunct to the men in my images. Whether I show the purity of nudity, the union of man and nature, or occasionally point up dogmatic elements of society, the man remains the central focus of a picture where less is more and fear is invalid."
"The best models are smart men…" adds J.D. "I say this right up front, since our photo shoot day is a true collaboration. What the man's physique shows is vital, but what's in between his ears drives accomplishment. It's vital that he not only embraces my direction, but also refutes it, intellectually, if he feels another concept is better."
"Once these elements come together, the man is often truly overwhelmed by their own beauty upon seeing the final product. I can't do what I do without them. They're not pieces of meat – they are individual, complex, and vibrant men who have worked long and hard to develop their physiques as a personal art form."
"In recent years, I've experimented with the more erotic, if not the explicitly sexual, side of my art…" continues J.D. "Yes, I have shot glorious phalluses, but the face is what has always captivated me first. It's what stops me and opens up a conversation."
Explore the work of J.D. Dragan
Follow J.D. Dragan on Instagram