The Prom from Ryan Murphy is now streaming on Netflix
The film adaptation of the musical boasts a major cast and is worth adding to your watch-list.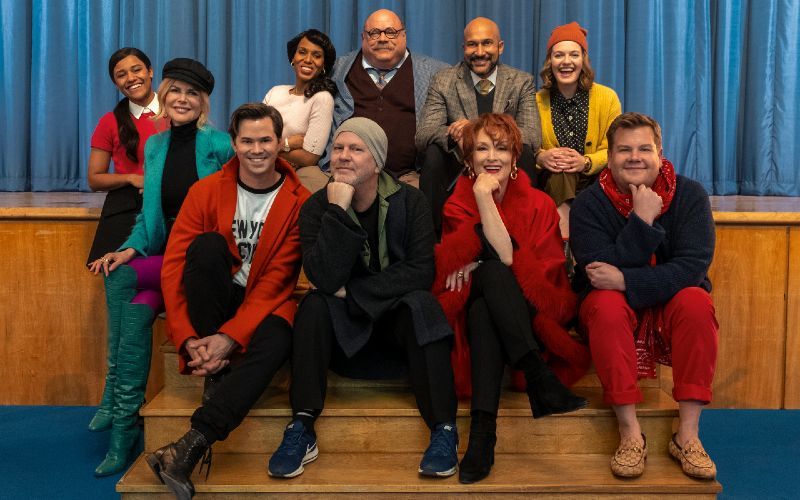 The latest production from Ryan Murphy on our screens is The Prom.
Now streaming on Netflix, The Prom boasts an all-star cast and is worth adding to your watch-list.
The Prom is a film adaptation of the Broadway musical of the same name.
In The Prom, Dee Dee Allen (Meryl Streep) and Barry Glickman (James Corden) are New York City stage stars with a crisis on their hands – their expensive new Broadway show is a major flop that has suddenly flatlined their careers.
Meanwhile, in small-town Indiana, high school student Emma Nolan (Jo Ellen Pellman) is experiencing a very different kind of heartbreak – despite the support of the high school principal (Keegan-Michael Key), the head of the PTA (Kerry Washington) has banned her from attending the prom with her girlfriend, Alyssa (Ariana DeBose).
When Dee Dee and Barry decide that Emma's predicament is the perfect cause to help resurrect their public images, they hit the road with Angie (Nicole Kidman) and Trent (Andrew Rannells), another pair of cynical actors looking for a professional lift.
But when their self-absorbed celebrity activism unexpectedly backfires, the foursome find their own lives upended as they rally to give Emma a night where she can truly celebrate who she is.
The cast of The Prom also includes Tracey Ullman, Kevin Chamberlin, Mary Kay Place, Logan Riley, Nico Greetham, Sofia Deler, and Nathaniel J. Potvin.
What else is in the pipeline for Ryan Murphy and Netflix?
American Horror Story
Season 10 is on its way.
Halston
The name hasn't been confirmed, and the release date hasn't been set, but Ewan McGregor is booked to star in a limited series about iconic fashion designer Halston.
A Chorus Line
First it was a musical, then it was a film, and now Ryan Murphy is bringing it to Netflix as a series.
A Chorus Line tells the story of 17 Broadway dancers auditioning for a chance to be in the chorus line of a Broadway show. Throughout the play we get to not only see their auditions, but learn about the life events that led to them becoming dancers and performers. The original Broadway production, directed by Michael Bennett, won nine Tony Awards in 1976.
The original film adaptation wasn't a hit – but it's every theatre-kid's guilty pleasure.
Murphy's version will be a 10-episode series.
Marlene Dietrich
The title and release date aren't confirmed, but we're going to get Jessica Lange playing Marlene Dietrich. It's a series that is likely to be set in Vegas in the 60s.
Consent
Ryan Murphy tells the story of the #MeToo movement in a documentary series that recounts stories of workplace harassment.
Andy Warhol
It's a 10-part series. The title and release date haven't been confirmed, but there's plenty of material to work with.
Monster: The Jeffrey Dahmer Story
Unlike previous depictions of the Dahmer story, this one will focus on the point of view of the killer's victims and the people around him. Dahmer was a serial killer who brutally raped and murdered at least 17 men, most of whom were black. The series will also focus on the police apathy and incompetence, as well as Dahmer's whiteness and clean-cut appearance, that helped enable his murders to go unchecked for nearly 15 years. The series will be 10 episodes long and span the '60s, '70's 80's and the early '90s when Dahmer was finally arrested.
Production of Monster is expected to begin in January.
The Legend of Georgia McBride
Written by Matthew Lopez (who wrote the play The Inheritance), The Legend of Georgia McBride follows a young dad who gets fired from his job as an Elvis impersonator and turns to drag to make ends meet. The cast includes Jim Parsons.
Who is Ryan Murphy?
As a screenwriter, director, and producer, Ryan Murphy's career has straddled both television and film, delivering queer-focused content that seems to really connect with audiences.
Early life
Born in 1965, Murphy was raised in Indianapolis.
Murphy attended Indiana University Bloomington, where he majored in journalism.
Career
Murphy started as a journalist working for The Miami Herald, Los Angeles Times, New York Daily News, Knoxville News Sentinel, and Entertainment Weekly. He began writing scripts in the late 1990s – Steven Spielberg purchased his script Why Can't I Be Audrey Hepburn?
Since then, Murphy has had an impressive strike rate of successful film and television projects. In 2018, he signed a major production deal with Netflix.
Personal life
Murphy has been married to photographer David Miller since 2012. The couple have three sons.
The Ryan Murphy back-catalogue
Nip/Tuck
Glee
The New Normal
The Normal Heart
American Horror Story
Feud
Pose
The Politician
Hollywood
Nurse Ratched
The Boys in the Band