The rise of the Naked Knight
Another erotic adventure from Class Comics.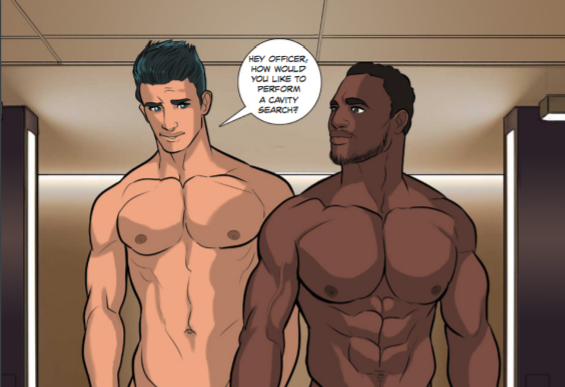 If you're fan of erotic comics, then it's likely that the team from Class Comics is going to have something in their collection that will help to fuel your fantasies.
The latest title from Sunny Victor and the team at Class Comics is Tales of the Naked Knight.
Find out why Tommy and Gordon, two outstanding police officers and also great buddies, spend their evenings at the club wearing nothing except a teddy bear mask. Tonight, It's Gordon's turn to wear the outfit and have all the fun that comes with it.
Meanwhile, Tommy recognizes Kilo, an old flame, who is now a Go-Go dancer, model, and porn star. It seems he's come a long way since they made passionate, gritty, love on the beach.
In the sauna, Junior gets into trouble for paying too much attention to the cute Teddy Bear, and Daddy is forced to lay down the law. It's almost as if Junior wanted to get into trouble…
When the lights go out and beasts attack, Kevin gets his first taste of action, even if the cops don't believe he's up to the job.
Dive into the world of the Naked Knight
Follow Class Comics on Twitter
The Naked Knight is an erotic fiction comic-book series that follows the adventures of Dylan and Kevin. Dylan and Kevin are two young guys in love, but they find themselves caught up in an intergalactic battle for control of the universe. Their fates are intertwined, but they're dealing with forces that often feel beyond their comprehension.
Written and illustrated by Sunny Victor, and edited by Robert Fraser, this is erotic fiction at its finest – giving us an engaging story-line with beautifully illustrated characters, and action that frequently gets authentically explicit.
While you could just dive straight into Issue 4 of the series and find plenty to fuel your fantasies, everything will probably make a lot more sense if you begin the adventures with Issue 1. This is a sex-filled science-fiction fantasy world that you'll want to immerse yourself in again and again.
Issue 4 concludes the current story arc of the boys of The Naked Knight. Hopefully there's some more adventures to come!
Get your hands on Issue 4 of The Naked Knight
Follow Class Comics on Twitter
Comments