The sexual tension and erotic allure of sculpting naked men
James Webster celebrates the penis in porcelain.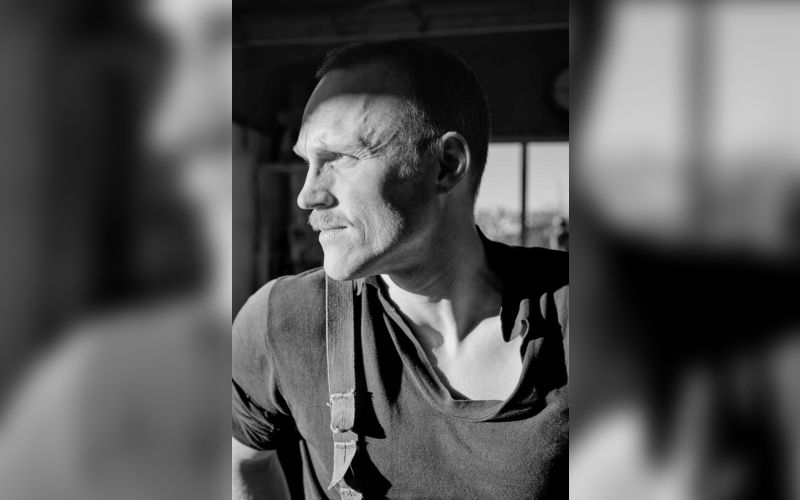 I met up with James Webster near London's Sloane Square. Webster lives in Suffolk – rural England – but he was in town for an art fair. Jonathan Kugel – the gallerist behind Art Sablon in Brussels – was presenting at the art fair, and Webster's dramatic sculptures dominated the space.
The careers of Webster and Kugel have been intertwined since they first met around 10 years ago – it was at a club in Paris, late one night during Fashion Week. Since then, Kugel has gone on to open his gallery, Art Sablon in uptown-Brussels, and Webster is one of his key artists – creating dramatic and intriguing works in porcelain.
It was a warm sunny day, and Webster was waiting for me outside the art fair – accompanied by Dave, a 10-year old Jack Russell.
"He's very relaxed…" smiled Webster, affectionately giving Dave a scratch behind the ears. "But that's my dream dog!"
Webster's eye had been caught by a white, powerful-looking Bull Terrier that was passing nearby.
"Bill Sykes had one in Oliver…" said Webster, explaining the appeal of a hyper-masculine Bull Terrier. "Plus, there's Serge Gainsbourg – there's a lot of photos of him and his dog."
We sat outside at a nearby cafe. Dave sat patiently in the sun while we talked over coffee. The cafe was busy, the waiting staff didn't seem to be in a hurry.
"I cut my teeth working as a waiter in Nobu…" smiled Webster. "Back when it was the place to be. It's made me less patient with slow service."
"I've always worked three-dimensionally…" says Webster, as I ask him about his origin story as an artist. "Clay was the more natural medium for me to work up to something rather than down to something. It made more sense to me than anything else. That's what led me to porcelain. It's like if you were working in metal all the time, but never working in gold – porcelain is the gold of ceramics."
"Porcelain is fine, intimate, there's a softness – you can get a lot of detail into it…" continues Webster. "I love the motion of the material. There's a permanence, but it can't be enormous. I made a rhino skull that was life-size – that's as big as it's going to get in my world."
Webster is referring to one of the pieces from his series Trophies – eight porcelain animal skulls and vertebrae, ceremonially placed on concrete cubes fixed in steel plate.
"When Jonathan met me, I hadn't finished anything…" confesses Webster, reflecting on the development of the Trophies series. "He pushed me to finish things. I had the skulls, but I had to make decisions and reach conclusions as to how they would be exhibited. I'd recently moved to Suffolk – it was all of the road-kill that I was seeing that led me to create a concrete base as a final resting place for the animal. It created a vulnerability."
"By the time I started work on the next series – Martyrs – the concrete had become part of the sculpture, part of the process…" explains Webster.
Martyrs is a series of nine Herma sculptures – functional offertory sculptures that were a feature of daily life and travel in Ancient Greece and Ancient Rome. Webster's interpretation follows the traditional design of a head presented on a pillar, together with genitals for prosperity.
"I was moved by the amount of faith-related sacrifice in the way that we travel – planes coming down, matryrdom, safety, terrorism…" reflects Webster. "Taking the object of a Herma and combining it with the concept of martyrdom was the premise that I began with."
"I started with myself…" continues Webster. "The Herma that I made was with my face, my genitals. It showed who I was. As I continued to build the series, I wanted to push myself to show different ethnicities, different genders, different sexualities. Those challenges are really present."
It's pieces from the Martyrs series that Kugel is presenting here at the art fair, but Webster is already well advanced into his next project.
"It's a kind of erotica, I guess…" shrugs Webster. "I've done four now. I'd like to call the series Tension. That's the understanding of it, trying to find the tension of the moment, to capture the moment."
The moment that Webster is seeking to capture is the point of sexual penetration. This is sculpture at its most explicit.
"It started when Jonathan gave me a pack of 70's porn playing cards…" explains Webster. "We have a shared passion for erotica. The playing cards somehow framed the sex acts really beautifully. I wanted to be part of it. So far, I've done two heterosexual and two homosexual pieces."
Kugel had one of the heterosexual pieces from Tension on display when I visited Art Sablon in Brussels. It is an incredibly detailed but authentic representation of how an erect penis enters a vagina.
"Shrinkage of the porcelain is enormous…" explains Webster, as we delve into the logistics of creating work of this nature. "They're almost life-size, but they come off a little smaller. I don't mind that – it allows for a stronger narrative. Porcelain is a tough material to work with – for every one that is finished there's probably four that don't make it. There's a lot of drying time required, so I try and multi-task, but some things are just too intense – I just want to sit by the kiln until I can open it. My husband says that I have an obsessive personality. I'm bloody-minded – if something doesn't work, it makes me determined to make it work."
I was intrigued by the research that Webster might have had to undertake in order to bring to life these moments of penetration.
"I studied myself from every angle…" explains Webster. "I had to get the structure of the dick right. I shaved myself – hair is something that's applied in the later stages of the sculpture. Once the porcelain comes out of the mould, it's leather-hard – I then spend days working over the top of it. When it came to the vagina, that's quite foreign to me – it was a long time ago. A friend helped me out and posed for me a bit. I've spent a lot of time on PornHub, and talking to women. I also go to life drawing classes."
"Across the three series – Trophies, Martyrs, and Tension – we've gone from the bone to the softest part of the body, following the material, seeing what's possible. I've come to realise that porcelain can do all of the things that flesh can do…" smiles Webster. "I'm loving the Tension series. I want to do masturbation, and a hand fingering a vagina. I love the way that porcelain is soft – the lips on a face, fingers pressing into a thigh. It's tactile, it's sexual. I'm projecting myself into each of these pieces, I have to make it personal."
Webster tells the story of Messerschmidt – an 18th century sculptor who created self-portrait busts through intense self-observation. It's part of the shared history of Webster and Kugel – Messerschmidt is an artist that Webster has studied extensively, when he visited Kugel's family home they had one of the busts in their collection. Webster acknowledges that he shares some of Messerschmidt's obsessive traits.
Brussels seems to almost be a second home for Webster, it's a city he visits often and speaks fondly of.
"I always stay close to the gallery…" says Webster. "I like to just immerse myself in the neighbourhood. The Sablon precinct has so many galleries, all full of the most insanely beautiful things. There's a real sense of community amongst the gallerists – I've learnt so much just by hanging around these guys."
"Brussels is just a really lovely place to be…" shrugs Webster. "It's a city that doesn't have the arrogance to reject you, it's a city that knows that its wealth is in its people."
Immerse yourself in the world of James Webster