The Sinful Children of Franko B
A queer artist with something to say.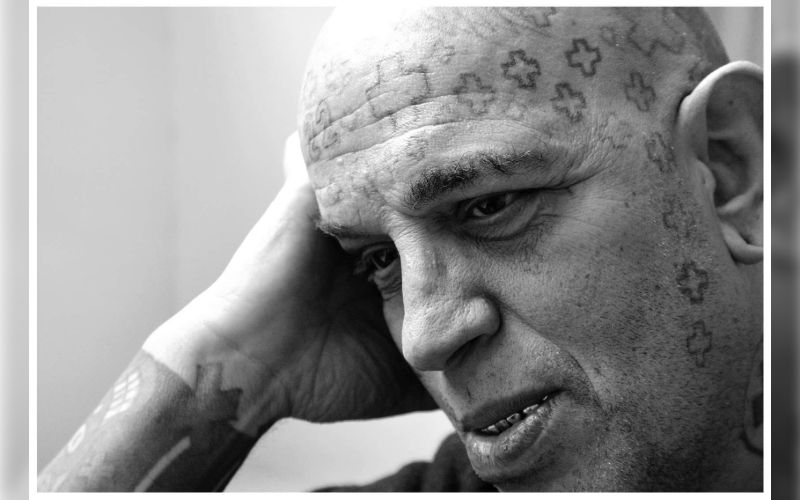 By Ash Kotak
Franko B is one of the most celebrated artists of the Queer era that was established in the 1980s – centred around the club Queer Nation and a host of artists and film makers. It was a time of AIDS and there was an urgent need for LGBTQ visibility.
Internationally recognised as a pioneering performance artist – with shows such as Oh Lover Boy, I Miss You, and Milk & Blood – he uses his body, to show, to touch us with poetic stories of the personal and of the political.
"Franko B has the capability of showing us extreme strength and fragility at the same time…" writes Marina Abramović. "This can touch our heart at a very profound level."
Franko B. Photo: Alberto Nidola
When I meet him at his studio in London's Aldgate East, I.m entranced by his tattoos. They also make me slightly uneasy – red crosses covering his face, a number 22, stars, words, and images.
"My tattoos really are personal, they talk about my life and aspiration to love and to be loved…" explains Franco. "The Red Cross is a very personal symbol for me as it represents protection – I spent four years with them from when I was 10 years old to 14 years old in their care. The 22 was my number there."
He is intense, intuitive, attentive and opinionated in the best way – where beliefs are heartfelt and backed up by fact-based opinions. I get the impression his mind whirls non-stop – observing, thinking, feeling, assessing.
Sinful Children Photo: Thomas Qualman
He was born in Milan but has lived in London since 1979. His strong Italian accent mixed with sudden London words take me on a journey from Italy to the East End and back in seconds. I find myself drawn to him, his mind, magically, willingly. He walks me around his spacious studio space, all the time telling me stories of the past, connecting them to the present.
Photo: Thomas Qualman
I know his work, but – seeing it with the artist – I discover a symmetry between his creation and my reality. He shows me Sinful Children – beautiful hand size figurine sculptures in various shapes and colours.
"I decided to start this initiative to raise some of the main chunk of the money to produce a new sculpture…" explains Franco – referring to the sculpture For Our Sins. "Rather than start crowd-funding to beg for money. To me, it seemed more apt to give something beautiful, something that connects with what I do."
Photo: Thomas Qualman
Together, they seem to create a family, albeit temporary. Alone, they seem lonely, as if searching for love, I want to take some home to care for. I wondered if he had been lonely as a child in the orphanage. Franko B has found love – he and his partner have lived together for many years.
Photo: Thomas Qualman
Sinful Children has been exhibited in two recent solo exhibitions in Italy. Yet, in the UK, he ins't afforded the mainstream recognition he deserves. It is our loss.
Photo: Thomas Qualman
For Our Sins – the sculpture that inspired the Sinful Children project – is fittingly ambitious, and the themes are universal.
"It will be in marble and made for me by an artisan in the south of Italy…" confirms Franco. "It's my take on the concept of martyrs and saints, seen in a contemporary context and not necessarily in the traditional sense of what religious images are made of."
"For Our Sins represents for me a modern day Jesus-like figure that has been brutally murdered for all our sins…" adds Franco. "If we, in the West, didn't create such a demand for cocaine, if this was in-fact legalised, I think this senseless execution was less likely to have happened. I'm using an image of a 'bad guy' – a drug dealer, a criminal member of a gang who was killed by a 'gang of people' for dealing drugs. This gang could be something illegal he was not part of, or his own gang members, or even vigilantes or a state-sponsored gang."
"This body has been killed by at least 30 knives for 'our sins' in the so-called civilised world because of our drug consummation…" continues Franco. "In this case, I'm talking about the cocaine trade in Central and Latin America. The image of this body that has been knifed multiple times reminds me of the imagery and sculptures of Catholic martyrs like San Sebastian, Santa Lucia, Santa Agatha and many more."
"For Our Sins also looks at the epidemic of knife stabbings in recent years, especially in the UK, and how poignant this image is of someone being killed for belonging or not belonging to the right or wrong gang or no gang at all. By gang, I mean a group of people that come together and identifies as 'us' – this is valid for all groups, whatever they are, whether that's religious belief, drug, social or political affiliation related."
You can buy some 'Sinful Children' via Franko B's website
Photo: Thomas Qualman