The story of a grown-up gay relationship
Paths: An assured graduation film that signals a talent to watch.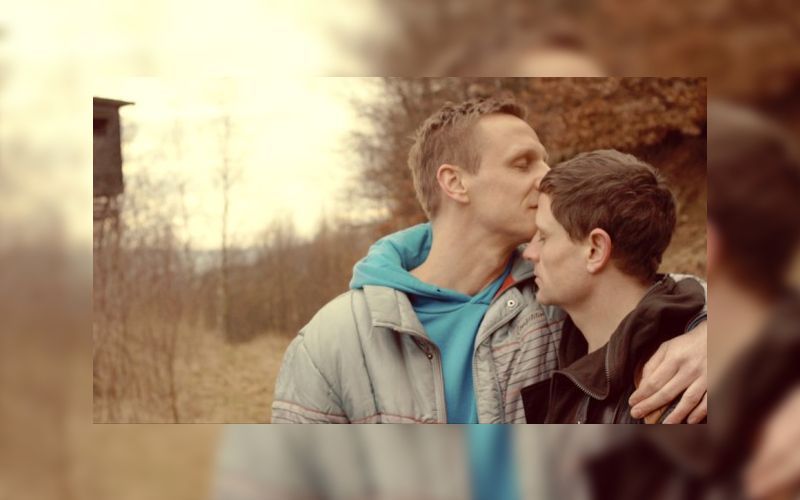 For his graduation film, filmmaker Chris Miera gives us Paths.
Paths is a love story between two men. Not about how they came together, not a phase they go through, but all of their shared experiences  –  all the years from the first kiss and everything that happens afterwards.
We spoke with Chris Miera for a behind-the-scenes look at the film.
What was your inspiration for this story?
Paths is a story about relationships  -  a topic that nearly everybody has experience with. We had lots of stories in our creative team about longer relationships, and lots of discussion about why couples split up after they've been happily together for a long time.
A lot of films about relationships end at the point where the couple has happily come together. But the time after that is interesting, when everyday life and routine sneaks into the relationship. Out of the billions of people on the planet, what power makes two people choose to share their lives together for a long time? Equally, why do some couples decide to part after spending a long time together?
Are you drawing on any personal experiences for these characters?
Everybody in our creative team started university in the same year, so we knew each other very well. Lots of our personal stories that we were discussing were incorporated into the film.
For example, when Max is listening to very loud music in his room, and he gets into an argument with his dad, that happened quite a lot with me and my parents.
But beyond that, our goal was to tell a universal story, not our personal one.
What was the production process like?
We had another graduation film in the pipeline, but we had trouble with the funding so at the end it didn't come together. Our core team was ready, but one year before graduation, our project was gone. So, we said  -  let's make it simple, let's get back to the roots, let's focus on story-telling with a small crew and great actors.
We had a budget of €12,000 from the university, and our costings for the production showed that we could make the film for that budget. That gave us a lot of freedom  –  we could make the film in the way that we wanted, without any dependencies.
Paths follows the development of our documentary approach, where films are shot like a documentary  –  a small team with great intuition and tremendous flexibility  –  combining those strengths with a structured narrative and experienced actors.
The ever-evolving digital technology enables our style of uncomplicated working, helping us to achieve the visual appearance of a feature film on a small budget.
This style of working enables us to rework and reinterpret scenes depending on the circumstances of the shoot. For example, the scene in which Andreas looks at a freshly developed photo film was considerably dramatised because, unlike the screenplay, we shot the scene not behind his workshop, but on a mountain in the fog. A spontaneous and quick move with the whole team made this possible, and we could capture a scene in a short window of time at dusk in the fog.
Paths was written in two months, and shot in 25 days. From the time we began writing until the world premiere at the Berlinale, the total production time was about 14 months.
What was the casting process?
For us it was essential, that Andreas and Martin would be a believable couple. I let all of the possible actors who were auditioning for the roles of Andreas and Martin read scenes together to find who would be the best fit. Ultimately, we cast Mike Hoffmann as Andreas and Mathis Reinhardt as Martin based on their chemistry.
Actors need air to breathe. They need space and freedom to move at the moment. Because of the compact team, we were able to give Mike and Mathis that freedom  -  moments and dialogue between them emerged in a natural way.
What does the film have to say about gay couples, gay relationships, and gay families?
When Max's mother dies, Andreas asks Martin if he is going to help him with his son. For me, that's a very important scene, as it shows that Martin is promising Andreas to take care of his son  –  he keeps this promise, even when it gets difficult for them as a couple.
We wanted to tell a story where gay 'issues' aren't a topic at all. So, Paths doesn't talk about reactions from their neighbours, friends, and so on, as we didn't want to make that topic more important than the story about the relationship between Andreas and Martin.
Maybe in a bright future, when there's nothing special about two loving dads having a son, Paths would still work as a film  -  it talks about relationships, and not about the issues of being gay.
I've had lots of very touching feedback. For example, in Mongolia we had a very long Q&A, and the audience shared stories of their own experiences. What touched them was how the film shows how precious relationships are, and that it's worth fighting for them. It's generating a lot of discussion.
What do you hope that people feel when watching the film?
Paths is a journey through a long relationship. It gives the viewer space for reflection  -  it's always good to take a close look into the mirror and think about how we live our relationships and what happens if something isn't right anymore.
Responses to the film are different and personal. For example, a young girl who watched Paths at the Berlinale, told me that it made her think about her parents and their separation. She found it eye opening, as she could feel how her parents felt, and she'd never had that perspective before.
Paths is distributed by TLA Releasing
Paths (image courtesy of TLA Releasing)