Theatre Review: A Strange Loop
Michael R. Jackson brings his gay-ass musical to the London stage.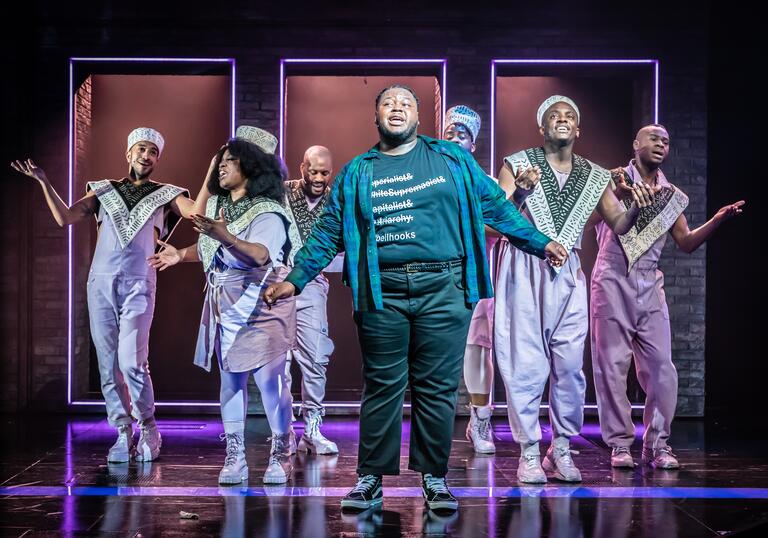 I finally got around to seeing Michael R. Jackson's musical A Strange Loop - it's currently playing at The Barbican in London.
I'm glad that I've seen it, but it is a challenging musical in a lot of ways.
Firstly, there's the structure. The title of the musical is drawn from a Liz Phair song from 1993 that references the cyclic structure of a hierarchical system - as articulated by Hofstadter. In simple terms, you could characterise it as "the more we change the more stay the same."
This musical is about a man writing a musical about a man writing a musical.
The central character is Usher (in this production played by Kyle Birch). He's surrounded by a supporting cast of six that play multiple characters - exploring internal monologues and fantasy sequences that often feel like they're repeating in various forms. We're not following a structured narrative - the story arc is not as simple as getting us from A to B.
Jackson has been working on this musical in various forms from as early as 2004.
It finally had its Off Broadway season in 2021 and transferred to Broadway in 2022. While it now has the budget and polish of a Broadway musical, it still retains much of that student theatre chaotic energy - it sometimes feels like a jumble of good ideas that haven't necessarily been distilled yet into their final form.
The long gestation period of the creative process potentially dates some of the themes tackled in the story. The topic of AIDS and HIV features prominently, and while there are references to Truvada and PrEP, the way that HIV is positioned within the context of this musical feels a bit dated when nothing else suggests that this is a period piece.
This is a musical written about the black and gay experience in America, so it's probably going to resonate with you more if you have that cultural reference. There's a huge theme around the creative work of Tyler Perry. I know who Tyler Perry is, I've seen some of his work, but I don't have an in-depth appreciation of how black Americans relate to Tyler Perry's work. Without that, there's a whole chunk of this musical that kind of just goes over your head.
I loved how front-and-centre queerness was in this musical. This is about as gay as a musical is ever going to get. There was a sex scene, there's lots of talk about sex, there's race-play during a sex-scene, and there's sassy queerness in pretty much every scene. It's pretty gay.
Gay audiences aren't going to blink at the queerness of the content - it all feels very familiar. But I can imagine that if you're not steeped in queer culture then you could find some of the scenes and the style of language a bit confronting.
This is an ambitious and creative production that is worth seeing. It's not perfect, but it is exploring the potential of the musical genre - that's worth experiencing.