Travel Tales: James Kleinmann
An Englishman in New York.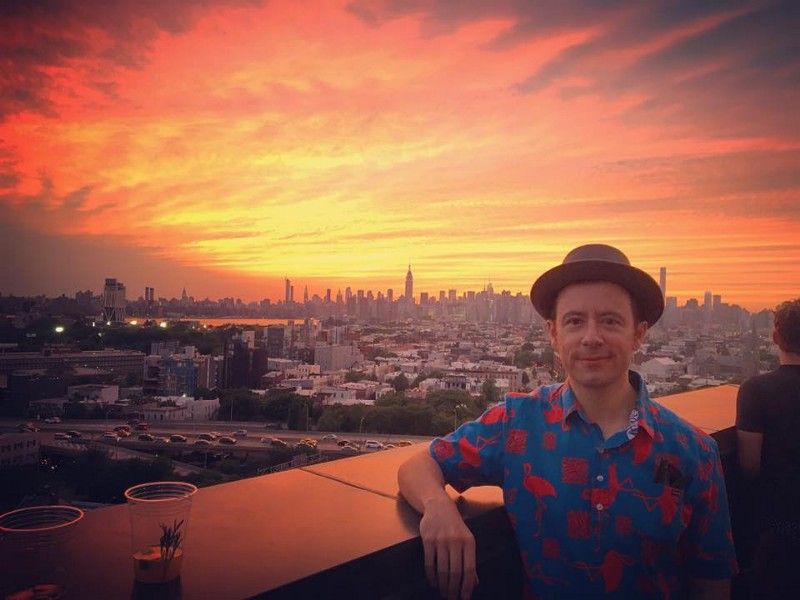 I caught up with journalist, actor, and filmmaker James Kleinmann to talk about life in New York City.
Why did you decide to move to NYC?
I'd been in a long distance relationship with my now-husband for three years, travelling back and forth between London and New York City.
After three years, I made the move across the Atlantic so we could finally be together full-time.
Was it difficult to find your feet in NYC?
Having lived in London for twenty years, I found it fairly easy to adapt to life in another big city.
New York often feels busier and faster than London - and other cities I've lived in -  because more people are walking from A-to-B.
Although everyone looks like they're hurtling down the street, ready to mow you down, New Yorkers tend to be a lot more open, helpful and up for a chat than you'd think at first glance.
Although I do run into people I know fairly frequently, it's the kind of city you can feel anonymous in. However, there's also a sense of community in many neighbourhoods — including the East and West Villages, where I spend a lot of my time.
I work freelance in various fields as a journalist, filmmaker, film programmer, and actor, so don't have the chance to get to know an office full of people like I would if I had a regular 9–5 job. Attending film festivals and events in the city, alongside social media, has helped me make some great connections here.
I was lucky enough to have a few close friends already living in the city before I moved here, and they introduced me to their friends, so that slowly helped me to feel more settled. It certainly takes time though, and I do miss my UK friends and family.
I found my first trip back to the UK a little disorientating, as neither place felt quite like home at that stage. But now, when I see that iconic Manhattan city-scape in the distance, I really feel like I'm arriving home.
As well as learning some new vocabulary, there are definitely cultural differences to contend with. Americans tend to be far more direct in their communication than Brits. Beating around the bush, or false modesty won't get you anywhere in this city. So, that's taken a bit of getting used to.
Where do you live in NYC?
I live in the East Village, which I love. It was one of the first areas in the city to be gentrified in recent decades. It wasn't changed aesthetically quite as drastically as some of the other neighbourhoods that were gentrified more recently, like the Lower East Side — below Houston Street, East of Broadway — where the character of the neighbourhood altered extremely rapidly.
Are you starting to feel like a New Yorker?
Occasionally! I think I'm somewhere between being an Englishman in New York and a fully-fledged New Yorker at the moment.
I'm usually pretty laid-back, and it takes a lot for me to get annoyed by someone on the street or to get vocal about it, so the times when I do give me a little glow as I feel myself becoming a New Yorker. You can frequently observe something along the lines of that iconic New York movie moment in Midnight Cowboy where Dustin Hoffman's character yells to the cab driver "I'm walkin' here!" — but usually with a lot more swearing.
The way that Manhattan was designed with a grid system makes it fairly easy to navigate Midtown and Uptown, but it's taken a while to get used to Downtown, where many of the streets have names rather than numbers and don't adhere to a grid. I use the city's bike rental system and cycle a few miles a day. That's really helped me get to know my way around, which definitely makes me feel like a New Yorker, and I'm good at giving tourists directions now.
I love how walkable Manhattan is, and hearing little snippets of people's conversations when they pass by.
I hadn't been exercising regularly before making the move to NYC, but now go to the gym daily, which definitely seems to be the norm here.
What are some of the downsides of living in NYC?
Unsurprisingly, the rent and property prices are high, and even the most 'luxurious' apartments tend to be quite small. But it's worth it to live in such a vibrant place.
What are some of your favourite neighbourhoods in NYC?
My favourite area in the city is the West Village. I like walking through Washington Square Park. Whatever the time of year or time of day there's something going on — people playing on the chess tables in the south west corner, buskers performing, or musicians practising to give their neighbours some peace, people doing yoga on the grass, NYU students hanging out, and regular political rallies.
On the night before the 2016 general election, Madonna performed there to a crowd of a few hundred people — I was lucky enough to be among them.
There are some high-end, high street, and designer stores on Bleecker Street — that's a favourite spot for Christmas gift shopping.
I like strolling through the brownstone lined residential streets. There are a lot more trees in this neighbourhood than in some other parts of Manhattan, so it looks particularly beautiful in the spring when all the blossom is out and when the leaves turn golden in the fall.
The West Village is also full of great bars, many with live music, restaurants and coffee shops. There's the IFC Center — a cinema that shows foreign language, indies, and documentaries, with midnight showings at the weekends.
I also love the East Village, where I live, and the Lower East Side. Both are great for a daytime stroll for the street art and shops, like vintage store Tokio 7 on 7th Street and 1st Avenue.
Soho is great for high street chain store shopping, a little less hectic than tackling the 5th Avenue stores, and there are still a few boutiques on the side streets.
Where do you go out in NYC?
There's a fun, very straight-friendly gay piano bar called Marie's Crisis in the West Village — cheap drinks, great atmosphere, with show-tunes all night.
The younger, dance-music orientated scene is now centred around Hell's Kitchen, with a plethora of bars.
Club Cumming, partly owned by Alan Cumming, is a welcome addition to the East Village — taking over what was most recently Eastern Bloc. They have nightly events and a friendly, creative crowd, attracting lots of Broadway performers after they come off stage.
Follow James Kleinmann on Twitter
Follow Gareth Johnson on Twitter
---
Show your support for G-TV by grabbing a t-shirt.
Available in a range of sizes, colours, and styles.