True confessions of a Naked House Cleaner
Ethan Mechare comes clean.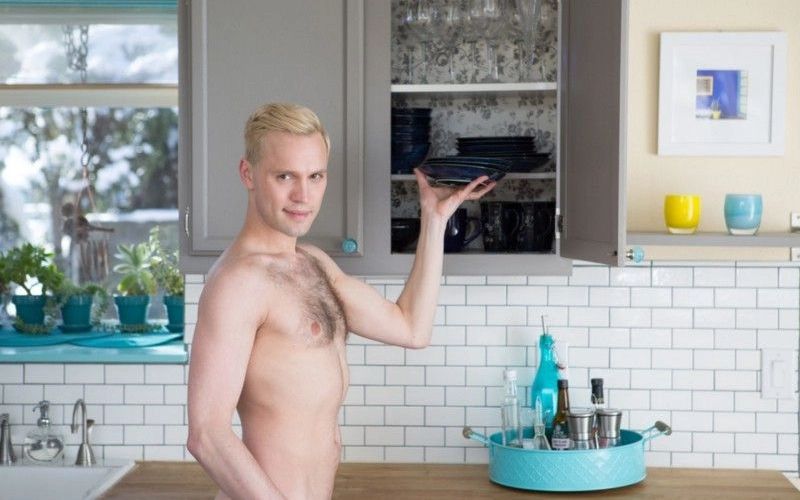 We caught up with Ethan Mechare to talk about turning his job as a naked cleaner into an immersive theatre experience.
What brought you to London from LA?
I was looking for a change. I was working as an actor and a TV presenter in LA, and I was a little burnt out from the cycle of auditions, meetings, and castings. I needed a break.
Why did you decide that being a naked cleaner was a good way to earn some money?
Using O: The Oprah Magazine – which I have shipped from the States to London – I made the vision-board-slash-mood-board-slash-dream-board and realised my passions were interior design, spot cleaning and nudity. I made myself the head of my new company, The Naked Cleaner Inc.
I advertised on Craigslist, and soon had my first clients.
Did you have any inhibitions about getting naked for clients?
In the beginning I was incredibly nervous. Getting naked isn't the first thing you usually do when you walk into someone's home for the first time – maybe for a hook up, but I was carrying cleaning supplies.
But, soon enough, being naked was like a work uniform.
Did you have any embarrassing moments or disasters as a naked cleaner?
So many! There's really no etiquette book for how to be a great naked cleaner.
One client didn't even watch me. I was mortified. I mean, that's the point, right? His nose was buried in his laptop the entire time while I cleaned the mildew from his bathroom ceiling. I'd walk back and forth in front of him with the duster, my whole body extended towards him, and he didn't even glance up. It was like something out of bad movie.
What were some of the surprising things you discovered as a naked cleaner?
People didn't just want a cleaner, they also wanted a therapist. I'll admit, I do ask a lot of questions, and I'm a good listener, but almost every single client wanted someone to listen, to talk to, to have an exchange with. Nothing was off-limits most of the time. From other fantasies they had, to relationship issues. I loved it.
Did clients assume that sexual services were also on the menu?
No, because I made it clear in my advert that it wasn't about sex. It was about fantasy. And cleaning.
Will your clients recognise themselves in this play?
It wasn't until I'd pretty much stopped doing it that I decided to write a solo theatre show. I was racking my brain on what it should be about when a friend said: "Wait, weren't you a fucking naked house cleaner?"
I've changed everyone's name, and some of their physical characteristics, but I suppose some people could potentially recognise themselves.
The play is presented as an immersive theatre experience. What sort of challenges does that present?
I built the piece around the idea that we're all in this together, it's not just me talking for 90 minutes with the lights down and the audience sitting in the dark in rows.
My favourite parties are the ones I go to and you feel like you really get to know a bunch of people – you just click, and you sometimes end up telling people things you don't even tell your close friends. So, with that in mind, I wrote the piece to feel more casual – as if you could speak up at any time and ask a question.
In the beginning, I had people interrupting me or shouting things out at me. So my director, my stage manager, and I worked out a plan to nip that kind of stuff in the bud immediately. We created rules that my stage manger tells the audience at the beginning and which I reiterate to them. I'm pretty cheeky with the audience, so if someone tries to take it too far I make sure they know that I'm always in control.
Is it different getting naked for an audience than it was getting naked for clients that you were cleaning for?
It's completely different. First of all, an audience has no idea what to expect – they haven't read the script before, they don't know what's going to happen, and there's a whole group of them. In naked house cleaning, there was usually only one person, and they pretty much knew exactly what they were getting.
Plus the context is completely different – I'm not there to fulfil the audience's fantasy, I'm there to entertain them with my stories, humour, and research.
What do you hope that people feel when watching you perform this play?
I hope they feel relaxed, challenged, entertained, and taken care of for 90 minutes. I hope people feel more free to let go of their inhibitions around sexual desire and fantasy. I hope they can see me 'coming clean' and feel inspired to do the same in their own way. I hope people continue the conversation I start in the show, at home and with their friends.
Check out the website for details of upcoming performances
Follow the Naked Cleaner on Twitter