Turn heads when you take your clothes off
Underwear with impact.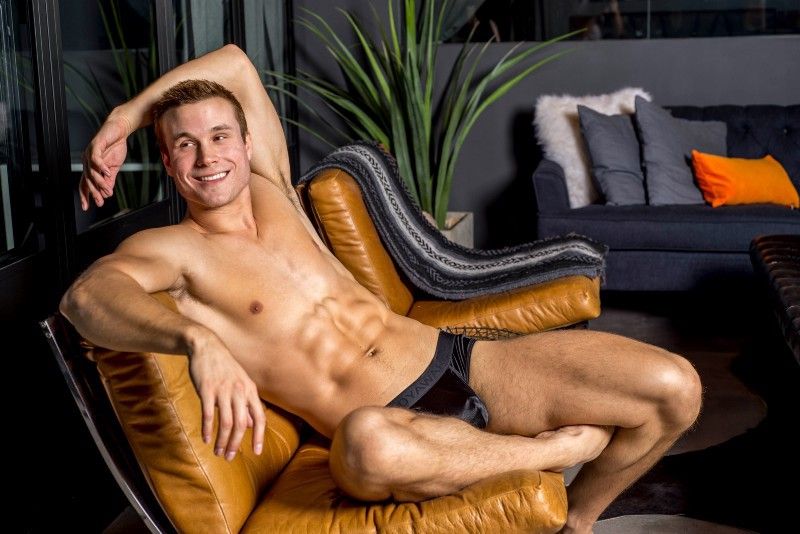 I caught up with Anna Volina from underwear specialist Body Aware to find out what trends we should be keeping an eye out for in the world of men's underwear.
Body Aware has always been on the sexy side of the underwear spectrum. Who are the typical Body Aware customers?
We have an array of customers from all over the world, with various backgrounds, who want to feel sexy in our underwear. Most of our customers come from the US, but we also have customers visiting our site from Canada, Mexico, the UK, across Europe, and Asia. Many are dedicated customers who are anticipating our new designs and keep coming back for more.
From a recent survey, we found that our customers range mainly from 30–50 years old, who are working professionals — so it's a more mature crowd that get to enjoy our underwear, aside from our Instagram Influencers that model underwear for a living.
Body Aware isn't limited to just one type of guy, there's something for anyone on our site to look and feel good in.
Where do you draw inspiration for your designs?
We draw inspiration from various trends and our friendly competition. Along with our past styles that did well. A lot of our designs are influenced by the fabrics we end up finding, along with the our colour selection. We always want to bring various shapes and utilise the fabric in a combination that appeals to our customers. So we'd want to do something somewhat modest, and go all-out with some see-through items for our more daring customers.
We create new designs each month, ranging from sportswear, bodysuits, to a limited run of a pair of briefs or thongs. If it ends up being a hit, we do it again, but perhaps in a different type of fabric. A lot of the time, the fabric speaks for itself and we try to focus more on the fit and making it look just right.
Which are some of your biggest selling products?
Our Greek God Brief has always been a best-seller. It's a soft and lightweight stretch satin fabric that's contoured in the back, with a slight pouch giving our customers a thrill when they see that glistening sheen and flattering fit. It's a bit of a luxury item that keeps coming back in new colours, so new customers get a chance to try it out.
Thongs tend to also do very well. One we keep bringing back is the Gossamer String. There's very little fabric, which makes for a spectacular fit for our wearer. It's one that definitely accentuates and stands out, with various colours to choose from.
Sometimes some of our most simple designs are the ones that do well. Our customer favourites can be seen from the countless reviews the items end up getting. Our customers rate our BodyCon Thong and Brief as some of our most comfortable designs, often rating them as a 'must-buy' when shopping with us.
I'm always intrigued by your lace underwear for men. I'm constantly looking for an occasion when I can wear a lace bodysuit. Why do you think lace underwear products are popular with men?
It's something new to try and it definitely has to do with the sensation of getting to wear lace. Lace is much more delicate and uncommon to be seen on any men's garment. At Body Aware we give men the option to explore and realise that lace can make a guy feel sexy too, and our briefs have a pouch making it much more comfortable than a pair of women's lace panties.
There's also that edgy factor lace has to offer for men, and it can definitely be worn for special occasions to make a statement. One of our customers — Eric Alden — had paired his lace leggings with a pair of his own underwear in a similar shade, and just a harness with some accessories to show up to an event. So I'd definitely say its for someone that wants to be bold and not afraid to show it.
With the underwear made from neoprene — don't they get a bit sweaty?
Neoprene can get a bit sweaty if there's extreme heat. However, it's technically like a cropped down version of a wet-suit. The weight of our neoprene is much lighter, there is a chance of sweating, but most times it isn't much of a problem. It's also very easy to wash and holds up well afterwards.
What are some of the underwear trends that we should be keeping an eye on?
The trends in the mainstream underwear market have steadily been catching up when it comes to introducing other fabrics such as silk and satin to a boxer or brief as a more luxe item. This is something we've been creating over the years, including satin leggings and tanks for lounge-wear. So we'd say the industry has been catching up and providing men with more than the usual cotton/spandex blend boxer or brief.
Eco-friendly fabrics are also on the rise. Companies have been dabbling in finding what's best for our planet in production of undergarments. We've found an alternative for ourselves in a range of boxers, briefs, and thongs called The Amazing Bamboo Collection — the fabric feels like a very soft modal, but the fibres are made completely out of bamboo.
Overall, we've found that men are looking for more eye-catching cuts of underwear, lounge, and sportswear, and we're here to deliver it to them.