Two Naked Gay Guys
Beneath the sheets of the web series from New Zealand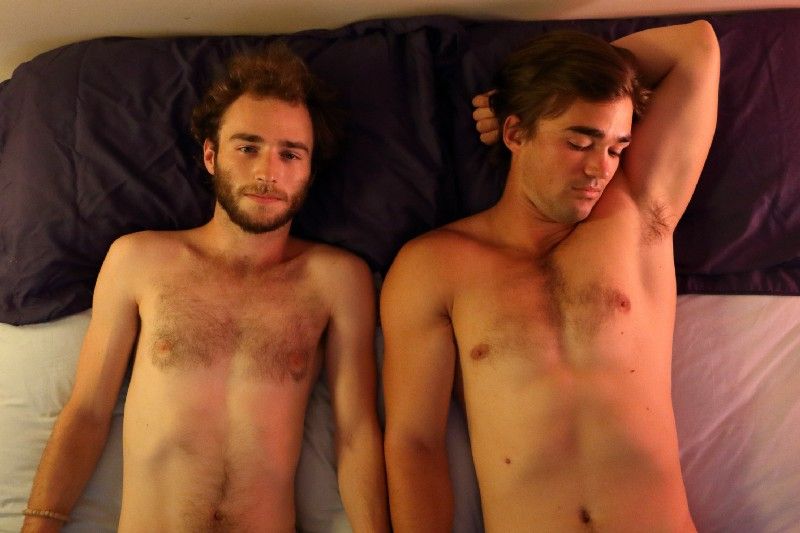 Two Naked Gay Guys is a web series about two gay guys, their friends, love, intimacy and relationships.
I caught up with writer/director Conan McKegg for behind-the-scenes look at the comedy.
Where did the inspiration for 2NGG come from?
I'd been playing around with ideas for web-shows for a while, and initially wanted to do something akin to Steamroom Stories — a simple set up so that I could do multiple short comedy episodes that explored facets of gay culture.
Initially I thought it would be a different pair of gay guys in bed each episode. But as I began working on the scripts, I was watching a lot of Please Like Me and realised I wanted to do something more dramatic. From there it evolved into Two Naked Gay Guys.
What sort of response did you get to the initial episode when you first published it?
Initially it was slow to take off, but once DNA magazine promoted our Kickstarter we quickly gained thousands of views and people were saying how they loved the message of the show.
Finding out that people were connecting to the story really helped convince me that this show had a future.
Was it always intended as an ongoing series?
In many ways our current series  - Two Naked Gay Guy Briefs - is closer to the original concept than the first season of Two Naked Gay Guys was.
I'd originally envisaged it as a weekly series that kept up with current events and could address key debates in the queer community. I'm still working to build on that, as well as make space in the series for other LGBTQ characters.
What was your casting process?
For the first season, we held initial auditions to get a short-list of actors for Lucas and Dean, then held chemistry auditions to find the two actors who had the best chemistry.
I'd been keen to have gay actors if possible, but it turned out that the two strongest actors were both straight.
With our shift in focus for Two Naked Gay Guy Briefs, we mostly cast from a pool of volunteer actors who are part of our troupe.
How long does each episode take to produce?
For the first season, an episode took about a day to write, two days to shoot, and roughly two to three weeks to edit.
With Two Naked Gay Guy Briefs we've been trying more experimental techniques that cut that down to about half a day to write an episode, half a day to shoot, and one to two days to edit.
Our goal with the current series is to keep agile so we can react to our audience and produce content for a year-long weekly show.
Was it difficult to raise the funding required to produce the series?
Our first season was seed-funded by the Emerging Artists Trust based here in Wellington, New Zealand. We managed to raise more funding via Kickstarter for the remaining four episodes.
Funding for any project is a challenge in micro-budget productions, and we've been exploring avenues to eventually evolve into something self-sufficient. But we also want to keep our audience engaged. Hopefully they'll appreciate the work that goes into the series and will be willing to help fund us via Patreon and Crowdfunding so that we can continue to develop more episodes and other shows.
Has it been difficult to keep the cast together over an extended period?
Definitely! Keagan Carr Fransch - who played Anna in season one - got accepted into a prestigious acting academy in the UK, so we had to farewell her character until she's free to come back. Jose Munoz - who plays Sebastian - ended up returning to Mexico.
Fortunately our two leads, Matthew Dussler and Riley Brophy, remained in Wellington and were keen to keep producing the show. But it's inevitable that as they get discovered for their amazing talent, our cast will eventually move on.
The key thing has been to ensure that while they're with the project that they never feel exploited. A good production looks after its cast and crew, and it can show on screen when things aren't going well. I'm very fortunate to work with these people.
Does 2NGG have a point to make or a point of view on contemporary gay relationships?
I think that this has evolved as I've written the series. When I started writing Two Naked Gay Guys I was aiming to confront my own hang-ups about sex and body issues. I was one of those gay guys who was always a bit awkward about the idea of casual sex, and who was very uncomfortable about his naked body - I'm a hairy dad-bod type.
I decided to confront my hang-ups by writing a sex-positive show that wasn't judgemental about guys having a casual hook-up. But I also wanted to explore how you can't control when you fall for someone. I didn't want to make it that 'all casual hook-ups inevitably lead to love' but rather show that love and sex are linked but not required. Recent episodes have been looking at how resisting your feelings is the problem - not sex.
For me, the show is an attempt to explore my own thoughts about the complexity of working out the boundaries in a relationship in an organic way. The series has three couples all facing relationships differently - we have Lucas and Dean exploring love after having fought admitting it, Alastair and Keith who just kind of fall into a loving relationship and just let it take them wherever it leads, and Robbie who's exploring dating without really knowing whether he's gay, bi, pan, or straight, and starts hanging out with the more experienced Charlie.
I really want to show positive explorations of relationships, and how to resolve challenges without being over-dramatic or false. To me, a lot of queer media shows us either fairy-tale romance or overly dramatic conflict that doesn't show genuine relationships. I want to explore that realm in between.
Follow Gareth Johnson on Twitter
---
Show your support for G-TV by grabbing a t-shirt.
Available in a range of sizes, colours, and styles.