VAULT Festival Preview: Con-Version
A drama that explores the damage done by so-called Conversion Therapy.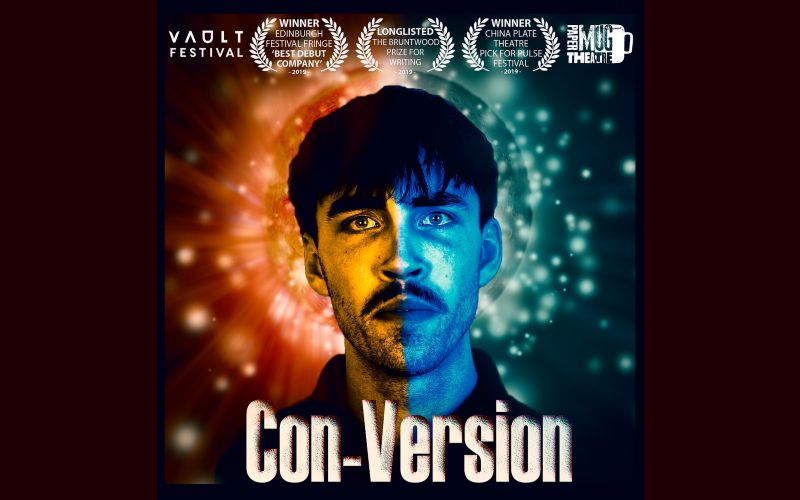 One of the shows to have on your radar at the VAULT Festival is Con-Version – a drama that explores the impact of so-called conversion therapy.
I caught up with writer/producer Rory Thomas-Howes for a behind-the-scenes look at the production.
What was your inspiration for this production?
I was interested, as a queer person, to find out whether conversion therapy was an issue in the UK – I'd heard of it being offered, but my only reference point was American films about religious camps – Boy Erased, for example.
As I started my research, I found that the problem with conversion therapy in the UK is that it is insidious – type in conversion therapy into a search engine, and you'll find very few responses. Type in something along the lines of 'Jesus' healing power,' and you'll find conversion practices buried throughout religious institutions across the country.
They're clever, they're underground and they're dangerous to LGBTQ+ people.
I decided then that I needed to expose the issue – there's very little media out there about the issue in the UK, and I needed to draw attention to it.
I didn't want to just show trauma though – I wanted to tell the story not of the act of conversion therapy itself, but of the aftermath. What happens when someone tries to change who they are?
It's an absurd premise, which led to the absurd, reality-bending nature of the play.
Conversion therapy is somehow still a subject for debate in the UK – is the intention of the production to advocate for a ban on conversion therapy?
Absolutely. Only a week ago, the government delayed legislation for a month to 'allow further discussion' of the topic.
It's an unproven, dangerous practice that isn't officially regulated by any medical bodies. If an unlicensed, unproven, and potentially dangerous form of medication was available in the public sphere, the government would clamp down on it immediately. What's different about conversion therapy? What needs to be discussed?
Beyond that though, it's a mission of awareness – 20 percent of trans people, 10 percent of the disabled queer community, and 5 percent of gay people have been offered conversion therapy, and yet very few people believe that it happens in the UK.
Con-Version is a story about ordinary UK families – it's designed for LGBTQ+ people and their families to see.
We want to make people aware of the dangers conversion therapy poses and the horrible effect it can have on people's lives, and hopefully help people realise that there's nothing wrong with being LGBTQ+.
What's been the creative process to develop this production?
The process has been very quick – much quicker than my normal process, to be honest.
When I first developed the idea, I sent a plot outline to VAULT Festival, applying to be part of the Vault Five, and I ended up on the shortlist, and was encouraged to apply for a slot at VAULT Festival with Con-Version.
At this point, the play was still being outlined, so I created a first draft and we were accepted into the festival.
I produce all my own work through my theatre company Paper Mug Theatre, so most of the process so far has been casting, redrafting, marketing and developing the show ready for the festival.
We start rehearsals at the end of January, and we're debuting on the 8th February at VAULT Festival – a world premiere, never-before-seen work!
Is there life for this production beyond VAULT Festival?
That's the aim!
We're specifically keeping the geography of the play vague – ideally, I'd like to tour this play around the country, bringing more LGBTQ+ theatre to regional venues and spreading awareness of conversion therapy, garnering support for a ban.
VAULT Festival is a wonderful stepping stone, and I hope that from this experience we'll be able to develop the play further and create a piece of work that resonates with people.
What do you hope that people feel when watching Con-Version?
I hope they feel scared, honestly.
There's a complacency among some people that LGBTQ+ people have rights, there's no need for Pride or to keep campaigning against human rights violations because we've come so far.
We have come so far, but there's still so far to go, and more importantly, there's still a lot of people out there – from the general public to senior politicians – desperately trying to pull us backwards.
We're all sick of people who aren't in our community 'debating' our rights. Our existence is not up for debate.
Most of my work is designed to start a conversation about LGBTQ+ rights. Con-Version is designed to finish one.
We want a ban on conversion therapy, we want effective protection for LGBTQ+ people – particularly young people – and we want to bring as much awareness as possible about this threat to our existence.
Book tickets to Con-Version at VAULT Festival