VAULT Festival preview: Lesbian Space Crime
A queer comedy that boldly goes where no queer comedy has gone before.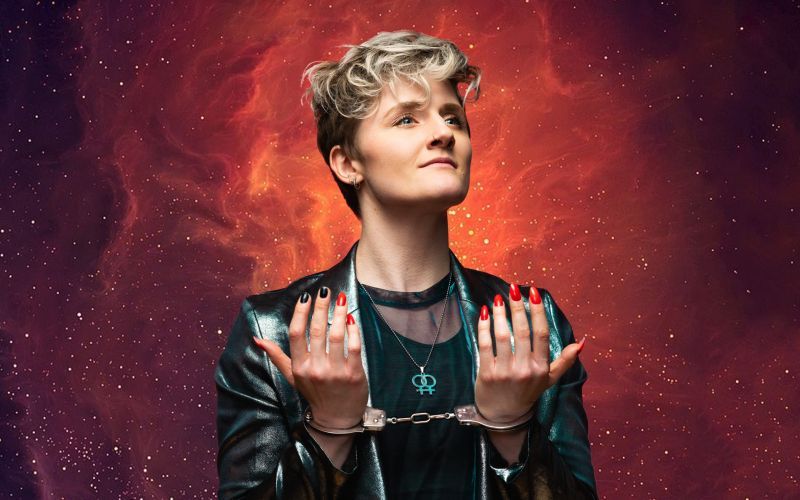 One of the shows to have on your radar at the VAULT Festival is Lesbian Space Crime – a queer comedy that boldly goes where no queer comedy has gone before.
I caught up with director and performer, Robbie Taylor-Hunt, for a behind-the-scenes look at the production.
When you read this news-story, did you automatically think – this needs to be a musical comedy?
My first thought was – there's a queer astronaut and my gay ass failed my single science GCSE?
Then, I thought – why is everyone so angry about her allegedly committing a crime? She's a legend and should be allowed to do whatever she wants.
Then, I thought – hmm maybe being an intergalactic queer hero shouldn't make you exempt from the law?
Then, I thought – yikes, must be stressful, everyone being obsessed with you being a famous gay and you've only just been outed by your ex-wife!
Then, like a week later, I was talking to co-creator queer pal Rosanna Suppa and we were like – this should be a musical comedy.
What's been the creative process to develop this production?
We did a lot of back and forth on WhatsApp in the early days and after a while we were like – maybe we should actually make this.
We applied to New Diorama / Underbelly's UNTAPPED Award in 2020 and were shortlisted, so had to quickly create 20 minutes to showcase to them.
We had such a giddy fun time devising it and knew we needed to make it happen.
We were also given development support by Omnibus Theatre's Engine Room Programme this year where we showcased some more digitally, and have been tinkering on it since.
So, it'll be nearly two years of development from WhatsApp jokes to VAULT premiere!
Does Lesbian Space Crime give us the villainous queer representation that we've been waiting for?
Have you seen every Disney film? The queers are always the villains – Ursula, Scar, Jafar, the Ugly Stepsisters, Mrs Potts. Most Bond villains are also clearly massive gays.
What we are hoping for is a more nuanced approach to morally ambiguous LGBTQIA+ characters, created with love, by queers and for queers.
And also, we hope to show that you can be an absolute dykon – dyke icon – and not have to be a totally perfect queer ambassador.
You may get to meet some other badboi queers from history in the show too.
Is there life for this production beyond VAULT Festival?
We would love it to live beyond VAULT – so, if you programme fun queer theatre and want some silly gay nonsense, hit us up!
What do you hope that people feel when watching Lesbian Space Crime?
Gayer?
I definitely hope people feel cheered up, buzzed, all that happy stuff that only truly silly live theatre can give you.
I hope queers feel relieved that they don't need to be an infallible ambassador for the community the whole time and can just live their trashy dirtbag lives if they want.
I hope they feel some solidarity with the queers on stage, other queers in the audience, and even the queers floating up in space.
Lesbian Space Crime is at VAULT Festival 15-20 February