VAULT Festival preview: Somewhere To Belong
A production that tackles bi-visibility and biphobia.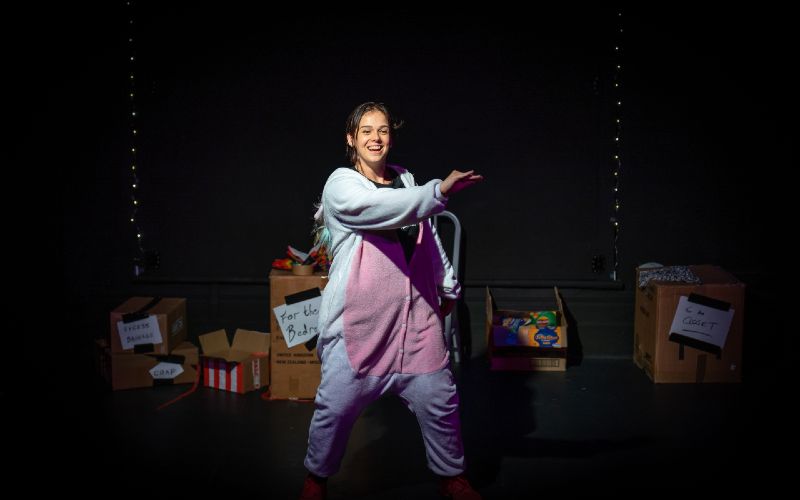 One of the shows to have on your radar at the VAULT Festival is Somewhere To Belong – a show that tackles bi-visibility and biphobia.
I caught up with writer and performer Kim Scopes for a behind-the-scenes look at the production.
What was your inspiration for this production?
Our inspiration for SOMEWHERE TO BELONG came from the many wonderful conversations we have with people from the global bi+ community during the many lockdowns. We knew we wanted to make a show about multi gender attraction, but we didn't want it to be the story of just one person's experience, that's very important to me as a writer.
We did a shout out on social media, expecting maybe 10 of our friends who lived locally to respond, but then were shocked and delighted to receive over 30 responses from all over the world within 48 hours of the call going out. We talked to them about their lives, their sexualities and their experiences of biphobia, bi erasure, but mostly of how they celebrate themselves for who they are.
We saw the same patterns emerging, again and again, of how the marginalisation they experienced, the language people used against them, affected their daily lives and their wellbeing. We knew straight off the bat we wanted to make something that was a celebration, something utterly uplifting. And the situations our participants told us they sometimes were being put in, because of peoples lack of understanding, were completely absurd, so we only felt it fitting that this show was a response to that. An abstract, silly, joyful and rebellious F*CK YOU to biphobia.
We also knew that each participant's story was so important, not just for our show but for the representation of the bi+ community as a whole, which is why we also decided to create the SOMEWHERE TO BELONG ARCHIVE, where you can see most of our participants' stories in full.
The game-show format is something we call identify with – why was this the right structure to convey this story?
I love the game show format because it takes that weird moment of being put on the spot when someone asks you something utterly ludicrous about your sexuality and really runs with it. I feel it works for this story because it sends up the societal pressure we all feel to obtain someone else's approval, as if other people are the gatekeepers of our self-worth, and to try to fit into the boxes that other people create for us, for the sake of their own comfort.
It's no coincidence the game show is called 'Define yourself now you're making me uncomfortable'.
Also, when people have put me on the spot in this way, I've always felt like I'm on the back foot, because I'm trying to play their game to their rules without knowing them in the first place, which is ridiculous and surely a great source of humour.
It always reminded me of that brilliant game show 'Taskmaster', where people are given impossible tasks with unknown conditions and mundane objects, and we thought it would be fun to give that show a loving nod. If you like 'Taskmaster', we think you'll love SOMEWHERE TO BELONG.
What's been the creative process to develop this production?
I love to work collaboratively and we were so lucky to have gathered an excellent team who all brought incredible insights and ideas into the production.
For us, we find it's always great to have a set amount of time where we just play with ideas, try some stuff out and see how far we can take it. If it doesn't work we shelve it and move onto something else.
I'm a very visual writer, I like to try and make interesting or striking images or moments on the stage so I'll usually bring those ideas with me into the rehearsal room, maybe with a loose script.
So ,all the way through our interview process – of about seven months or so – I would spend some time each week jotting down ideas or images or things I'd like to play with, based on things that our participants had said. By the end of that seven months, I had a loose script together, which was mostly a collection of moments that could be shuffled and rearranged.
Then in June/July of this year, we were able to spend a week in R&D, and after each day we'd go home and rewrite the script and then we spent another week after that in rehearsals, before the premier of the show in July 2021 at the Lion and Unicorn Theatre.
It was an intense process, but a really joyful one that left us all utterly exhausted but exhilarated.
We've been so lucky to have received support – financially, practically and morally – from the Arts Council England and The Lion and Unicorn Theatre, Kentish Town. Without those guys we'd have really struggled and the show wouldn't have been anywhere near as successful as it has been – we're very grateful to them!
We seem to be struggling to make much progress in tackling Biphobia and Bi-erasure – why do you think that is?
As humans, we're suspicious and potentially callous about things we haven't seen before and therefore don't understand. And how can we see it, in this day and age, if it's not in the media.
I think it's because people don't like to be taken out of their comfort zone and our comfort zones are dictated by what we see in the media and the media loves the Binary – Good and Evil, right and wrong, left and right, straight and gay.
Clear, defined binaries make it much easier for the media to depict people and narrative. The media doesn't like the grey area between the black and white. And when you don't fit in a binary – as in you're not straight or gay – then you don't seem to fit into that narrative they like, so you 'need to pick a side' or you're 'greedy' and will slide into a binary one day.
And I think it's a become a bit of a vicious cycle – we don't see much fair Bi+ representation in the media so people don't understand it. And because people don't understand it, the media avoids integrating accurate Bi+ stories into their media.
I think it's also because the most accurate portrayal of a bi+ person that the media could depict is just of a person living their day to day life which is joyful and dramatically mundane, and that's not exciting or sexy enough for public consumption, apparently.
Is there life for this production beyond VAULT Festival?
Absolutely! I always believe that a show is never finished and there is so much more we want to integrate and experiment with in the show and in the project.
We're delighted that we're going to be taking SOMEWHERE TO BELONG to the Brighton Fringe in May '22 and plans are underway to get it further afield.
We'd love to bring the production to regional venues across the UK to reach as much of the brilliant and diverse LGBTQIA+ community as possible.
What do you hope that people feel when watching Somewhere to Belong?
It's my most passionate and fervent hope that our audience sees themselves reflected on stage when they watch SOMEWHERE TO BELONG. That, even in the smallest way, they can relate to what they see CK going through and the situation she finds herself in.
I hope it makes our audiences think.
Even if some of our audience don't identify as being attracted to more than one gender, I hope they feel like they've learnt something, seen another perspective in a bold and joyful light and that they can take they can take that experience forward and learn from it, when they talk to their LGBTQIA+ loved ones.
I hope they can laugh and dance and cry along with our hero and that they leave the show wanting to have the conversations perhaps they felt unable to have before.
I hope our audience can feel uplifted and celebrated and that there's a beautiful community waiting to welcome them in. I hope they can feel that they've found somewhere to belong.
Book tickets to Somewhere To Belong at VAULT Festival