VAULT Festival Preview: The Lates Programme
Lolo Brow takes us behind-the-scenes for a preview.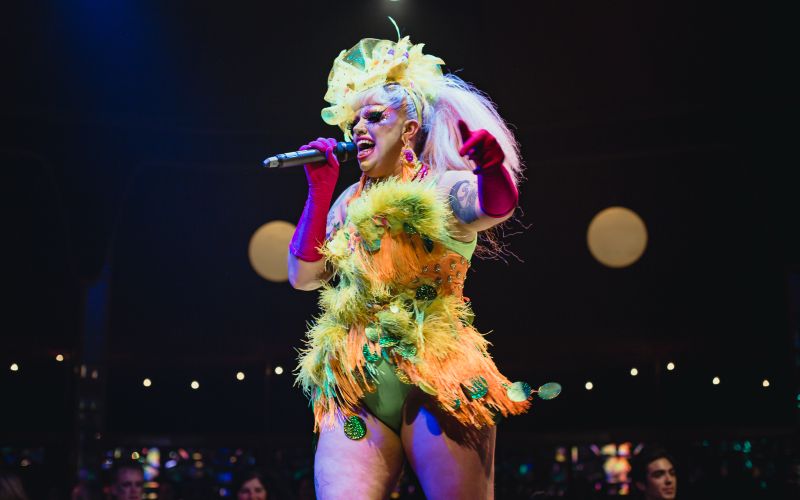 I caught up with Lolo Brow – Head of Late Night Programming – for a behind-the-scenes look at The Lates programme at the VAULT Festival in London.
How would you describe the Lates component within VAULT Festival?
The Lates is such a wonderful space within the festival.
It's a component which bridges the gap between the theatre sector and nightlife which in turn creates a delicious pot of filthy rebellion and fabulous art.
VAULT is such a massive festival, when it comes to the Lates program – where do you start?
I start with the creators who are changing the foundations of London nightlife – the producers and artists who fight for inclusive spaces. Then, go from there.
Queer performers seem to a key part of the Lates programme – is that part of the brief?
To be completely honest, it wasn't a brief or an intention, however the thread that intersects the many groups represented in the 2022 Lates program is Queerness – which I hope will highlight the complexities of artists' representation.
We are not just Queer, we are many things.
There's almost an interdependence or a natural association between queer performances and late-night entertainment – why might that be?
People forget that a lot of what we experience as 'nightlife' is created by minorities that have been rejected from conventional forms of theatre and have broken off to make a space for themselves.
A natural association between Queerness and Late-night entertainment is simply down to revolutionary artists carving out a space for themselves and creating art regardless of societal conventions.
Who are some of the performers that we should be looking out for in the Lates program at this year's VAULT Festival?
I am so excited about this year's program – the opportunity to work with such legends in their field is thrilling and to bring in up and coming artists fills my goddamn soul with excitement.
We are so lucky to have the legendary Bitten Peach celebrating Luna New Year with their show Tiger Bomb, it's simply a must see.
Also, everyone must check out JuiceBox Present: Make it Rain, who will be bringing us Sex Worker positive entertainment.
What do you hope that people feel when they're experiencing the Lates program events at VAULT
I hope that people feel safe to express themselves, to be engaged and find their playfulness.
Most of all, I hope they will be thrilled by avenues of change and to question the norm.
Find out more about the VAULT Festival