We need more gay affairs!
Why is YouTube censoring LGBTQ content?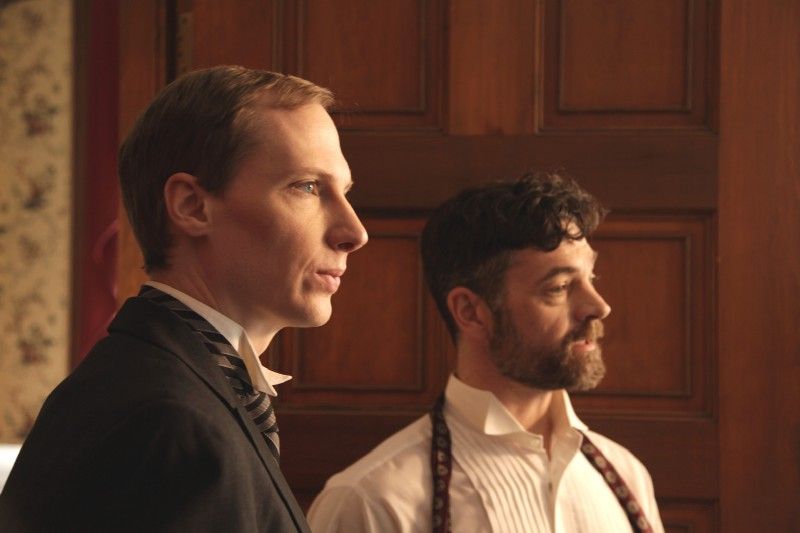 I caught up with filmmaker Robert Watson to reflect on the first series of A Gay Victorian Affair, to look to the future for season two, and to highlight censorship of LGBTQ content by YouTube.
What was your inspiration for A Gay Victorian Affair?
I'm a huge fan of Downton Abbey, but the show's finale had left me cold. For Thomas, the show's only gay character, I wanted so much more than just the closure of him keeping his job. It was yet another example of how mainstream entertainment desexualizes gay characters in order to make them more palatable for their straight audiences. It's a common occurrence that really gets under my skin.
At around the same time Downton finished, my husband — Andrew Lamb — was producing one of my plays at Toronto's Campbell House Museum, a Georgian-era home that was spacious enough to accommodate a film crew. I was already transitioning toward more screenwriting, so the gears in my brain started turning. How could I make a gay sex-positive period piece?
I wanted to show the entertainment world that there's nothing to fear in creating well-rounded LGBTQ characters who are also sexual beings. For all my queer brothers, sisters, and siblings, I wanted to give them some big gay laughs, because we deserve more of that.
What was the production process like?
From concept to release the process took two years, working on it when time allowed. Having always been inspired by Oscar Wilde I decided that the Victorian era was the sweet spot for the timing of this serialised web series. The delight of this time period is that the Victorian era was a peak time for sexual repression, but also a peak time for filthy sex slang.
I built a series bible with episode outlines, entered myself into a pitch competition — and won. Everyone, both gay and straight, loved the idea of a gay fantasia of historical homosexual hanky-panky.
I spent the next six months teaching myself to be a film producer, volunteering and taking courses to fill in the gaps of knowledge that my theatre training hadn't provided for with this medium. It was important to me to have full creative control in order to realise my vision for the series, which meant we had to produce it completely on our own.
The filming itself was completed over five days in April 2017. Being an indie film production we took our time in post to make sure it would be the best it could be.
It was a longer road than expected, with a few setbacks along the way, but the accomplishment of being a first-time film-maker and being able to make an LGBTQ series of such high quality has been truly exhilarating.
You filmed the first series in Campbell House in Toronto, did you write the piece with the intention of filming there?
Yes, but I wasn't sure how a city-owned property was going to respond to my request to film a gay sex comedy on their premises. Luckily, the museum's curator has a great sense of humour and a charitable nature, so we got the green light to film there — we were even allowed to use the museum's antique period furniture. We were very grateful, and also very careful.
What was the casting process like for the first series?
My background in theatre means I know a lot of classically trained actors. I'm the kind of writer who visualizes how a finished product might look as I write, so certain friends started invading my imagination as potential actors. My friend Adrian Proszowski was basically my Lord Reginald from the start, while Amanda Barker and I had previously acted together in a period drama, bringing her to mind for Lady Vanessa. Rebecca Perry had just been touring in a children's play I wrote, and I couldn't get her out of my head as Agatha the maid. As for myself, I've played so many butler roles over the years it would've just felt wrong to have anyone else play Henry — I guess that's one of the luxuries of producing your own work.
Did you have to do much research in order to get to grips with how the Victorians spoke about sex?
Thanks to my theatre training, I was already well-versed in the drama and comedy of the period, but sex slang rarely manifested itself in any of the Victorian classics that I'd studied. So, like everyone does nowadays, I turned to the internet with the hopes of getting the skinny on how Victorians did dirty talk.
There were a lot of web posts that gave crumbs of information, but there was one site where I hit the mother-lode — Gizmodo had posted sex slang charts created by linguist Jonathan Green which pinpoints the time in history, from 1351 to today, when an English sex-slang term originated. It was like one-stop shopping for all the dirty things I wanted to know. I took a few liberties in the combination of sex terms for the sake of comedy, but every dirty word used is from the time period. And there's no swearing! You could almost watch it with your kids, though I don't recommend it.
What's the response been like to the first series?
It was incredible. I lost count of how many messages we got exclaiming how it was amazing to see an LGBTQ web-series of such prime quality. People went nuts for the dirty Victorian slang, and were also impressed by the cast's chemistry. Some people were quite surprised to find out we're not British, as they thought our accents were on point.
This is definitely a gay comedy, but with enough crossover appeal for straight folk will give it a chance as well. Lord Reginald may be in his forties but he's a super-hot daddy, so I think any gay guy with a sense of humour can enjoy it. Plus the series has got some good sapphist story-lines, lesbian audiences love. There's something for everyone in A Gay Victorian Affair.
Did the move by YouTube to put an age-restriction on the content come as a surprise?
It really did. We'd imposed our own age restriction on Episode 3, because it has a flash of bum in it — but with all the other episodes we followed the YouTube community guidelines explicitly.
When YouTube imposed an age restriction on Episode 1 — after one viewer made a complaint — we appealed. We received a message back that conceded that we had complied with their content guidelines but that we were not 'suitable for a general audience' and the restriction remained on.
With all the straight content on YouTube that's so overtly sexual but manages to avoid restrictions, this is clearly an anti-LGBTQ move by YouTube.
How did the age-restriction impact your distribution?
YouTube buried us in their algorithm — no longer suggesting us as a related video for users who search gay content online, and requiring people to log in if they somehow found us and wanted to watch. Our first weeks we were getting a thousand views per day, but after the age restriction was imposed that number went down to less than twenty. Our ability to monetise our videos was eliminated since age-restricted videos can never have ads attached to them.
What are the plans for a second series of A Gay Victorian Affair?
Despite this discriminatory setback, we're forging ahead with Season Two of the series. We're currently running a crowd-funding campaign with the hope that our viewers and followers will see the value of continuing a high-quality show like this, and proliferating it among both our gay and straight audiences.
Have you used crowd-funding to raise production funds previously?
My husband and I are theatre creators, so we have tons of experience in asking people for money! We've never done anything on this scale before though, so we're very glad to have a dedicated team of cast and friends who are helping spread the word so we can reach our goal of $10,000.
Where will series two take the characters of Victorian Affair?
Episode 4 shows that there's a darker side to being in a marriage of convenience in the Victorian era. Season Two will continue exploring the dangers of being queer in this time period — Lord and Lady Favershum will be under siege by people who want to expose their secret and bring their world crashing down.
However, there will still be lots of time for gay trysts and salacious Victorian slang. These characters have been so much fun to write, I'm eager to get to work and create some more.
Support season two of A Gay Victorian Affair
Production images