What are your Top 3 things you think about when falling in love?
You'll probably want to watch this animated romantic comedy from Sweden.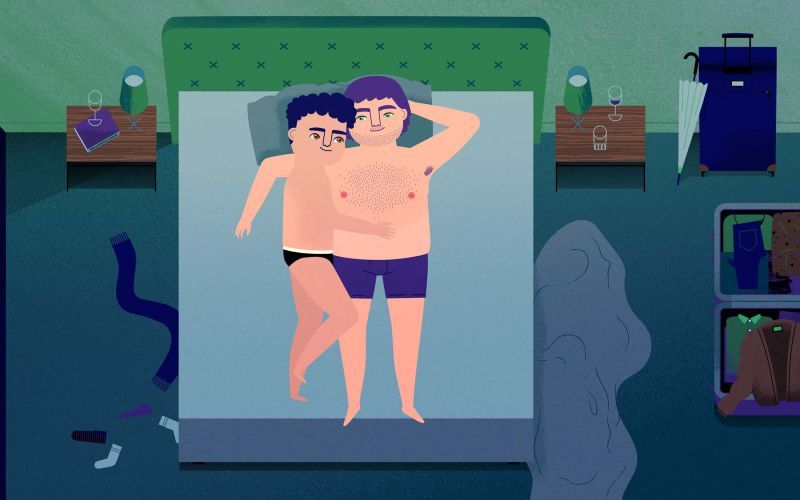 Top 3 is an animated romantic comedy about love, lists, and what happens after falling helplessly in love.
Created by Swedish animation studio Soja and directed by Sofie Edvardsson, Top 3 gives us the story of perpetual list-maker Anton who falls in love with David. But things start to go awry when Anton realises that his dreams in life might be in direct opposition to David's.
It's a beautiful film, tapping into the universal experience of falling in love and trying to figure out who you are.
I caught up with Simon Österhof – writer and producer of Top 3 – for a behind-the-scenes look at the film.
What was your inspiration for this story?
Top 3 is about Anton who sees David for the first time and falls hopelessly in love. It's an animated romantic comedy about love, lists, and figuring out what kind of life you want to live. We talked a lot about what kind of story we wanted to tell and also what kind of story we wanted to live with for the next few years. We all felt we wanted to make an entertaining movie and tell a warm, fun story. From that, the writing began with the very loose idea of the first line of dialogue: "Okay, so top 3 idiots I hate".
Compared to other projects, it was different in the way that it sort of took form as the writing went along, rather than with a very specific idea. But, with a few years of distance, I realise this project came about during a period where a lot of my friends started having children and sort of disappearing into family life. I think a lot of inspiration came from this kind of second separation period in life.
One of the things that has inspired us was northern Sweden, where we come from. Anton's life is directly influenced by how living in a sparsely populated place is seen and regarded in society, and being in love with a place like that is a part of the story's premise. In a way, it's our love letter to our home.
Was it always intended that this story would be brought to life through animation?
Animation is how we express ourselves and tell stories, and one of our favourite things about it is the endless possibilities. We feel like we couldn't really tell this story without being able to go right into Anton's inner thoughts and feelings. With animation, we can do that, as well as set scenes in several different parts of the world. That really lent itself well to this love story.
Are you feeling confident that audiences will connect with the film?
We wanted to tell a story that would resonate to whoever has been young and in love – that's a lot of people right there.
We see Anton and David walk on cloud nine but also struggling. It's bittersweet.
We've given the translations a lot of extra love to make sure as many of the nuances and details come through on the other side. We want as many people as possible to get the chance of falling in love with Anton and David.
What does the film tell us about contemporary gay relationships?
It is an LGBTQ story, but we've always wanted to tell Anton's story without putting any focus on his sexuality. We don't think we've seen enough of stories with LGBTQ characters represented but without their sexual orientation being problematic. Young people need to experience stories where sexuality isn't another obstacle to overcome.
What do you hope that people feel when watching Top 3?
We're hoping for cheering, laughing, and maybe some ugly-crying at the end!