Food for gay men: What do I do with leftover mincemeat?
This cake is the answer.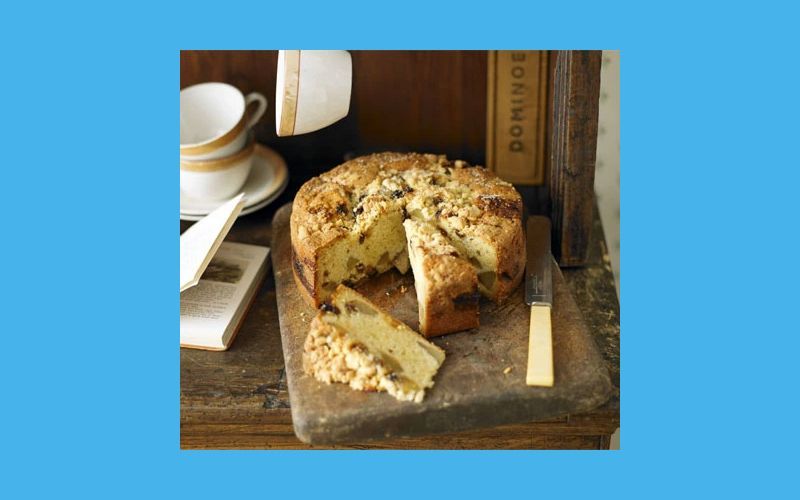 That was a question that I didn't expect to be asking myself.
But, we're in a pandemic. It's a new-normal for all of us.
It was Boxing Day. I was staring at my Christmas leftovers. There was a jar of mincemeat in my fridge - I'd used a bit of it to make mincemeat pancakes on Christmas morning.
I don't like to throw stuff away. Instead of throwing out leftovers that were probably worth about £3, I would prefer to go out and buy more stuff, just so I can find a way to use those leftovers. It's not logical, but that's just how I roll.
But what do you do with leftover mincemeat?
This pear and mincemeat crumble cake was the answer.
I found it on the BBC Food website. It's a winner.
Pear and Mincemeat Crumble Cake
Ingredients
For the pears
4 firm pears , peeled, cored and cut into thumb-size pieces
3 tbsp golden caster sugar
1 tsp mixed spice
For the cake recipe
250g pack salted butter , softened (use a tiny bit for greasing)
250g golden caster sugar
1 tsp vanilla extract or vanilla paste
5 large eggs
200g self-raising flour
100g ground almonds
7 tbsp plain flour
6 tbsp mincemeat
Method
STEP 1
Put pears into a non-stick frying pan with 2 tbsp sugar and 2 tbsp water. Cover, then cook over a medium heat for 10 mins until just tender, stirring every so often. There shouldn't be juices once the pears are cooked. Add the spice; leave to cool.
STEP 2
Heat oven to 160C/140C fan/gas 3. Butter then line the base and sides of a 20cm round, deep cake tin. Put butter, sugar, vanilla and ¼ tsp salt into a large bowl. Beat with an electric hand whisk until pale and fluffy. Add eggs and flour, beat until smooth, then fold in almonds with a spoon. Remove 85g batter and put into a small bowl. Into this add the plain flour and chop into the mix with a cutlery knife to make a soft, crumbly-looking mix.
STEP 3
Spoon half the cake mix into the tin, top with half the pears, dot over half the mincemeat, then dollop the rest of the cake mix on top. Scatter with remaining pears, mincemeat, then the crumble mix. Sprinkle with final 1 tbsp sugar. Bake for 1½ hrs, covering with foil after 1 hr, until golden, risen and a skewer inserted into the middle comes out clean. Cool in the tin for 10 mins, then cool on a rack. Keep it in the lining paper, as this will help it stay moist. Will keep, well wrapped in an airtight tin, for 5 days.
The results?
This was relatively easy to bake. I think I had a bit too much moisture in my pears, but the cake still held up well and it's super-tasty.
I could easily make this part of my post-Christmas traditions.