What happens when Chemsex takes you to Rockbottom?
Compelling theatre from Stuart Waters.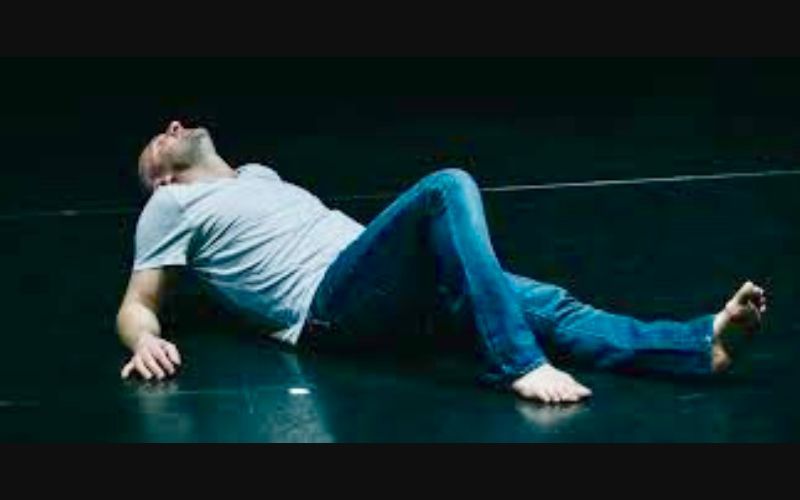 I was apprehensive, nervous even as I rode the train from London to Ipswich to see a special preview performance in final rehearsal week of Stuart Waters' solo theatre piece Rockbottom.
On arriving at Dance East, I noticed immediately that there was a police presence alongside a mental health specialist. It was a good intervention to put me at ease but also to prepare myself for the seriousness of the piece.
In Rockbottom, dancer Stuart Waters – who now lives in Ipswich – has a brutally honest conversation with his audience, straight, gay, male, female who he holds in rapture throughout. Juggling dance, talk, performance, a game show we are drawn into his mind, his memories, his mental health, his Chemsex as he journeys and negotiates life as an urban gay man in the 21st Century. He fearlessly leads us into his past world. His immense talent is hypnotic, our empathy, without prejudice, complete. We roller-coast through laughter, tears, smiles and open minds.
"My character on stage transitions from powerless to powerful. Throughout the piece, you witness the support network that kept reaching out and catching me, but in the jaws of depression, addiction and spiralling mental health episodes I had to reach my own RockBottom to begin my journey to recovery…" explains Waters.
For those who don't know Chemsex, a British term – known in the US as Party and Play or PnP – is the sexualised use of drugs such as Crystal Meth aka Tina or T, mephadrone and the cheap and sometimes lethal GHB aka G which kills at least one gay man per week in the UK.
There is nothing new about drugs and sex but what is new is this is an epidemic in cities with a high Queer population and these drugs have led to serious crimes. There have been rapes, child sex grooming, manslaughter, physical violence and blackmailing. In London, Chemsex serial killer Stephen Port murdered four young men by overdosing them on G. It can be a very dark world.
"Although the show draws on my personal story, there are universal experiences everyone will relate to – loneliness, depression, and shame. You will watch as my character makes his choice between continued self-destruction or starting a long and determined road to recovery…" adds Waters.
Waters' stage presence forms a trusted bond between us and himself. He carries us but also contains us, cares for us – he could have been me, his naïveté, his vulnerability, his loneliness, his curiosity, his desire and need for love. I was being willingly played with, steered, I went through rapid mood swings, from conscious joyous sex towards addiction to the horror of losing control. I wanted more but at the same time it was just enough. This was more than a show, it becomes interactive – Rockbottom allowed me to experience poor mental health.
Ian Howley, Chief Executive Officer of the Gay Man's health charity, GMFA said: "For many of the gay men who filled in our Gay Men & Mental Health survey, living with HIV is a big factor in their mental health difficulties. Many told us that their diagnosis threw their lives into chaos, with many becoming depressed and suicidal."
There are many psycho-social and psychological reasons why LGBTQ people experience an increased chance of poor mental health experiences.
The NHS website states: "(They) have often been linked to experiences of homophobic and transphobic discrimination and bullying. Other factors (such as age, religion, where you live or ethnicity) can add extra complications to an already difficult situation."
Waters is courageous and his work is painfully honest as any good art must be. He uses all of himself, his body, his mind, his stories, his damage to illuminate his story. In doing so he speaks about a series of stigma laden subjects with wit and a command of his stage that few dare to tackle and only someone as talented as Waters can pull off but I wanted more of him dancing.
There was a stunned silence at the end. Then the applause started and we couldn't stop. An already unforgettable theatre piece that will travel far. Don't miss it!
Rockbottom is on tour around the UK now. More dates being added so check website. (The performances are fully accessible with Audio Description and Captioning).
Details for the next set of touring dates
Tuesday 8 October 2019
Helford Theatre, Truro College
Box Office:
01726 879500
Wednesday 9 October 2019
The Arts Institute, Plymouth University, Drake Circus, PL4 8AA
Box Office:
01752 585050
Images by Rosie Powell