What have you done today to make you feel Proud?
Heather Small's classic queer anthem stands the test of time.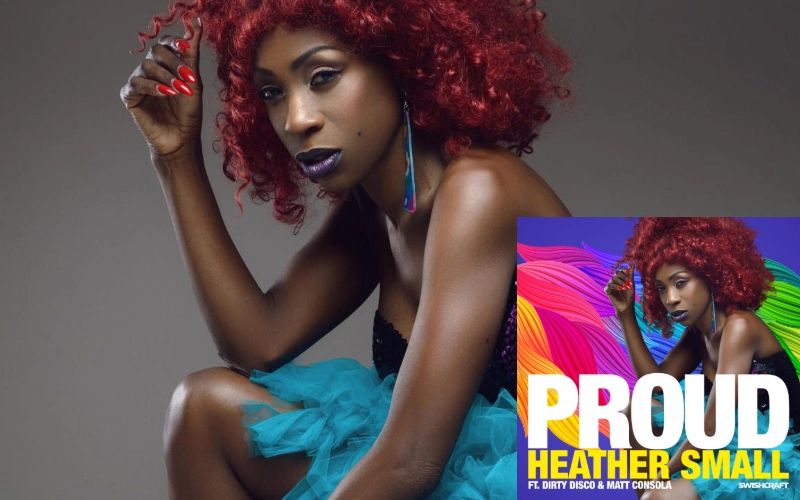 Back in the year 2000, former M-People lead singer Heather Small released the now iconic single – Proud. It's a track that quickly solidified itself as one of our communities quintessential Pride anthems, as well as an inspirational theme for organisations and causes around the globe.
Twenty years on, Swishcraft Music has released an entirely new production of the track, featuring Dirty Disco and Matt Consola. As well as a new radio version produced by American production team The Rip City Boys – Matt Consola and Aaron Altemose – there's also eight additional club mixes. The club mixes have been created by Dirty Disco, Division 4 & Matt Consola, Joe Gauthreaux & Leanh, Testone, Lee Harris, Wayne G & Porl Young, Michel Mizrahi, and the Rip City Boys.
We caught up with Matt Consola from Swishcraft Music for a behind-the-scenes look at this new version of Proud.
Can you remember the first time that you heard Heather Small sing Proud?
Like a lot of Americans, it was watching our adaptation of Queer As Folk. It struck an immediate chord. Having already been a massive M People fan, I first gravitated to that iconic voice. But you can't help but be overwhelmed by the lyrics and the track's overall message.
I immediately wanted to remix the track myself. But, at the time, the label had the vocals on lock-down. So, all we had was the bootleg Illicit Remix in 2001, and eventually the Josh Harris Remix in 2006. But, ever since it was released, it became the go-to Pride Anthem, year-after-year.
What was it about that track that has made it such an enduring piece of music?
The album version is an amazingly well-crafted piece of music. From the live band, the big choir chorus that starts small and really explodes at the end of the track, Proud was just an exciting piece of music on so many levels.
What led you to create this new production of the track?
Plain and simple, it was approaching the track's 20th Anniversary, and so many new, younger queer kids didn't know the track or it's significance to our community. So, I wanted to reintroduce the track to a new generation.
But, I should point out that the message of the track was not specifically written to be a 'Gay Pride' anthem. Its intention was to simply ask – "What have you done today to make you feel proud?" It's a track about standing up
for who you are, standing up for your rights, and standing up for your fellow man.
So, while it's easy to see why the Queer Community would immediately gravitate to it, we live in a time of Black Lives Matter and the #METOO movement where women are proudly standing up for themselves, often under threat of being fired or attacked. We are living in a time where the so-called 'Leader of the Free World' commits felonies, befriends and supports murderous dictators, and – worst of all – lies to his own people repeatedly on camera while there is audio and video evidence of his guilt with zero accountability. The world needed a track like Proud again.
What was the creative process that you followed?
I knew that if Heather and her people were going to say yes to letting us reproduce, remix, and release this iconic track, that it had to be more than just a handful of club remixes thrown out there.
First and foremost, my intention always was to update the 'original' album version – to reproduce the glory and intensity of the original, with its big choir vocals and dramatic string sections while bringing the track forward 20 years with modern approaches to the overall production.
When I approached my co-producers, Dirty Disco  – Mark De Lange and JD Arnold – about wanting to do this project and do it as a team, I explained that it needed to be just as much about that iconic original single as it needs to be about creating remixes that could potentially stand up for another 20 years. They agreed immediately.
Then, I needed someone who understood live production way more than I ever could. So, I approached my Rip City Boys partner, Aaron Altemose, about helping to create the new Single version. Aaron is one of the most talented young producers I've ever met, and his background is in live and electronic hybrid productions intended to be performed live on stage. Something he has been doing for years with his Portland-based band The AM. We even tapped sisters Jenni and Amanda Price of The AM to be the foundation of the tracks big live choir, which also includes Aaron.
From there, it was several months of intricately trying to pay homage to the original while updating it just enough as if this track was debuting for the first time. I can not be more proud of how it came out.
What does Pride mean to you?
As a Cis Gay Male who grew up in the time of AIDS, Ronald Reagan, and ACT UP, Pride first meant making small strides to make sure my community was kept as safe as it possibly. We needed to get to a place where being queer wasn't a punishable office, or a reason to lose your job, as well as getting aid and social services to those who were sick and dying. We needed to get queer people in places of power so that we were no longer marginalised, ignored, and legally discriminated against. It meant often working secretly and closeted within the system, when I just wanted to just scream – "I'm Here! I'm Queer!"
Later, once I was out, successful, and a recognisable voice in our community, it meant using my voice, my profile, my music, and my label to donate time, raise money, continue awareness of our causes, and make sure that younger generations of queer kids are taught how our community got to where it is today, but to realise that the fight is far from over.
Just because kids can come out in elementary school doesn't mean there aren't parts of this country where you can still be fired for being gay. There are still sodomy laws on the books. And, like the current battle over Roe versus Wade where states are hoping our new more conservative Supreme Court will once again make all abortion illegal, it could just as easily be evangelical conservatives trying to take away our fundamental rights.
Today, Pride is about putting my foot down, telling Trump, Mitch McConnell, and Fox News – "Not today, Satan!" Pride is being loud and proud – I'm here, I'm queer, and I will not be marginalised!
What do you hope that people feel when listening to your new production of Proud?
Empowered! I hope they get the goosebumps I first got when I first heard Heather belt out "What Have You Done Today To Make You Feel Proud!"
Follow Swishcraft Music on Twitter