What to watch: A Wake - family drama with a potent mix of grief, secrets, and religion
Scott Boswell tackles tough questions of queer identity and navigating trauma.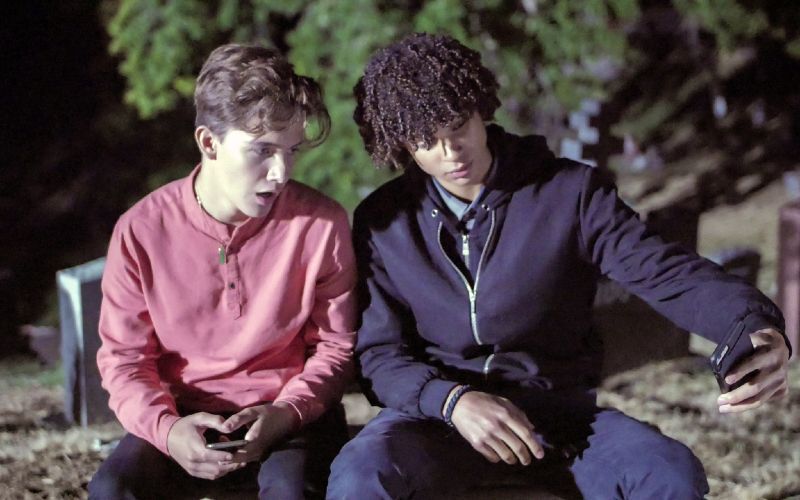 The latest from filmmaker Scott Boswell is A Wake.
A Wake focuses on the story of Mason – a teenager struggling to navigate the trauma following the death of his twin brother, Mitchel.
But Mason isn't the only one struggling to come to terms with Mason's sudden death. His religious parents, his sisters, and Mason's brother are all brought together for a memorial service – the wake of the title – but closure is difficult to come by.
The cast includes Noah Urrea, Kolton Stewart, Sofia Rosinsky, and Megan Trout.
I caught up with Scott Boswell for a behind-the-scenes look at the film.
What was your inspiration for this story about Mason and his family?
I've always been interested in stories about loss.
Like Mason, my mother died when I was very young, and my siblings and I were subsequently raised by our father and stepmother. I'm also fascinated by the unspoken rules everyone in the family seems to understand. For instance, when Molly asks her grandmother, "Why aren't we supposed to talk about him [Mitchel]?," it's an example of that. Only a precocious child like Molly will say it.
Not everything is autobiographical for me. I don't have a twin, but I do have a good friend whose identical twin took his own life, and he has shared how hard that was. Molly and many other characters are based on various people I've met.
I was also interested in talking about racist micro-aggressions, which are so elusive and too often socially acceptable. I remember befriending neighborhood kids who were people of color. The white adults around me said nothing overtly racist, but as I grew older, I started to recognize racist attitudes manifesting in more subtle ways.
How challenging was the creative and production process on this project?
It was a mix. Some aspects were incredibly challenging – others were smooth and even fun.
The hardest thing for me always is just the stress of pulling everything together. I planned A Wake with a pretty low budget, and when you do that, inevitably you juggle a lot of crew roles that traditionally are differentiated. Ultimately, the film ended up costing more than I'd hoped, but it was worth it, primarily because we invested in some outstanding actors.
One challenging story I'll share was getting Kolton Stewart, who played Jameson, to set. We really wanted Kolton for the role and thought he'd be wonderful opposite Noah Urrea, who played Mason. Because Kolton is Canadian, we needed to obtain a work visa, and the process was agonizingly slow. Right up until two days before shooting, we weren't sure if we'd actually get Kolton to California. I have to give props to our producer Cheryl Simas Valenzuela for ensuring that it happened.
It took probably a year and a half to write the script, but I was working on it off-and-on while developing other projects as well. It helped tremendously that I'm in a writing group that necessarily kept me on-task and offered invaluable feedback. Initially, I conceived the story as an ensemble piece, but eventually Mason emerged as the protagonist.
We shot very quickly – two days of rehearsal followed by 12 days shooting, and that was it. We had to plan the shooting schedule very, very carefully, or it wouldn't have worked. Fortunately, it went like clockwork throughout.
What was the casting process – were you tempted to try and find twins to play Mason/Mitchel or did you know from the start that you'd be able to do it with one actor?
The casting process was slow and took place over several months.
I knew it was fundamental to find a good cast or the film wouldn't work. Since the lead cast required young actors dealing with some tough subjects, we had to look especially hard.
We held live auditions both in Los Angeles and San Francisco, and we accepted taped auditions from all over the US, Europe, and Canada. It was a bit tedious, but I'm extremely happy with the cast we put together.
Regarding Mason/Mitchel, we did audition a few twins, but it was much more important to find an actor strong enough to handle a demanding role. We saw a lot of actors for the part, but when I got Noah Urrea's audition tape, I knew we'd found him. Incidentally, I was a little concerned he was too handsome for the part, but audiences have said they disagree.
I should also mention we were quite blown away by Sofia Rosinsky, who played Molly and was only 11 years old at the time.
The storytelling centres the perspective and experiences of the kids in the film. That's consistent with your interest in the stories of young queer people?
Yes, I've always really loved coming-of-age stories, particularly with queer youth. That's probably because I found growing up as a gay kid really challenging – even though I was told they were supposed to be the 'best years' of my life. Far too often, I think, adults don't listen to and respect children.
What's the intention that you're trying to convey with this film – is it a message of resilience to young people or an appeal to parents to learn from their children?
I think the message of resilience you suggest is dead-on. Of course, the film explores a number of themes, but that one certainly is key. If I had any one intention behind the film, I'd say it's exploring the cost of hurting the ones we love.
The film is now getting a wider release after playing on the festival circuit. What sort of feedback did you get from audiences during festival screenings?
The audiences were appreciative, and it felt sincere to me. It's always a bit nerve-wracking to share your work knowing people may not like it. And no doubt some didn't, but many others stayed after the screening to talk. Some expressed they recognized their own families in it. Others even shared deeply personal stories. Moments like those are probably the most validating for filmmakers like me.
What do you hope that people feel when they're watching A Wake?
Well, I always hope people will be engaged with the characters and moved by the story. That's probably true for most filmmakers.
I really hope audiences will think about how they treat their own loved ones. Obviously, the family in A Wake has its share of dysfunctionality, and I think the solution is simply to be open and accepting of one another.
A Wake will be released on 31 August and be available on iTunes/Apple TV, Amazon, Google Play, Vudu, through local cable & satellite providers, and on DVD.