What to Watch: Life Is Easy
Things get freaky in this best-friend body-swap comedy series from New Zealand.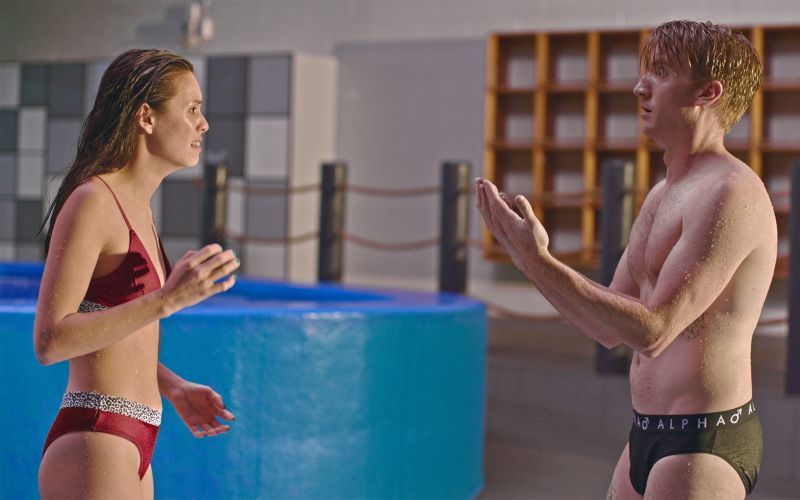 With their new series, Life Is Easy, filmmakers Chye-Ling Huang and Cole Jenkins have created a contemporary homage to the Disney classic Freaky Friday.
Freaky Friday starred Jamie Lee Curtis and Lindsay Lohan as a mother/daughter body-swap combination, but in their reboot Huang and Jenkins are playing best friends.
Jamie-Li (Huang) is a straight girl and Curtis (Jenkins) is a gay guy. They've been best friends since high school. They even share the same birthday – they're Geminis. After a wild night celebrating their 25th birthdays, Jamie-Li and Curtis wake up not only with a hangover, but also in each other's bodies.
This is absurdist comedy at its finest, but across its eight episodes this is a series that's also exploring issues such as race, gender, sex, and the complexity of the queer experience.
Ahead of the release of the series, I caught up with Chye-Ling Huang and Cole Jenkins for a behind-the-scenes look at Life Is Easy.
What was the creative process that led you to the Freaky Friday body-swap concept as your jumping-off point for Life Is Easy?
Chye-Ling: Cole and I have worked together for many years – mainly as an excuse to spend more time together as BFFs. As I'm usually writing and directing for other people, we were looking for something that was funny, relevant and let us celebrate each other. Life Is Easy was one of those throwaway ideas that we enabled each other to let spiral out of control into an actual thing, which is usually the process with us! If I'm honest, our creative process is spit-balling ideas that are dumb enough to make each other laugh, then looking sideways to see if it was accidental genius. Time will tell.
Blending the teachable moments into the narrative without losing the comedy is a difficult task. How challenging was it to storyboard it out, get the structure right, explore the issues you wanted to tackle, and keep it funny?
Cole: We definitely had to keep saying to ourselves – "is this funny?" – as we were writing because there are some deeper moments in the story that definitely brought the mood down. We had a list of what we called 'zingers' that were funny gags that we would try to slip into the story to break up the more serious moments. They didn't have to be related to the narrative at the time. These are the 'what would I do if I was in his/her body' moments that so many of us daydream about. I think a lot of them ended up being teachable moments too because, as funny as they were, they were still illustrating the experience of a gender other than your own.
Chye-Ling: It was tricky for sure – I'm still working on crafting writing that is seamless in that regard. Our directors were awesome because we all were in it for the heart – so they could pull the humour out more readily with us trusting that the core message was always in the back of their minds.
One of the strengths of the series is how messy both Jamie-Li and Curtis are. Was it liberating in a way to create and bring to life characters that frequently cross the line but still somehow remain likeable?
Cole: It took a lot of pressure off of our shoulders creating characters that weren't pillars of hope for the community, so in that way it was very liberating. Jamie-Li and Curtis are flawed by their inherent prejudices, biases and learned behaviour, so showing them having to learn and grow from this, I think, is a far more interesting and satisfying arc and is more relatable to the messy, trash monsters with a heart of gold that is inside a lot of us.
Chye-Ling: It was really fun – reflecting on that version of myself and amalgamating experiences I've had from others was a great chance to look back, laugh and breathe a sigh of relief, but also to have empathy for those moments we'll all still have as we grow and learn.
You seem to have created a series that will have universal appeal, were you conscious that you were creating for an international audience? Was there anything that was "too New Zealand" for an international audience?"
Cole: I don't think we were intentionally creating Life Is Easy for an international audience but many of our reference points came from critically acclaimed series like Please Like Me, Special, and Euphoria which may have steered us to a more international appeal. We did say from the beginning of our creative process that we wanted the series to look, sound and feel different to any other local content that we were seeing in New Zealand – I think we achieved that. Life Is Easy is bright, fast-paced and doesn't lean-in to the typical drawn out and awkward Kiwi comedy style that the world is used to seeing from the likes of Flight of the Conchords and Taika Waititi films. Many countries, particularly the United States, are so familiar with this style so I don't think anything in our series is 'too New Zealand'.
Chye-Ling: 'What is New Zealand content' is a contentious question that we ask ourselves every time we go for funding – and I don't think anybody knows. What cultural cliches do we have to hit, what themes or characters scream 'Kiwi'? I'm not sure, but I know that queer and people-of-colour narratives are under-served everywhere, so in that way there's a thread of connectivity across communities that hopefully transcends location and accent.
What do you hope that people feel when watching Life Is Easy?
Cole: I hope people feel entertained, firstly, and I hope they feel connected to at least one of our characters and can see a reflection of themselves. And if we've done our job right, they might feel a little thirsty too!
Chye-Ling: Entertained – with a side of thoughtfulness, and the cringey, heart-achy and warm feels of recognition.
Life Is Easy is available on Revry