What to watch: Toe The Line
A short film that explores the experience of queer children of immigrants.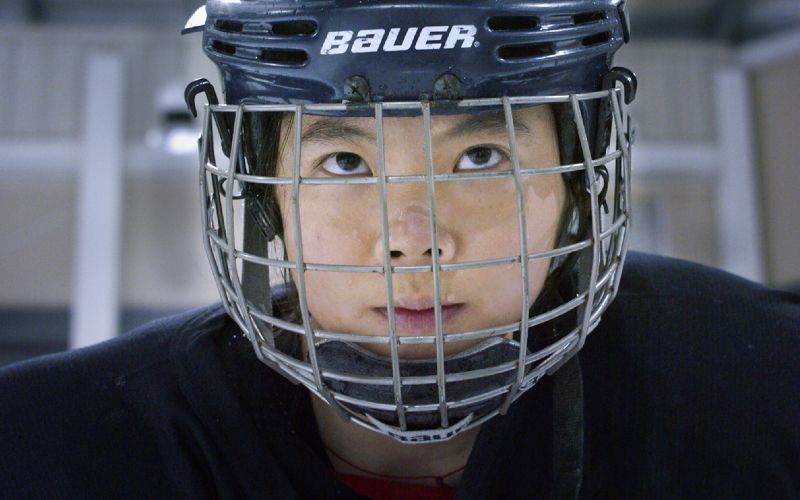 Toe The Line is a short from from filmmaker Jay Wu.
Exploring the experience of queer children of immigrants, Toe The Line will screen at Canada's Inside Out film festival.
Drawing on her own experiences, Wu's film gives us the story of Gloria – a young hockey player who loses her sense of purpose when her dream of playing Olympic-level hockey eludes her.
Gloria is torn between two worlds – the vibrant energy of the sport she loves, and her restrained home life where her mother worries about her underwhelming grades at school.
I caught up with Jay Wu for a behind-the-scenes look at the film.
What is it about hockey that lends itself to telling Gloria's story?
I am actually just a huge hockey fan, I love watching hockey but my sport was basketball – I would have loved to play hockey but there's no way my real-life parents would have approved!
I've always had a love for hockey and felt like it was a good fit for this story for two reasons. First, I was fascinated to learn about the culture of queer women who play hockey. I used to go to Crews and Tangoes, a popular queer bar in Toronto's Village, and met some "hockey lesbians" there. I learned a bit about how the jock culture we know is so prevalent in men's hockey is also prevalent in women's hockey, and about how fascinating it is when you layer queerness into that. Second, there is obviously a universality to every sport inherently, but there is of course a particular universality to hockey in Canada. At the same time it's probably one of the least racially diverse sports out there, which still makes me a little sad.
My hope is that people can watch the film and think a little more about the experiences of the multiply marginalised people around them in white-dominated spaces like those in hockey. If you're white and you're in a space that is predominantly white, what kinds of privileges does that afford you both in the short term and long term? Do the marginalised people around you feel seen and heard in those spaces? Have you asked them lately? What can you do to help make those spaces more accessible to marginalised people so that we can even consider engaging with them as an option in the first place?
What was your casting process to find Ocean Tang to play the role of Gloria?
Ocean and I knew of each other in the community. I reached out after hearing her perform her original music at a couple local queer events. I also knew of her through a few mutuals who were involved in AMY Project with her, a theatre program for women and non-binary youth from equity-seeking communities. I also knew she was athletic – her main sport is actually climbing!
She's such a talented person with so many skills which was perfect for the role.
We instantly had such a great connection. I did a traditional casting process afterwards anyway but she authentically connected with the role so well and was so enthusiastic about the project, it was pretty much a no-brainer.
You've said that one of your aspirations with this film was to show that queer people don't always have to be inspirational – that we can be messy and layered and complicated. How does that aspiration underpin the way that you've presented Gloria's story?
I feel like a lot of representations of queer people of colour show us being kind of perfect. What I definitely didn't want was to show a queer East Asian girl who plays hockey and just becomes a sort of medal-winning overachiever – a typical East Asian overachiever but just in an unconventional setting. Being an overachiever is often based on external factors outside of our control.
The more interesting story here for me was to show all of her complexities in an authentic way. With all of the forces pushing her to be someone she's not, Gloria ultimately realises that staying true to the core of who she is is what she ultimately needs in the end. She plays music for herself. She wears what she wears for herself. She has that necklace from her grandmother – to the disapproval of her mother – to remind her she'll always have her resilient ancestors, which gives her a more grounded sense of purpose. No force could ever take these things away from her.
This helps her realise she can just play hockey for herself and no one else, no one can take away that love – and yes, that does have value.
There is a certain messiness on this path for us all to come to these realisations in life – your heart gets broken, you get in situations where you might feel unsafe even with loved ones, you push yourself past your limits for what you think you want – but at the end of the day, you can never lose the core of who you are and that's what sustains us.
Does filmmaking that embraces messy/layered/complicated queer characters inevitably restrict its audience reach?
I don't think so. I think what the last few years have shown us in film and TV is how the bar is constantly raising for increasingly authentic representations of all people across all spectrums and identities. The key word there for me is authenticity.
I think that audiences want to see all characters across everything they watch behaving authentically – more now than ever before.
At the same time, while progress has been made, it also feels like things are more polarised now than ever before when it comes to conversations about transphobia, homophobia, and biphobia. Tried and true "perfect" queer representations have not given us the safety and freedom we thought it would.
Stories that show queer people, particularly queer people of colour, being truly authentic to who we are with all of the complexities our identities hold are more relatable than any other types of stories. And they haven't even scratched the surface of the mainstream.
I try to stay hopeful that with time, as they do, cultural conversations will stop forcing us to only show the sides of ourselves that are perfect and enable us to only show the sides that are real.
What do you hope that people feel when watching Toe The Line?
I hope all audiences feel a little more compelled to ask themselves everyday who they really are outside of everyone's expectations of them. I hope racialised queers from immigrant families feel seen. With all of the pressures we go through, I hope that they can be reminded every single layer of their identity is so valued and needed in this world.
Find out more about Toe The Line