What underwear do porn stars wear?
People need to know.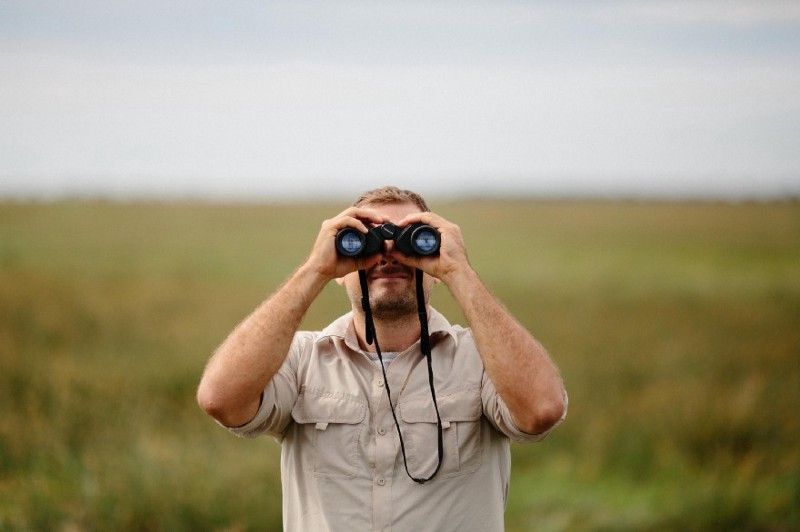 In the interests of investigative journalism, we spoke to some of our favourite gay porn stars and asked them about their underwear.
"I love underwear! I have an underwear fetish. I love all kinds of undies — jockstraps, mesh, boxer briefs, thongs — it doesn't matter, I've got some of all kinds."
"When I work out, I usually wear my boxer briefs or a jockstrap. When it comes to other guys, I love seeing them wearing tight hot undies that show off the dick and ass."
"I feel sexy in jockstraps — even when the cameras aren't rolling, and no one is taking a photo. Just having one on, lounging around the house or under my jeans, I feel sexy in it. Of course, it grants easier access too, in case I need an impromptu cock up my ass. I probably own about 40 jocks."
"Briefs are my next go-to pair. I have a few pairs of boxers, but don't often wear them. My thong collection is growing too."
"I hate underwear, and I hate wearing underwear. This will sound smug, but I have to wear underwear now because my quads are so huge that when I walk the skin between them rubs and chafes, so I end up wearing grandpa-like bike-shorts. I don't have a fetish about guys in underwear — a naked ass is always gonna turn me on more than a covered one."
Dante Lucas
"On a day-to-day basis, I often don't wear any. I find that underwear gets in the way too much. From a practical point of view, wearing no underwear gives easy access for sex when I'm feeling horny, which is basically all the time."
"Gym underwear is definitely boxers. Simply because I don't want my cock accidentally poking out, as horny as that would be. Also, it's easier to hide a raging hard on with boxers if the gym is full of hot sweaty muscular men making loud grunting noises."
"Dancing underwear for me would have to be either jockstraps, or tight briefs that bring out my bum. Dancing is all about moving your bum, right?"
"I absolutely love jockstraps on guys. Especially when they have a gorgeous bubble butt that just begs to be played with. Strapless is better because it doesn't get in the way of my tongue. They also accentuate the guy's assets, and just look sexy as fuck. I love foreplay with a guy wearing a jockstrap, and it makes playing with his bum all the more enjoyable."
"I don't really have an underwear fetish, I just love any underwear that shows a big manly bulge."
"I wear booty-short style underwear on a daily basis. I wear the same style of underwear to the gym, but I prefer to wear the nylon, non-cotton kind. I don't have a preference for the type of underwear other guys wear, it doesn't matter to me — as long as they can come off."
"I love underwear! In our flat we have boxes and boxes of gear, and thongs. Some of my favourites are Rufskin, Cellblock 13, and Maskulo. Those are pretty theatrical, so if I'm just going to the gym or something, chances are I won't be wearing any underwear. When it comes to other guys, I have a fetish for a very tiny, shiny t-back thong on a well-endowed man with a great ass."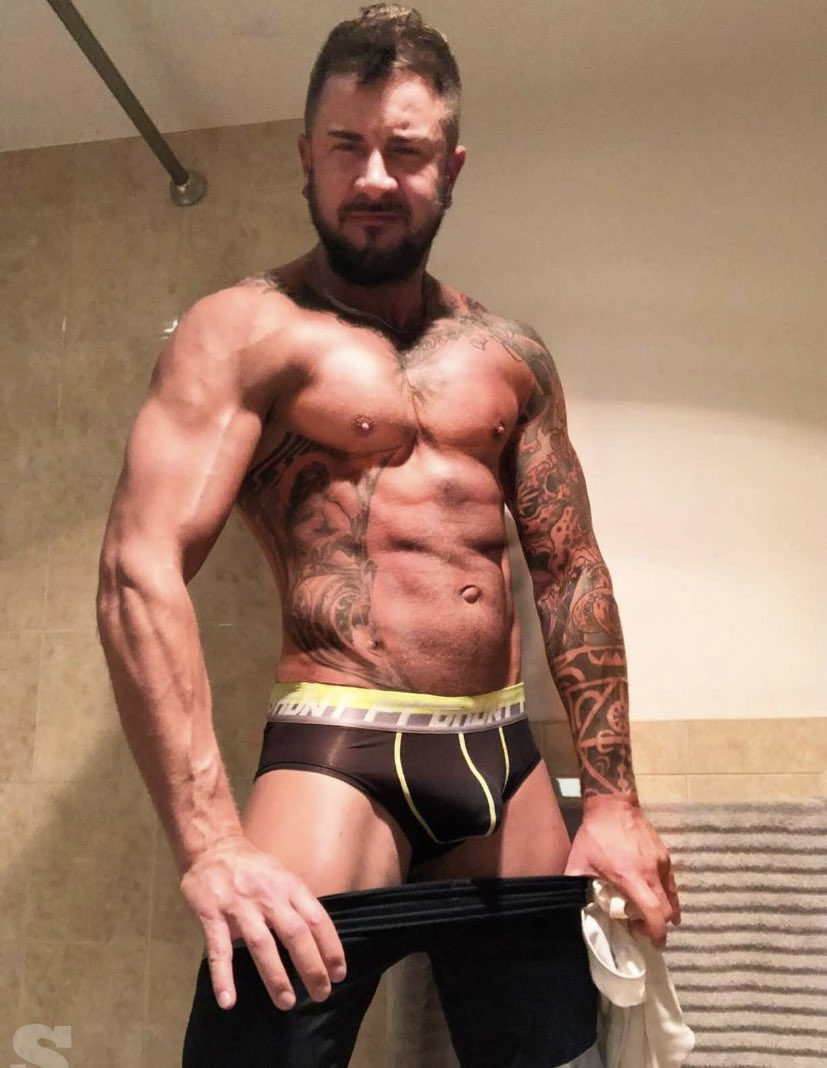 "I like to dance in anything from very sexy fitted boxer-briefs. to sexy briefs, and jocks. At the gym I wear a jockstrap under my shorts, or my running shorts have built in underwear. During the day I like to wear my Calvin Klein or Jockey briefs, and at night it's mostly just baggy boxers or nothing at all. In terms of other guys, the underwear I find most sexy on guys would have to be a jockstrap."
"I love underwear! I live in just underwear — unless I have to be social and leave the house. I must have over a thousand pairs at home. From briefs, tangas, and boxer shorts, to jocks and thongs. I usually wear loose boxer shorts around the house, so everything stays breezy during the summer — especially in shorts. Although I recently started to love jocks and thongs on me — it makes me feel sexier."
"At the gym, I adapt my underwear according to what I'm wearing. Commando with loose longer shorts, jocks with short shorts, and thongs with compression pants. I don't like to see the underwear mark in compression pants."
"On other guys, I'm pretty flexible as long as it's not something a teenager could wear, or old and ripped. Being a grown-up means having new and clean undies! If the guy has a nice bum, a jock is ideal, a thong can also be very hot. I do love my JJ Malibu and Versace underwear."
"I like really boyish underwear. I like my boxers quite loose because I get itchy balls. I love McKenzie, and Puma. I wear exactly the same underwear to the gym as I do for day-to-day stuff."
"I like other guys in jockstraps, and I definitely prefer boxers to briefs — although some of the designer underwear brands that some of these models wear do look good in their pictures and are hot."
"Lately I've fallen in love with G-Strings. I can't stop wearing them. This summer is dedicated to wearing G-strings as much as I can. I love getting fucked in a G, having the guy just pull the string to the side as he slides his huge cock in — turns me on."
"As for the gym, I actually don't wear underwear that often, but when I do it's old trashy briefs that get nice and sweaty."
"The kind of underwear I prefer on other guys really depends on the guy. I love making a power-top wear my G-strings, and of course seeing a juicy big ass in a jock always makes me rock hard."
Having founded the Guys In Sweatpants studio, Austin Wilde has consistently demonstrated that he's just as skilled behind the camera as he is in front of it.
According to Austin, when his only option is an old pair of Fruit of the Loom boxers, then it's definitely laundry day.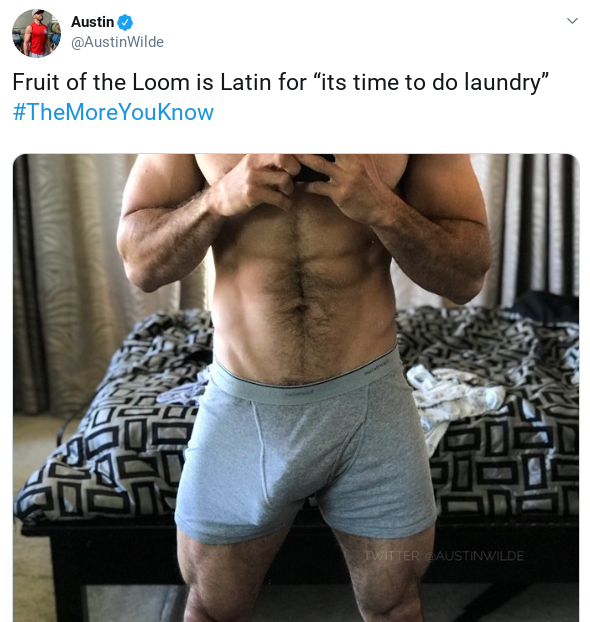 Carter Dane is one of the stars of the Cockyboys studio. He was a professional dancer before starting to explore his porn career. Carter's favourite underwear? Jockstraps, obviously.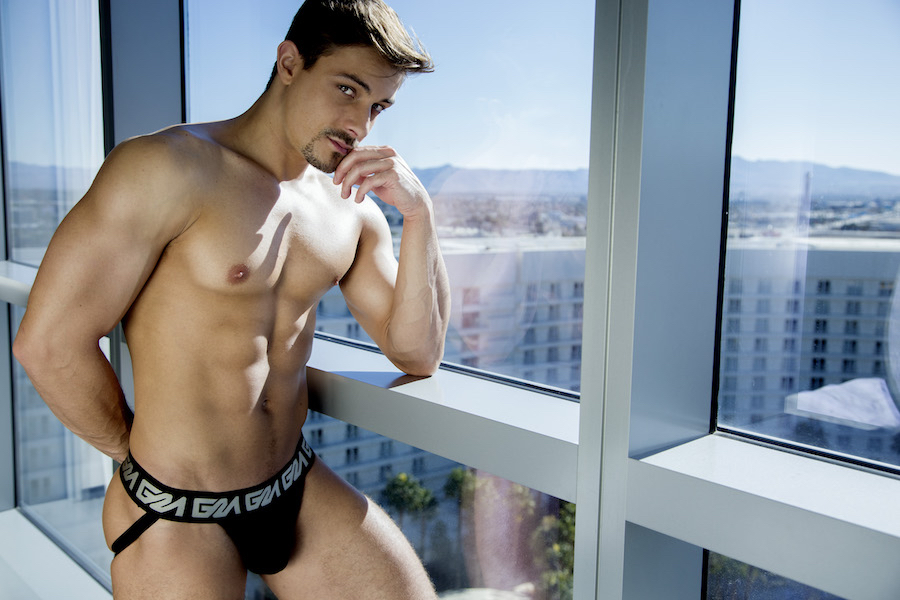 "I like sexy but discreet underwear. I go for white underwear if possible, because I associate white with hygiene and purity. I don't like jockstraps or anything like that, although I'll often wear them for work when I'm filming or performing live."
"I prefer boxers, or loose and comfortable briefs. At the gym I definitely wear no underwear. I sweat a lot, and I like my dick shaking right to left when I walk — since there's mostly gays at the gym, we all stay happy. On other guys, I like them in jockstrap, to start."
"In my day-to-day I wear slips or jockstraps. When I go to the gym I prefer to wear jockstraps or just go commando — I like the guys to see me showing off my cock while I'm working out. On other guys, I'm very excited by jockstraps. I always like a good ass with a good jockstrap — if you're down the street and you feel like playing a bit, it's easier with a jockstrap."
"I like a good brief, and can often be found in a cute Marco Marco situation. At the gym, I typically wear more of a boxer brief — I wear short shorts at the gym and have had a few slips, so I try to keep it all tucked-in now. On other guys, I appreciate a nice jock strap, cute briefs, and your classic boxer brief style. I like the type of underwear that will end up on my bedroom floor."
"I always wear boxers. I like Calvin Klein, but I wear Hollister most of the time. I also prefer guys in boxers, I'm not into jockstraps or briefs."
"I like wearing briefs. They're just so comfy to me, and make me feel sexy. I also like it when other other guys wear briefs, especially when there's a nice bulge involved."
"I love wearing boxers — I find them most comfortable, and I'm all about comfort. For the gym, I prefer briefs — especially when I do squats. On other guys, I love them in boxer briefs because then I can see their butt well."
"I wear it all — jocks, thongs, briefs, leather, neoprene — you name it, I have it and wear it. My underwear drawer recently fell through my closet because it was so heavy. I'm not a big fan of the oversized classic striped straight underwear, but as long as a man wears underwear then I'm fine with it. If he invests a moment to think his underwear game through, I'm heated up. If he buys the sexy brands, I'm on it!"
"I love jockstraps — that's what I wear just for day-to-day casual. At the gym I wear briefs, because I sweat a lot. On other guys, I like to see them wearing jockstraps — it's very sensual, it says 'catch me…'"
"I usually wear briefs or boxers for any occasion, even at the gym. I like wearing thongs or jockstraps when I'm hooking-up with someone. On other guys, I like briefs or trunks, but it doesn't really matter because I love to jump on what's underneath! I really care about the outfit — shirts and suits really turn me on — but I'm not paying that much attention to their underwear."
"I love jocks, they're so sexy. I love wearing them, and I love seeing guys wearing them."
Max Duro
"When I'm in the gym, I wear a slip or briefs. After my workout, when I'm getting changed in the locker-room, I really like smelling my sweat on my underwear. Sometimes I get an opportunity to smell the sweaty underwear of a guy who's getting changed near me, sometimes I'll leave my cum on his underwear to let him know how much I've enjoyed them.
On other guys, I really like it when they go commando. It feels so exciting if I'm in a bar, or the gym, or a market and I realise that a guy close to me isn't wearing underwear. It makes me horny because I assume that they're advertising that they're always ready.
I also really like wearing swimwear instead of underwear. I like the feel of swimwear, and if it gets wet with cum then it dries really quickly."
"I don't wear underwear, like, at all. Unless I really have to, maybe with dress pants in a formal or business setting so that my junk isn't on full display. In terms of what I like on other guys, I love a sexy jock on a smooth muscle bottom — you can't beat that."
"Always jockstraps! A nice, classic mesh pouch with a little musk on it and a thin waistband is my all-time favourite. If I absolutely have to cover my ass, I love a button-fly, pleat-fronted boxer. I love to swap skivvies with other boys, so I'm not picky about what I pick up off the bedroom floor."
"I'm actually a commando kind of lad. Recently, I have started wearing jocks in the gym, because commando in sweats is just a bit too revealing. I have to admit, wearing a jock in the gym is so fucking sexual — especially when doing squats. Otherwise, I'm an old-school boxers guy — like CKs, or Tommy Hilfiger."
Follow Gareth Johnson on Twitter
---
Show your support for G-TV by grabbing a t-shirt.
Available in a range of sizes, colours, and styles.