What was queer life like before the Stonewall riots?
Before Stonewall - revisiting an essential documentary about our history.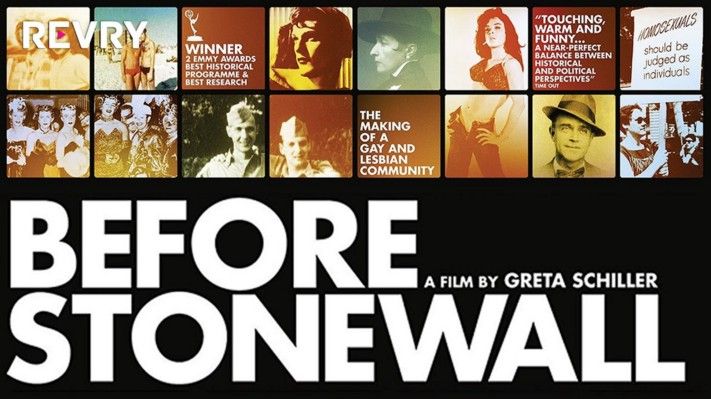 The Stonewall riots of 1969 was a pivotal moment in our queer history, and our identity as an LGBTQ community.
But what life was like for LGBTQ people before 1969?
Released in 1984, Before Stonewall is a documentary by Greta Schiller and Robert Rosenberg.
As a documentary, Before Stonewall gives us an invaluable insight into how people lived and loved in America prior to the 1969 events that we often point to as the beginning of the equality journey for LGBTQ people. The documentary features archive footage and a wealth of personal accounts, that are both funny and moving. Taking us from 1920's Harlem, through World War II, and the McCarthy era, Before Stonewall showcases a rich history of LGBTQ identity and experience.
An interview with Greta Schiller
We spoke with filmmaker Greta Schiller for a behind-the-scenes look at Before Stonewall.
When you look back on the documentary, how does it make you feel?
Whenever I see it with an audience, I'm happy that the film still has resonance. I worked hard to include women, African Americans, and drag artists, because I felt history needed to include them  –  history needed to include us.
At the time of the release of the documentary in the mid-1980s, what was the response like, given the context of the HIV pandemic at that time?
Many of my friends and mentors were ill or dying at the time. During production, a man I had moved to NYC with – and who was so central to my coming out – had died of a mysterious illness, yet unnamed. When the film was released, a vivid memory was being on a mainstream TV interview show and the host was too afraid of AIDS to shake my hand. Vito Russo gave us so much love and research ideas, and he was ill. Artie Bresson was a brilliant filmmaker and a dear friend, and he died as I was touring with the film. It was personal, and my first time dealing with the loss of so many people.
Into this time of fear and sadness and anger, I think audience members soaked up something that was finally 'our' story. Until we made Before Stonewall, there was literally nothing ever on TV about gays and lesbians having a history that could be traced in a visual medium.
When we moved to the UK, and my partner began to work with Stuart Marshall, he was soon ill with AIDS. His death so saddened her that she put off finishing their film A Bit Of Scarlet for a year.
What was the process like for researching and creating the documentary?
Much of the historical context was based on the written work of John D'Emilio. There were some newly-forming LGBTQ archives, but no one had done a visual search. Under the direction of Andrea Weiss  -  who won an Emmy for her research  -  we hired researchers in Seattle, Atlanta, Chicago, San Francisco, Los Angeles, and NYC. They placed adverts in local papers, put the word out to both LGBTQ organisations and word-of-mouth that we were looking for personal photos and home movies .
We did much the same to find interviews. It was important to get people from a broad range of geography and class, and of race. I wanted to tell the story from oral histories of people, not historians. At one point, we had way too many men, we had to simply stop interviewing them.
What were some of the aspects of that pre-Stonewall story that you found most surprising as you completed your research?
I came out into bars that were mixed  -  men hung out in one area, women another area, and on the dance floor we mixed it up. I was surprised and delighted that I found this was true for much of American queer history. The leather bars for men, the women-only spaces  -  this came in the late 70s.
It took real courage to love someone of your own sex, and even more courage to act on it. But people who have lived on the margins are often much more resourceful that the mainstream. So many clever ways  -  one of my favourites was the Los Angeles woman who talks about following women from softball games, if they responded you knew.
I still find some of the in-your-face sexuality difficult, but I always defend it as other people have that need. As Greenwich Village gentrifies, some of the hetero parents were offended by the queer bars hanging on against high rents. They wanted to close the oldest drag bar in NYC. I wrote a letter telling them they should embrace the history of their neighbourhood and teach their kids tolerance  –  some of these kids are going to want to hang there in 10 years!
One of the powerful aspects of your documentary is that it illustrates that the Stonewall riots weren't some kind of 'big bang' of LGBTQ rights and activism. When you look at the timeline that you've traced through Before Stonewall through to where we are today, is the experience of the LGBTQ community in the US fairly unique, or does it follow a fairly consistent pattern with the experience of the LGBTQ community in comparable countries around the world?
At screenings in Croatia, Buenos Aires, and other places over the last few years, I've seen that it's a similar pattern. Of course, the Stonewall Riots happened during a time of great unrest and protests across America and the world  –  this resonates in countries where LGBTQ rights are beginning to be fought for.
Most progressive people and politicians introduce LGBTQ rights as human rights, even without a popular movement. At the same time, Russia and many African and Latin countries are very anti-gay, and people who live openly are in constant danger. These are the places we need to provide political support to.
Why is it important that we remember to educate young LGBTQ people about our history as a community?
Everybody needs to have a sense of history. To move forward we must be aware of what came before us. Nobody lives on an island. When I learned about the lesbians who created community in Paris between the wars, they became my ancestors. I made a film, Paris Was A Woman, to teach myself and to celebrate this legacy.