What's it like being a young queer kid in America today?
Room To Grow is a documentary series that explores life for LGBTQ kids in the US.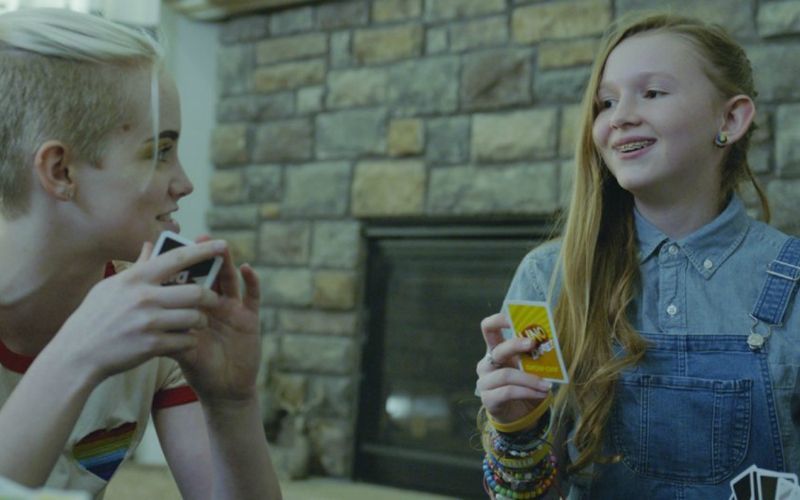 Filmmakers Jon Garcia and Matt Alber are chronicling the experiences of young LGBTQ people in the US.
Their documentary series, titled Room To Grow, begins with the story of Savannah – a teenager excluded from the Mormon church because of her sexuality.
The relationship of LGBTQ people with the Mormon church – the Church of Latter-day Saints – is a topic that Garcia has previously explored with his trilogy of films, The Falls.
We caught up with Jon Garcia for a behind-the-scenes look at Room To Grow.
Universal stories
"Matt and I met working on another project – my film, The Falls: Covenant of Grace…" explains Garcia. "I'd licensed his song End of the World for the film and trailer. When we realised we both lived in Portland, we met up and became friends."
"It didn't take long for us to realise we had a lot in common, especially in the stories we wanted to tell…" continues Garcia. "Matt was very clear that he'd always wanted to create a documentary about what it's like to be a queer teenager. He shared with me some of the tough times he had growing up in St. Louis, and having to hide the fact that he was gay through his childhood. Having just closed out a trilogy of LGBTQ films, I'd been thinking about how I could tell universal stories about the LGBTQ community in a different way, a more proactive way."
"I think Matt and I crossed paths at the perfect time in our lives…" adds Garcia. "Shortly after we began to discuss creating Room To Grow, we connected with Bridging Voices – a queer youth chorus here in Portland. We started going to rehearsals and spending time with this organisation, the singers, and their families, and it all happened pretty organically from there."
The Mormon connection
"Savannah's story is one I've been exploring for many years…" explains Garcia. "The role of religion in the lives of LGBTQ individuals is something I've spent a lot of time researching – I've known so many in the community who have been compromised trying discover how customary religious doctrine applies to them as queer members of their church."
"The LDS church has been the topic of many conversations on their views towards the LGBTQ community…" continues Garcia. "It seems that their messaging confuses marginalised members of the church who are trying to find their place. For instance, when the church says it's okay to be gay, but you have to be celibate, or that the children of same-sex marriages can't be baptised in the church."
"I think Savannah's story represents the strength of young voices in the LDS community…" adds Garcia. "She's a young, liberal Mormon who hasn't given up on the LDS church, though she herself has experienced intolerance from it. In her testimony to her church that was cut short. She says –  'I know that Jesus Christ loves me even though I am a Lesbian.' Her testimony was so well-written and so powerful, I think she's letting young people know that you can be who you are in your own way and that even if your community or church doesn't support you, she will, and people like her will, and there are many who will love and support you for who you are."
"Savannah's story is a continuation of the types of stories I want to tell about individuals who have the courage to find strength within themselves when everything they believe in is turned upside down…" says Garcia. "If you're told that God doesn't love you, but you choose to listen to your own heart, you discover that there's no possible way that can be true. One of the film's themes is that love conquers all, and I think Savannah is a perfect example of that."
Creating a platform to share experiences
"We discovered many of the teenagers who are in Room To Grow through the Bridging Voices Youth Chorus –  an LGBTQ singing group here in Portland…" explains Garcia. "We found most of our brave young people here. We met with some families only once or twice, others we visited a few times over the course of a year and a half."
"As well as Savannah, Room To Grow includes the stories of five other young people…" continues Garcia. "Cody is a 25-year-old African-American rapper. He's out and proud. His parents were absent much of his life and still he has found success. Eden is a 15-year-old gender non-binary Jewish teenager, and a wonderful singer. Tyler is a 14-year-old trans teenager that discovered he needed to end a relationship with someone he loved, because he knew he needed to work through personal issues he was having. Zach is an 18-year-old track star and scholastic athlete, applying to Ivy League schools. Myles is a 15-year-old teenager with a very supportive dad. When he was questioning his sexuality he joined an LGBTQ youth chorus that helped him through it."
Being young and queer in today's America
"What Room To Grow shows is that there's a new generation of powerful, outspoken teenagers that are paving the way for a kids to be their authentic selves, no matter what…" explains Garcia. "I want people who watch the series to feel hopeful. I want young people to say  – That's me, and I'm not alone. I hope parents can feel the same thing. I hope Room To Grow can inspire an open means of communication between schools, churches, adults, and the gender-fluid teenagers who are part of these institutions."
"After all, these young people are just regular teenagers…" adds Garcia. "But, they need to be seen more and heard more, and they need to have safe spaces to do so."