What's on in London: A Dozen Things I'd Rather Be
A show that explores the experience of being black and gay.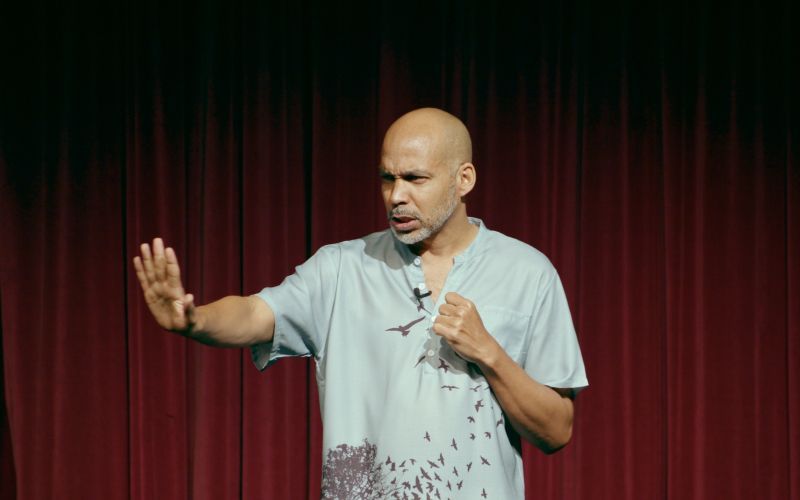 One of the upcoming shows in London that is worth adding to your diary is A Dozen Things I Would Rather Be – a spoken-word production that explores the experience of being black and gay.
I caught up with Nick Ishmael-Perkins – co-creator, writer and performer – for a behind-the-scenes look at the production.
What was your inspiration for this production?
During lockdown, I felt I wanted to develop something contained and simple, so I wouldn't be distracted by the logistics of big teams.
I wanted to play with ideas drawing in just a couple of collaborators. Wretched Theatre's work tends to use large creative teams because of our multicultural collaborative process.
Then, I went back to Barbados because my mother wasn't well. And my classmates from secondary school started a reunion WhatsApp group. It was kind of intense.
I was also watching a lot of spoken word performance at the time. And these things came together in the idea for the show.
The structure of spoken-word poems seems an interesting approach – why was this the right structure to convey this story?
I became quietly obsessed with the craft of storytelling and truth-telling that good spoken word poetry achieves. I feel like it's an under-appreciated art.
But I also wanted to make it feel like my version of spoken word. I wanted it to be theatrical. I wanted to do something we haven't quite seen before. Like spoken word meets dub poetry from the Caribbean and then match that with the music that I associate with so many memories in Africa.
This felt like I could do a show that reflects my own hybrid identity.
I also feel that the structure of a show around thirteen poems allows me to do some really interesting things exploring how stories – and spaces – shape a life.
What's been the creative process to develop this production?
I wrote the first draft of the poems fairly quickly.
Then, I thought I would love to work with Javon Johnson, who is an amazingly talented American poet and performer. He makes everything look and feel so effortless. And he graciously agreed to workshop the poems with me.
Then, I worked with Gameli Tordzro, a multi-instrumentalist from Ghana who lives in Glasgow, and we developed a language for the music. We didn't want a full soundtrack, we wanted something more nuanced than that.
Then, I had a few days with Bence Kalo, the movement director. Again, we wanted to develop a language for the movement, and we didn't quite want anything as overt as me rolling around on the floor.
For movement and music, the text was the focus. We wanted to breathe life into the text, not smother it.
We had a sharing with some industry folk and although we felt woefully under-rehearsed, the response was really encouraging.
What is interesting about this process is that we didn't have a director really – the conceptualisation of the show came out of this dialogue between these artists and the designer. It just felt right. But this is very unusual.
What are some of the truths about being black and gay that you're exploring in this production?
First of all, the show looks at the relationship between being black and being gay. How are these experiences similar, and different? This feels very natural for me to explore but is not something that is discussed on stage.
I also seek to locate one in the other – what makes blackness like queerness and vice versa. But it was also important for me to nuance that. I didn't want to present this as THE black gay story.
I really lean into the specificity of my journey. So, I speak about the impact of empire and privilege but I approach it from my experience so there are stories about seducing boys in Lamu to explore privilege or failing school exercises on family trees to explore empire.
What do you hope that people feel when watching A Dozen Things I Would Rather Be?
If you are black or gay, I hope you feel a sense of gleeful recognition. There is something gleeful about thinking 'get it said!'
If you are neither of these things then I hope it provides 'news' but in the best sense of the word, as in it's a glimpse into someone else's world and that can be thrilling and revealing because ultimately it changes slightly the way you see your own world.
A Dozen Things I'd Rather Be will run at the Streatham Space Project from 29 March until 1 April