What's on in London: Borders - Drayton Arms Theatre
A play about a hook-up app encounter between two potential enemies.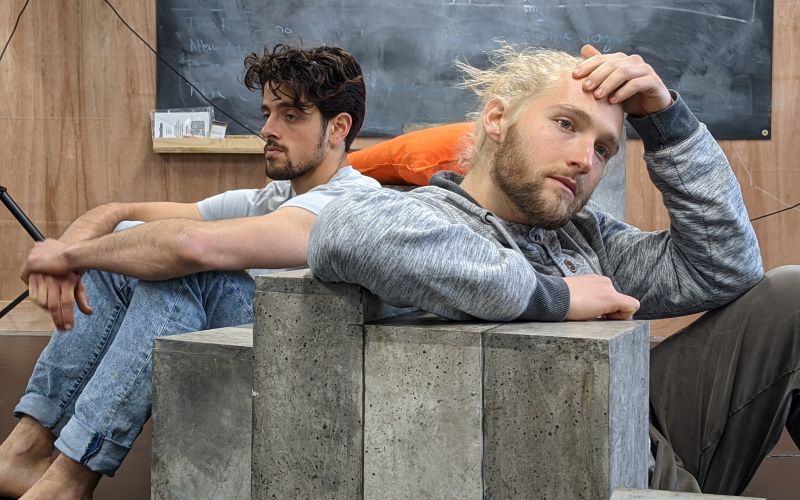 One of the upcoming shows to have on your radar in London is Borders – a production staged by Junction Theatre.
Written by Nimrod Danishman, Borders is a play about a hook-up app encounter between two potential enemies.
This production is directed by Neta Gracewell.
I caught up with actor Yaniv Yafe and set and costume designer Ethan Cheek for a behind-the-scenes look at the production.
When did you first encounter this play?
Yaniv: I first encountered the play after replying to Neta's casting call. I fell in love with it as soon as I read it as it spoke to me on a very personal level. The theatre industry is now very aware of diverse representation on stage. Not only is this play written, directed, acted and designed by people of many different backgrounds, but in its centre is the issue of difference itself. What this play does so beautifully is, although not completely ignoring geopolitical storms, they are only secondary to the individuals' stories in Borders. When it comes to the conflict in the Middle East, everyone has their opinion. I've served as 'designated Israeli' in many conversations that have been, by nature of political discussions, heady and intellectual. Those conversations almost never deal with the human experience that is growing up and living in that part of the world. It's an easy trap to fall into, especially today, where news travel quickly and opinions are formed instantaneously. Borders leaves the brain aside and brings the heart into spotlight. This will hopefully give the audience a different perspective.
Ethan: I first encountered the play when our director Neta forwarded it to me after submitting my interest in the show. I was immediately engaged in the story having met my partner on Grindr and had a long distance relationship where speaking online was a huge part of our early relationship. But what was more exciting about this was that I'd never personally heard of or experienced an LGBTQ+ story like this that came from a Middle Eastern perspective. And, in turn, I felt that this show would open up our insight into the experience of coming of age in different cultures and also allow for the Middle Eastern community in London to find something that they could relate to.
The politics of Israel and Lebanon are complicated and emotional – does using the context of online dating help to make this a more accessible way to explore the subject?
Yaniv: A hundred percent, and not just for the audience. Communicating virtually has a big problem – while we very easily interpret and selectively read, we feel so safe to write whatever we want, often not thinking about it. Like having a phone with no speaker and a disproportionately loud microphone. However, in the context of the play, that safety enabled George and Boaz to follow their curiosity and express genuine interest. Had the character's' first interaction been in real life, it would have been too real and might not have developed further.
Ethan: Absolutely! First of all it allows us to relate to the characters over our connection of the digital dating world and the hardships that come along with this. With this the audience are then eased into learning more about the politics just as each character starts to open up more about their personal experiences. I think it allows us to really understand the human and emotional effects the politics has on the people rather than a more conventional political time stamping of moments in history.
What are some of the staging challenges that you have to address in order to bring to life hook-up app conversations for the audience?
Yaniv: A director I worked with once gave me a tip – if you're ever lost on stage, find your partner's eyes. They're your anchor.
That tip went out of the window in BORDERS. Boaz and George interact virtually and in order to convey that, we decided that Joseph and I can't make eye contact on stage. It was hard at first, but it made me a lot more attentive to everything else Joseph was doing. I just had to find another anchor.
Ethan: The biggest challenge I believe is getting across the intimacy these two people experience without seeing them touch or even look at each other. It's all about understanding the personal connection and feelings that come from the characters' messages to one another and translating that so that it can be felt by the audience.
Your production notes mention that the team behind this production embody border crossing in their very practice – are you able to expand on that?
Yaniv: Everyone involved in bringing this play to life comes from a different background. For myself, I can say that leaving my home country to follow my dreams to pursue acting in London required a great deal of hard work and adapting. The immense differences in mentality that I encountered demanded flexibility and humility. On the other hand, if I weren't confident in what I bring with me – essentially my upbringing – wherever I go, I'd have given up very quickly. That is border crossing for me – being comfortable out of your comfort zone. Also, Joseph is such a generous, fun partner, and back in Tel Aviv I would never have a chance to act opposite an Iranian actor. Much like in the play, Iran and Israel aren't good friends to say the least, and interactions with people 'from the other side' are pretty much nonexistent. I'm very grateful for being part of this team.
Ethan: Nearly all of the production team are international other than myself! We have even been working with our sound designer, Bar, exclusively in a digital manner as she lives in Israel.
Is there life for this production beyond the run at Drayton Arms Theatre?
Yaniv: I believe there is. Although it's set in a very specific time and place, there's something timeless and universal about it. Borders exist everywhere, literally and metaphorically, and there is plenty to take away from watching this play. I would love to take it wherever there are people that would like to see it.
Ethan: We already have some touring plans for London and beyond.
What do you hope that people feel when watching Borders?
Yaniv: I would like people to forget everything they know or think about geopolitics in the Middle East and see the two characters. Although Middle Eastern reality has dictated a lot for them, Boaz and George don't live their lives thinking about that.
They just exist. One night, like many other nights, they started chatting to someone on Grindr.
Ethan: I can't particularly say what I wish for the audience to feel. But I hope that they have an emotive response that triggers an interest into exploring the ideas, themes and politics of this show further!
Borders will be performed at Drayton Arms Theatre in London from 15-17 February